Entrepreneur Social Club is Offsite at The Queens Head DTSP
Tonight is Thursday, November 9, 2017, and we gather at one of our favorite DTSP locations, the Queens Head DTSP. Our Entrepreneur Social Club HQ, historic venue NOVA 535, is booked for a private dinner party. I'm at NOVA 535, getting things up and running, then my 5-Star brother Chris Novilla takes over, so I can join my fellow visionaries, founders, start-ups, dreamers, business owners and Entrepreneurs at our fav Euro bar and restaurant, The Queens Head. I arrived a bit late, and some of our visionaries were in route to becoming double-visionaries.
Imperio Real Estate owner John Pereira smiles while in midst of discussions with a favorite ESC hubby and wife  team, Kym Jenkins of V-Spicery and CTO Tech Guru Chris Jenkins. Below is fellow ESC member and QH owner Tracy Asalita between team Queens Head. Thanks for always taking great care of us Tracy! We love QH and for the rest of you who do too, please leave her a nice review on Google.
Pictured above, center is our pal Art Gueli, and below wearing a hat is Club Savor founder Roger Curlin.
Above wearing black is the delightful Debborah Dabaj sitting next to Larry The Leasing Lawyer Lawrence A Silvestri and the smiling wordsmith Anaelena "Ana" Reynoso of BodhanaStudio.com.  Across the table my Aunt Cookie sits next to Downtown Crawlers founder Andreas Neuert. Check out his oh so fun downtown Pub Crawls.
Below Debborah is posing with my Aunt Cookie Lopez (far right) who came to ESC bringing her friend Irene (center), to help with her business Irene's Florist, located here in St. Pete. My Aunt Cookie is always helping others, maybe that's how she got her nickname "Cookie" cause she's so sweet. As this was a mostly social meeting, please come back to our regular meetings, always on Thursday nights (except Thanksgiving) and you can find the exact location here.
Thanks to our favorite photo editor Jenna Michael for capturing a few shots, while I was away. Below is our business cards from tonight, again as we were off site, we held much more of a social evening and didn't get into biz card reviews.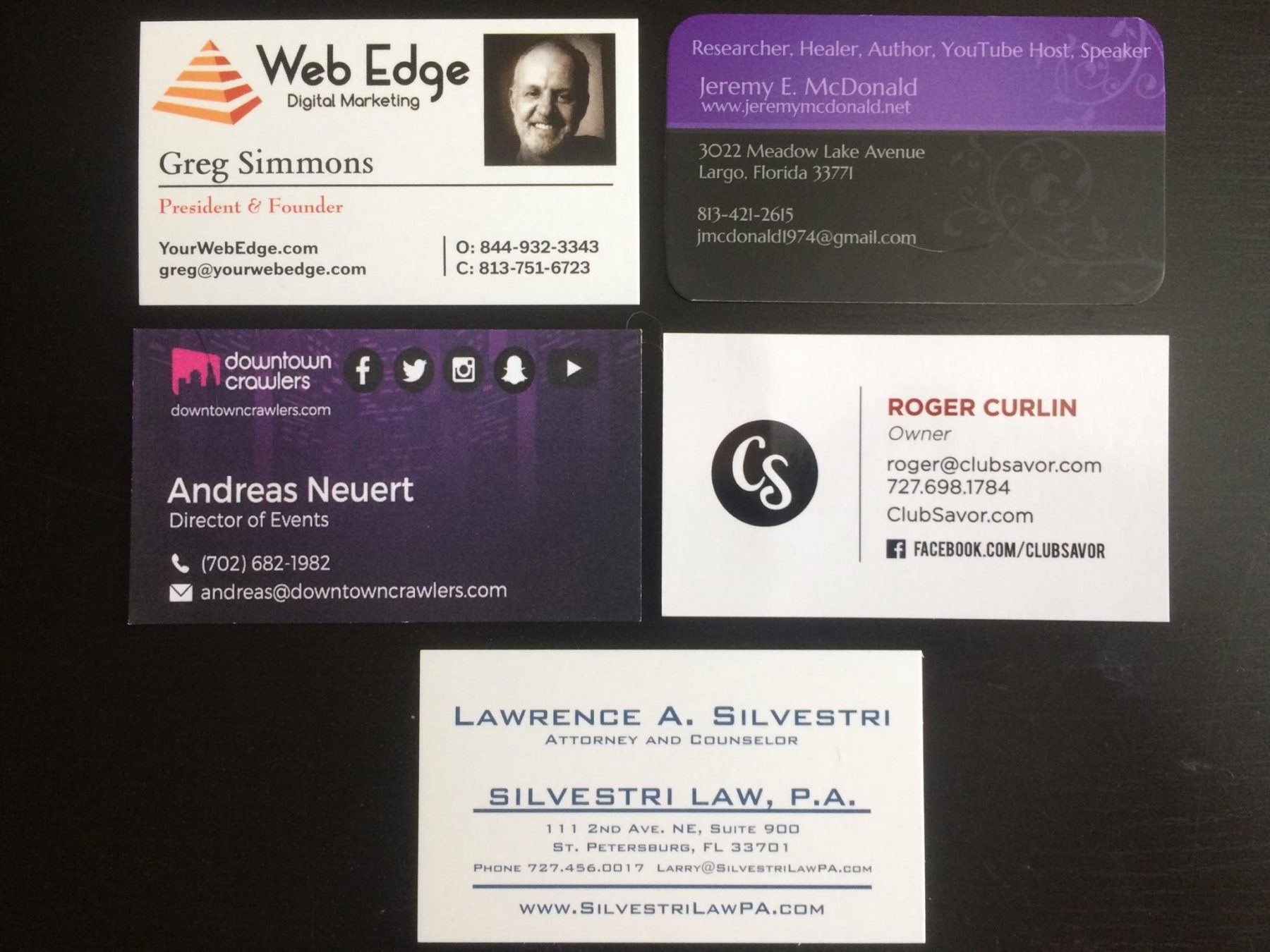 As we skip a rare Thursday, for Thanksgiving, enjoy yourselves and be safe. Also be thankful for all of your fellow Entrepreneurs, friends, family, your health and be thankful for the fact that you are a game changer, a visionary and in control of your own decisions. So make smart and fun ones! Much love you all!! Oh and here is a quick peek during the after party. After 10pm we don't allow photos and videos, so this is just a reminder that the ESC is a meeting + dinner + drinks + after party + ??? Where were you while we were offsite at the Queens Head DTSP??
Thanks for reading tonight's story, Entrepreneur Social Club is offsite at the Queens Head DTSP, in beautiful downtown St. Pete, Florida. To discover more about the best local places and thing to do check out DowntownStPete.com.
Please keep NOVA 535 in mind for weddings, holiday parties, fund raisers, film shoots, awards banquet. FInd out why we are the #1 rated venue here. Or call/text 949-873-6682 or [email protected]. Thanks!