Hello to my fellow Entrepreneurs, Business Owners, Dreamers, Start-Ups and Positive Folks, it's Michael Scott Novilla, the founder of the Entrepreneur Social Club [tm], returning home from an epic 416-day world tour. Our resident Tech Guru Chris Jenkins managed and hosted the St. Pete, Florida chapter of the ESC while I was away, he is most deserving of and certainly get's my deepest appreciation and gratitude. THANK YOU CHRIS!!
We've gathered here at historic Downtown St. Pete, Florida venue NOVA 535, on a beautiful Thursday, March 7, 2019. For our weekly evening of networking, schmoozing, business development, mentoring, business card reviewing and so much more! It's typically the highlight of the week for many of us, for the camaraderie, the imparted wisdom, the hugs, and laughter, the shared successes and failures, plus dinner and more drinks afterward.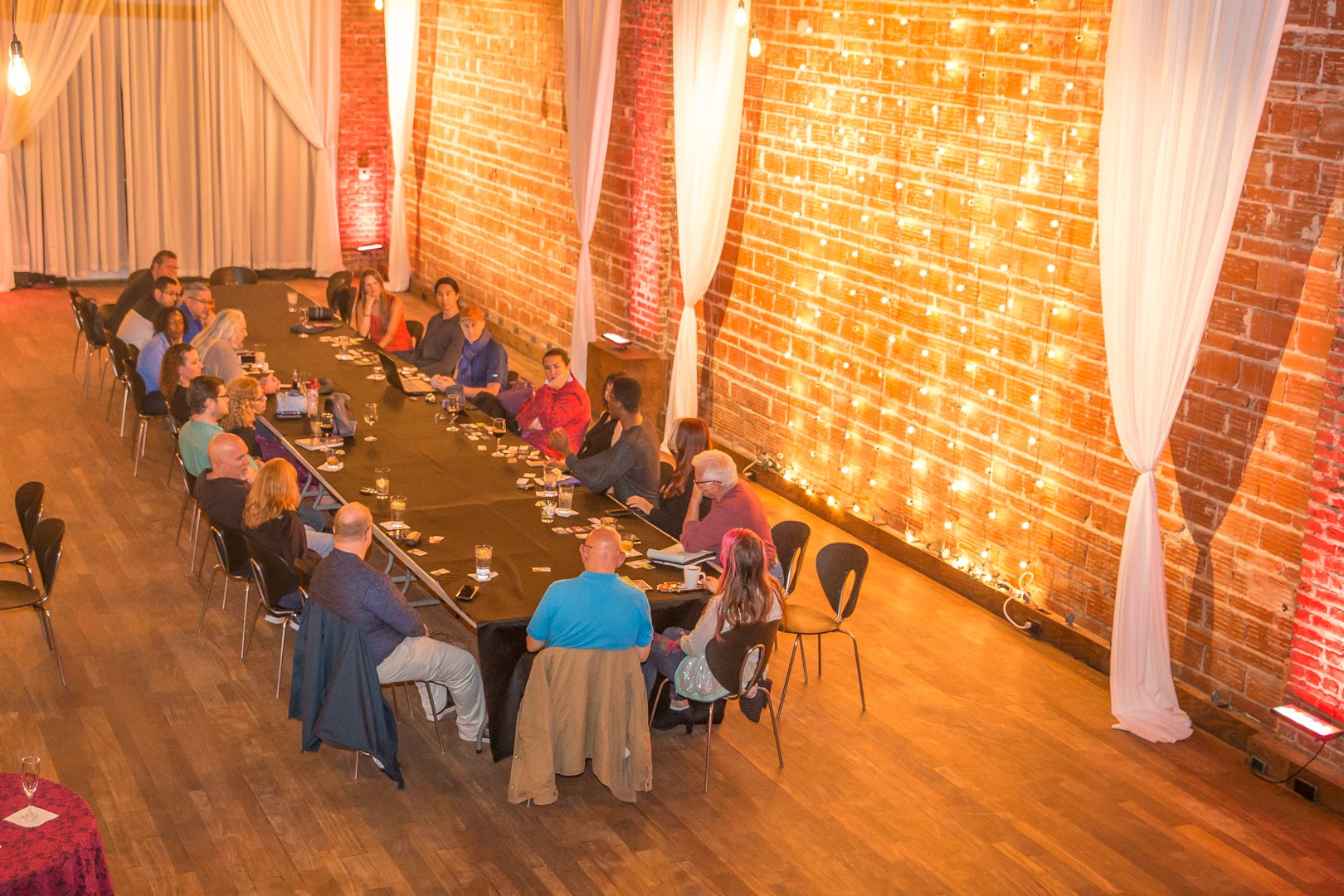 2018 > 2019 = 29 countries (27 of then new for me) over 416 days
Las Vegas > Hawaii (Honolulu, Maui, Black Rock Beach, Hilo) > Taiwan (Taipei, Taichung), > Hong Kong > Macau > Thailand (Bangkok, Phuket, Phi Phi Island )> Malaysia (Kuala Lumpur, Malacca), > Singapore > Bali ( Ubud, Pura Tirta, Empul Batur, Ceking Rice Terrace, Dalem Puri, Penestanan, Taman Ayun, Jatiluwih Rice Terrace, Yeh Hoo Waterfall, Kanto Lampo Waterfall, Lempuyang Luhur Tirta, Gangga Kusamba Black Sand Beach, Puri Saren, Banyumala Waterfall, Goa Gajah, Nusantara, Tanah Lot Temple, Kedonganan Beach> Brunei (Bandar Seri Begawan, Belalong), > Philippines (Manila, Palawan – Puerto Pinncesa, El Nido) > Vietnam (Ho Chi Minh, Hoi An, Hue, Da Nang, Hanoi, Ha Long) > Cambodia (Siem Reap, Phnom Kulen) > Myanmar (Yangon, Bagan) > Nepal (Kathmandu, Pokhara) > Dubai > France (Bordeaux, Rochfort, La Rochelle) > Reunion (Saint-Denis, Saint Pierre, Saint Gilles, Saint Paul) > Madagascar (Antananarivo, Andasibe, Mantadia, Antsirabe, Ranomafana,Betsileo, Isalo, Ifaty, Antananarivo) > Mauritius (Blue Bay, La Vallee Des Couleurs, Le Morne, La Gaulette, Black River, Tamarin, Point aux Biches, Grand Beie Beach, Pereybere Beach) > South Africa (Cape Town, Sea Point, Bantry Bay, Camps Bay, Hout Bay, Kirstenbosch, Noordhoek Beach, Cape of Good Hope, Simon's Town, Fish Hoek, Kalk Bay, St James, Muizenberg, Strand, Table Mountain) > Zimbabwe (Alexandria Falls) > Zambia > Kenya (Nairobi), Ethiopia (Addis Ababa, Gondor), > the Republic of Georgia (Tbilisi) > Armenia (Lake Sevan, Yerevan), > Turkey (Istanbul) > Sri Lanka (Colombo, Kandy, Sigiriya, Nuwara Eliya, Devon Falls, Mirissa Beach, Galle) > Qatar (Doha), > Kuwait (Kuwait City), > Egypt (Alexandria, Cairo, Giza, Asyut, Luxor) > New York City > Orlando (to bury a dear college buddy) > St. Pete, Florida for Mom's 75th Birthday Celebration!
Feel free to follow along with me, here is my Google Contributor Level 10 Local Guide publicly posted photos. If you're a close friend, maybe I'll share some of the behind the scenes goodies as well!
Tonight we reconnect, many #oldschool ESC members return to give me a warm hug and welcome home greeting, and once we settle in, we each offer advice and recommendations.
Kym Jenkins of V Spicery, pictured above with hubby Chris, recommends the BOOK Peak Performance teaching us how to elevate your game and avoid burnout, Kym is certainly mastering all that!
Her hubby, Chris Jenkins, CTO of Symphony Agency. Chris suggests using Google Photos, especially if you are an iPhone user.
Gina Tracy of Gina Tracy.com and Thee Photo Ninja Steven Lee share a smile below,

while superstar (and fast) photographer Steven Le Thee Photo Ninja jumps in with me for a "peace" photo. Steven shares that one of his issues, as a one-man show, is juggling everything; he needs a 2nd shooter and help with his social media, editing (using Lightroom) and such. We suggest connecting with groups like Florida Photo Museum to see if they have any staff that needs extra work. Steven is starting to offer videography services and recommends WAKING UP meditation app and frequent use of a PULL-UP BAR in any door frame. Welcome, Steven!
Michael Scott Novilla (that's me!) recommending using a VPN, Virtual Private Network to help keep your WiFi browsing saf(er) and to watch the series Counterpart, plus to eat well #YouAreWhatYouEat avoid single-use plastics, to enjoy each and every moment, to travel as much as possible, and to be your own best friend.
Superstar Olga Bof founder of KSPL, that's Keep St. Petersburg Local, says to always Be your Authentic Self; I parrot, be the music, not the noise.
Wonderwoman and bookkeeper extraordinaire Krystle Pinzker, of Fluent Bookkeeping, also supports local charity Creative Clay's thrift arts supplies efforts, welcome back ladies!
We warmly welcome newcomer Chihu Ikechi-uko, founder of UnfilteredMarketing.net. He describes himself as "I am a social media marketing specialist, I focus on aiding businesses save time and money. I do this using optimized targeting and segmentation and getting your service and product in front of the right people via social media platforms." Chihu is newly in from New Youk City. He asks the group if we have metrics? Are we hitting the right audience? What's our ROI? Good questions. He's been working with Fitness Industry in NY and now here in Sunny Pinellas County, Florida. Welcome!
Chris Jenkins suggest to give your knowledge away,  get on every stage you can, get out there and get visible and get known. The business will follow, as Chris has aptly demonstrated.
Above is Theresa Rea Gay aka The Tenacious Chick Business Consulting, who helps you with your employee training. She is using Google alerts to hone in on specific (vs overwhelming general) results to keep her current. In red next is Kym Ottaviani Rex Rentals and Realty who recommends the BOOK Talk Triggers that enlightens us on the importance of shaking hands and creating memorable meetings.
Below is our favorite fruity facial friend, Julia Marie working with Dr. Jackson at his A Path to Wellness. She is always pitching to live and be more natural. Dr. Chris Jackson founder of The Path to Wellness focuses on finding the root cause, he recommends the BOOK The Biology of Belief, which may stray into our ESC RULES of No Religion No Politics, I'll leave that up to you all on your personal time.
Steven Rosen of the Career Compass Group offers ADVICE to be open to collaboration to business from outside your zone and recommends the BOOK High Velocity Hiring by Scott Wintrip. Steve is pictured below, wearing glasses and a dark blue long-sleeved shirt, bottom left corner of the table. Welcome back Steve.
Corrine Light Falcon (or fabulous photographer tonight, thank you Corrine!) is our bubbly world-traveler suggest using Instagram for your business; she enlightens us on how you can refresh your IG post: EDIT your post, then copy #s, delete them, save your post, refresh, then repost them (I think I got that right, certainly just ask Corrine). This REFRESHING allows more access to inside the niche #s and adds more opportunities for people to follow you on IG. Good luck!
Above is Madonna Davis, Teacher by Day, author-in-progress by night, who is writing about a family that lived in Chicago from around in 1850 – 1920,
similar to book Devil in the White City, that depicts a serial killer during the 1893 world's fair. Sounds wild and cannot wait to read!
Her pal, Tony LaPorta of TonyLaPorta.com was pit trader turned writer about the markets, he reminds us that Making $ is the easy part, keeping it is the game.
Justin Petro Advanced Millennium Computers leans in with our pal, the lovely Ann Marie Cash the Head Curator of Exquisite Corpse Games held on Nov 14, 2019, here in Tampa St. Pete. Also pictured is the spiciest girl in town Kym Jenkins.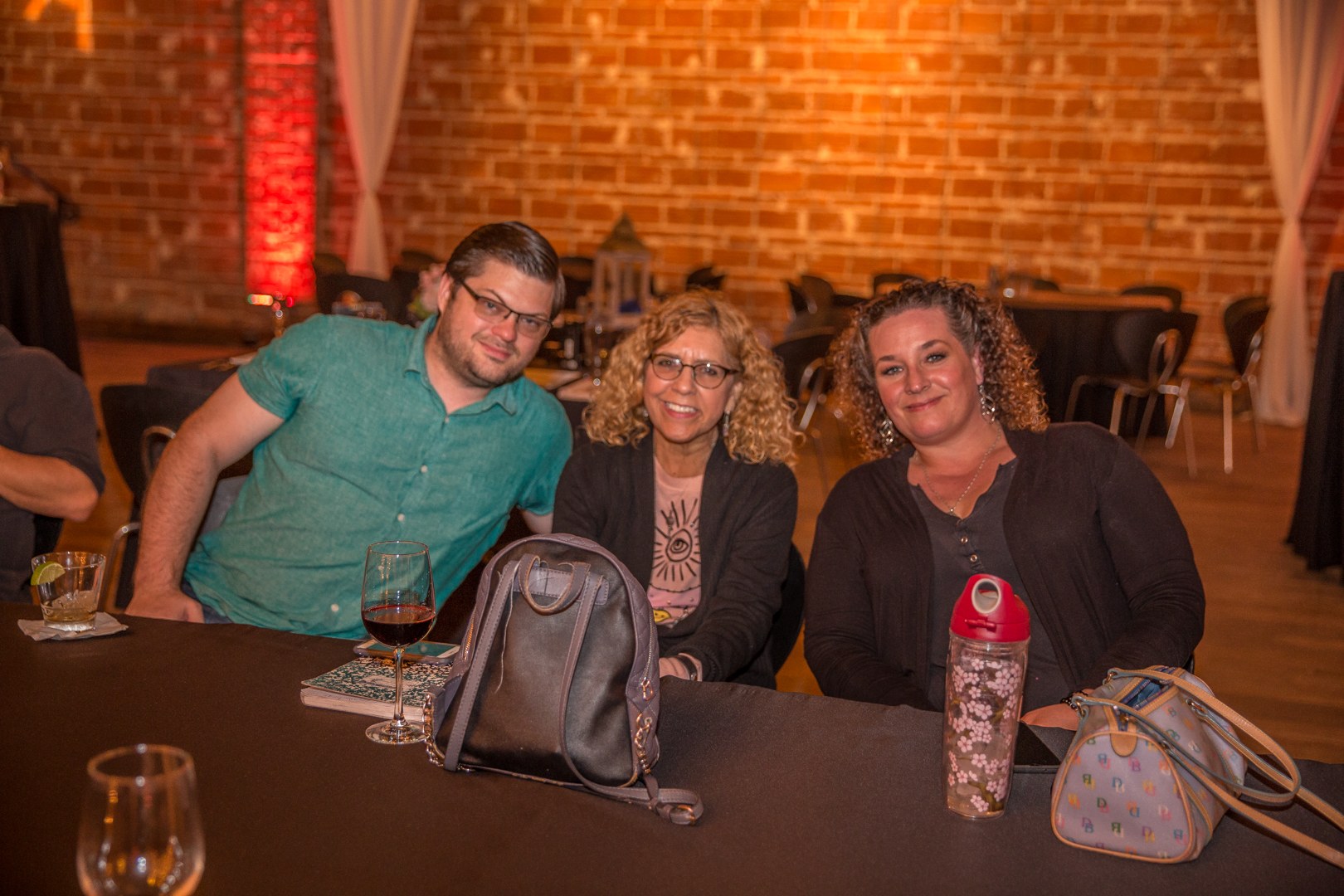 Justin asks us what are we doing differently to differentiate yourself? He recommends the BOOK Atomic Habits, and as since Justin has always given me 5-star advice about all my computing and tech questions, I'll add it to my list.
Mimi Lange (she is above is blue with the big beautiful smile) is a State Farm Agent, she recommends the BOOK 12 Pillars. She is next to our pal Roger Curlin co-founder of Club Savor who recommends the book (by local author Wendy Sellers, The HR Lady, ) Suck it up Buttercup.
John Pereira Imperio Real Estate, below, recommends the BOOK Miracle Morning, another that goes outside our No Religion No Politics boundaries.
Teddy Irwin, smiling above, recommends the BOOK The Synchronicity Key. Welcome back, Teddy! Pictured (somewhere) below is our lovely lady Hat Entrepreneur Kathi Harris founder of Hat-A-Tude.com.
Dinner tonight was at the ALWAYS fresh and DELICIOUS Brick and Mortar Kitchen, 5th and Central Avenue. downtown St. Pete.
See you all Thursday Night here at ESC!!
PS arriving a bit late for photos were Mandy Keys founder of Community Cafe St. Pete (healthy AND delicious!) located at 24th and Central and her partner Jason Keiger, part-time amazing DJ, full-time wonderful human. Jason recommends a PODCAST,  Armchair Expert.
===== HERE ARE ALL OUR EVENT PHOTOS =====
Please keep NOVA 535 Unique Event Space in mind for weddings, receptions, film shoots, corporate parties, and events! We are the best-rated venue in Tampa / St. Pete because we LOVE hosting 5-Star events just how you want, with No Limits and No Stress!