The Entrepreneur Social Club [tm] presents, Yo Entrepreneurs Tonight We Drink to Hanoi!!
Yet another hot, humid Hanoi Thursday night descends upon us, in the lovely north of Vietnam. It's me, Michael Scott Novilla, hosting another of my infamous Entrepreneur Social Club [tm] meetings. The good ol' ESC. June 21 of 2018 already, the weeks pass like days, the hours like minutes. Things are only gonna get faster and crazier, fo sho, as the Singularity approaches. My head is spinning from the fact that I've already hosted 6 ESC Meetings, here in Hanoi, Vietnam, tonight my 7th. May 10, May 17, May 24, May 31, June 7, June 14 and tonight's June 21. I HAD planned on June 28, 2018 as my grande finale, BUT just realized my visa ends June 26 not June 29, so this is it my friends! To celebrate while saying a bittersweet Goodbye. Yo Entrepreneurs Tonight We Drink to Hanoi!!
This weekly gathering, held almost every single dang Thursday since January 2009, helps keep me sane. Ish. Once again we're on the 4th floor of TOONG CoWorking, at Tầng 3, 8 Tràng Thi, Hàng Trống, Hoàn Kiếm, Hà Nội. My ESC pitch, is that our meetings are ALWAYS fun AND productive. A blend of silly banter, deep thinking, hands on super practical life lessons and lots of practical business wisdom, all tossed about into a wonderfully Entrepreneurial and cooly refreshing Mentoring salad. With never any idea of who will show each week, the 'pregame' warmup for me is always interesting.
There are always randoms, people who don't register, they just show up. From just about every corner of the globe. And interestingly we all get along quite well, cause I enforce the core NO religion NO politics, NO Liars/Bullies/Thieves/Racists RULES of the club. If ONLY the rest of the world could follow suite! FUN and PRODUCTIVE!! So let's see exactly what kind of #SweetChaos we get into tonight… Oh and take a peek at my I Wanna Be a Hanoi Tour Guide blog and photos from last week's, June 14, 2018 meeting, while we get to rock-n-rolling.
Above is my best mate, Drew Edwards, standing above in the blue and white checkered shirt. He's in for a super quick visit while on a business trip with fellow Entrepreneurs JB and Chris. We were off to Ha Long Bay this next morning, wow what an EPIC adventure that was!!
A big THANK YOU to Chris Jenkins my web master and the CTO extraordinaire at Symphony Agency, as Chris handles the St. Pete ESC meetings in my absense. They are most often held at my world-class special event and wedding venue NOVA 535. Chris is pictured below downstairs at NOVA, sunglasses on head, with Mr. Cool Tony Michaelides smiling and leaning in. Kym Jenkins, Chris' 15-Star SuperWifey-Entrepreneur shares a smile with one of the nicest and funniest guys alive, our pal Bill Cason. Miss you all my friends!!
While I'm hanging in Vietnam for the last almost 3 months, I'm yapping to everyone who will listen about our MeetUp while handing out my biz cards – ask me how many EXTRA cards I ended up with – that's a (not so) funny story. Old school networking, making new friends, shaking hands, connecting. With those like-minded Entrepreneurs, me nuevo amigos and Amigas!
I grew up with a Vietnamese brother, David Hoang, who immigrated to St. Pete in the 1970s with his family. From Ho Chi Minh, also known as Saigon. He's beyond amazing and I'm honored to call him friend, brother and family. Oh the stories….so many; anywho… so I laugh as I occasionally joke about my using chopsticks longer that the people serving me food here. So I've known, from time spent with Dave and his family, about Vietnam. At least from their stories and actions. It has such a great reputation around the world, friendly, super sweet people, delicious food, gorgeous scenery and a rich history, and while all this has proven true for me, Hanoi has been especially delightful.  I guess that's why I've been "stuck" here for the past 9 weeks.
Pictured above is another fabulous part of Vietnam's magical allure, the beautiful, smart, funny, amazing, kind, strong, hardworking and Entrepreneurial ladies of Vietnam. From our left to right is newcomers Quynh 'Moon" Phan, and Trang Truong who lives here in Hanoi, next to our fav "Sexy Time Vietnam"Lucy Minh, with up and coming event planner Huyen Thanh Nguyen, Thuy Hang "Lucy" Nguyen an Airbnb hostess wearing the pinkish shirt, Mai Ngo our favorite BioChem student in the black shirt with white stripes, and last but certainly least, Miss High Energy Herself; Business Coach, Trainer and Writer Jen Vu Huong. Jen is wearing the smile and black shirt with white stripes and jeans shorts. Ladies!!
We "punted on first down" (defaulted to the safe easy decision) and had dinner once again, 3rd week in a row, at Mirai Sushi & Sake. Mirai is located at 2D, Hàng Trống, Hoàn Kiếm, right here on the same block as Toong, so super easy to walk over. Everything was fabulous once again!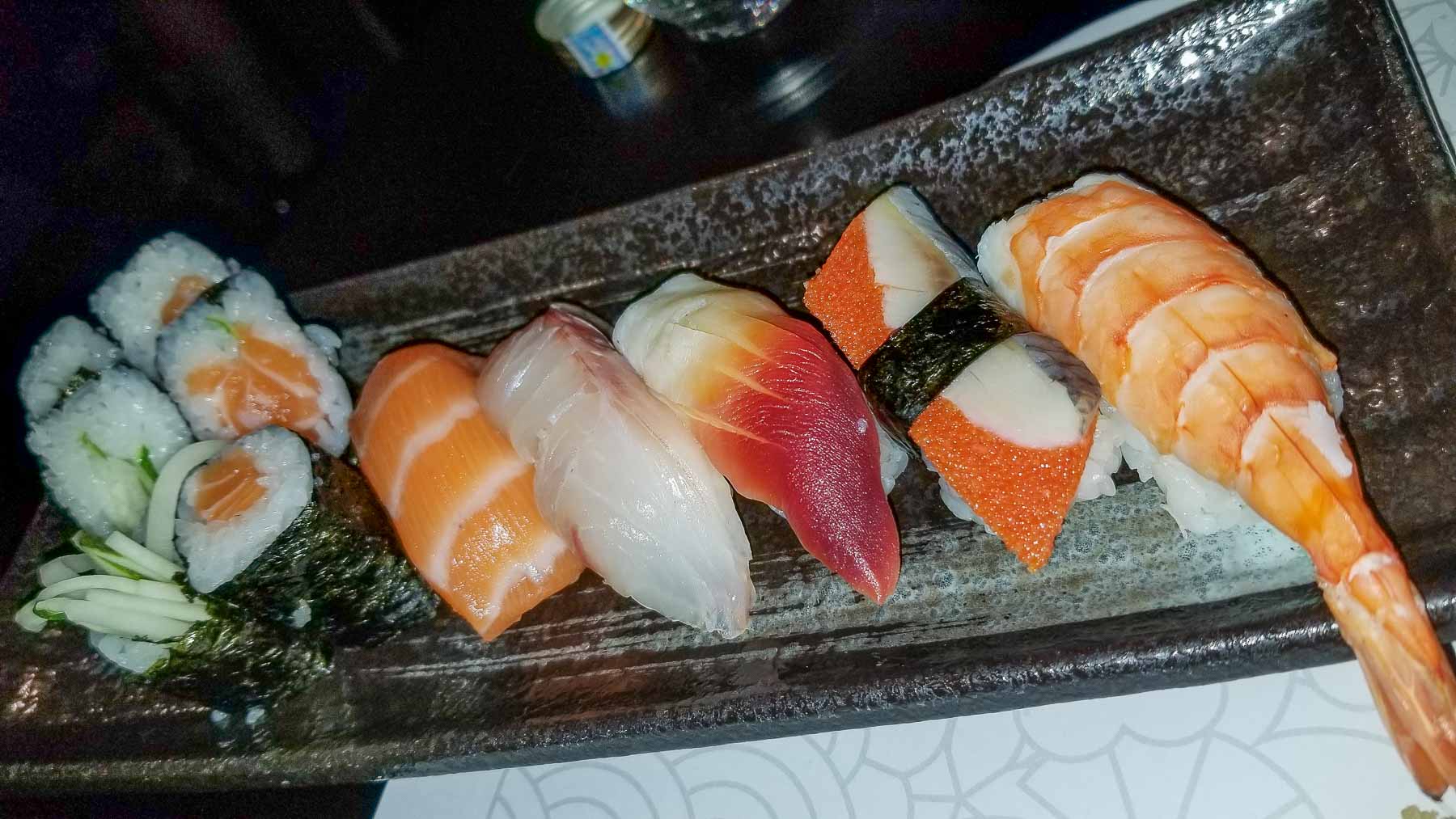 OK, let's give this "roll call" a shout! Pictured above, left to our right.
LEFT TABLE: Ho Quoc Trung from Hanoi black adidas shirt with white stripes, Pham Ngoc Anh white dress shirt, glasses. Daniel Chcouri visiting Hanoi from Israel wearing the black tee shirt and has curly hair, fell in love with Hoan Kiem, working with the PM tool JustDo.Today. Next is William "Bill" Russ (white hat) an accountant and bookkeeping business from my country, the United States of America, and Thuc X. Vu, founder of HearMe.vn, a new POS review system.
CENTER TABLE: Newcomer Sean Yamasaki is wearing the camo skull cap, and is in from Japan. He's an IP programmer, investor, and singer, who was recently living in Singapore. He is helping his friend's company and loves mentoring – matching software engineers with companies in need, while also developing a BitCoin Day Trading Bot. Plus Sean is inviting Japanese Entrepreneurs and Artists to come here to Vietnam. Anything else Mr. Super Busy Man?? Welcome! Then we have newcomer Son Nguyen – hands up and wearing blue and white pattern shirt. Son is a teacher of history and foreign relation at USSH. He is here to make new friends, wants to help locals with Start-Ups. Think a Start-Up Support system. Lam Duong – in the white T shirt and black shades – is in engineering, and has many ideas and wants to learn BEFORE he starts-up his start-up. He has identified a problem, between inside and outside research institutions, pay inequality, and is pushing people towards the higher paying fields like IT. He's thinking BootCamps and Incubators, for here in VN. Smart guy! Next, wearing the pink-ish shirt is AirBnb hostess (Lucy #1) Thuy Hang "Lucy" Nguyen. Next is Hieu Pham – wearing the blue and white squares shirt – a product sales manager – here at ESC via word of mouth; he's in the trading oil and gas world. Welcome! Trang Truong wearing black sleeveless dress short black hair is also new tonight, she teaches math, loves kids, and is from Hanoi.
RIGHT TABLE:  'Ryan' Khiem Quang Pham (wearing a gray shirt with white and black glasses) schooling at RMIT and Harrison, a marketing master, currently working out of Tokyo, both our returning champs. Gents!! Next is Mai Ngo, our fav BioChem student, who tonight is wearing the black and white dress shirt. Mai studied in New York and returns, sitting next to the delightful Lucy Minh (Lucy #3) "Sexy Time Vietnam" and then is quiet but super smart up and coming event planner, Huyen Thanh Nguyen. Finally we have the couple Quynh 'Moon" Phan working in a bank, she has black straight hair, standing and wearing a white blouse. She's considering starting a Kombucha Tea Company, Kombucha is originally from China. It's a probiotic fermented tea. Moom, along with her man, our pal (seated wearing green shirt) Sebastian Goh.  Welcome Everyone!!
Below is:'Ryan' Khiem Quang Pham (seated) who is schooling at RMIT and Harrison, a marketing master, currently working out of Tokyo.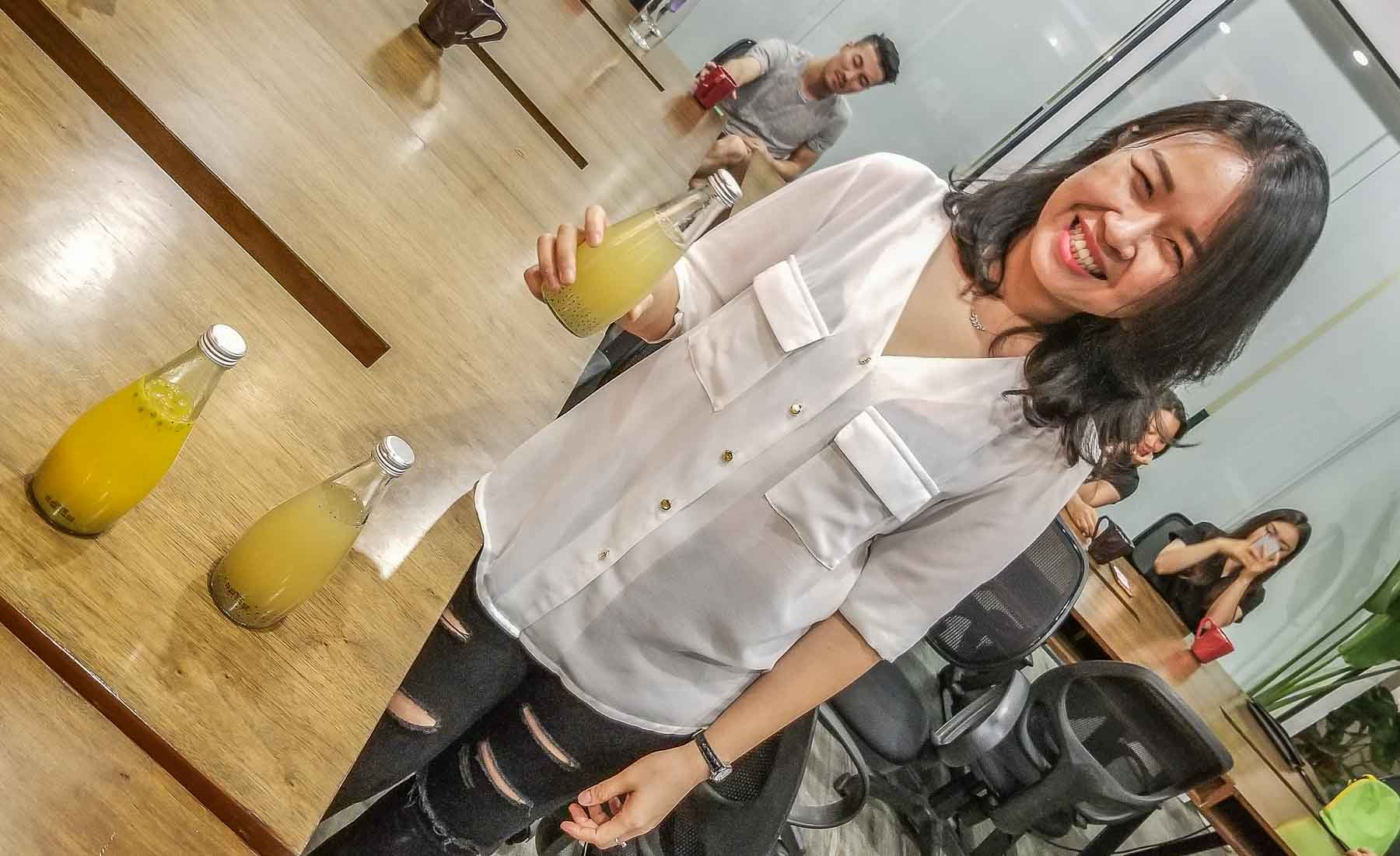 Quynh 'Moon" Phan, pictured above, brought in delicious samples of her probiotic fermented tea tonight for us to taste. Mine was delicious! Yo Entrepreneurs Tonight We Drink to Hanoi
WHY do you (Moom) want to start this company?
She wants to earn $ and share her product with people. It's relatively new to VN, and is healthy.
She brought 3 flavours today – passion fruit, lemongrass with honey and Lychee. Mine tasted quite good.
She says to drink at least 1 every day, she's offering 330 ML, and will be posting and labeling as All Natural And Organic.
We STRONGLY suggest she learn the exact product pricing BEFORE you take any next steps AND FIND YOUR CUSTOMER. Who is going to be buying your product AND how much does it cost you to make it (cost + markup = sales price). Best of luck to you Moon!!
Who am I? Michael Scott Novilla, founder of world class wedding and event venue NOVA 535 – the St. Pete HQ for Entrepreneur Social Club [tm]. I'm soon to be the published author of the hilarious Event Planning Guidebook "It's 5 am Go Home!!" and am currently #GlobeTrotting, leaving #65 Vietnam for country #66 Cambodia on Tuesday June 26, 2018. Bon Voyage!
How did you (5 newcomers) hear about the Entrepreneur Social Club?
WOM =4
FB = 1
The lesson STILL being that Word of Mouth (WOM) is still the MOST POWERFUL way to influence people.
FOLLOW US, and make sure all your WEBSITES and SOCIAL MEDIA have the same NAME / URL
https://youtube.com/c/EntrepreneurSocialClub
https://facebook.com/EntrepreneurSocialClub
https://instagram.com/EntrepreneurSocialClub
Unfortunately my 90 day Visa to Vietnam has run out, so no more ESC meetings in Hanoi hosted by me are planned (at this time). If you are in HANOI, VIETNAM, you can check out our ESC MEETUP GROUP
https://meetup.com/Entrepreneur-Social-Club-Hanoi as I did host ESC Meetings May 10, May 17, May 24, May 31, June 7, June 14 and June 21, which I'm titling Yo Entrepreneurs Tonight We Drink to Hanoi!! I HAD planned on June 28 but realized my visa ended June 26 not June 29, so gotta go…..
BELOW is ALL OF MY PHOTOS from THURSDAY JUNE 21, 2018, enjoy and please tag and share!!