Today started out with me arriving at my historic venue NOVA 535 a bit earlier than usual. To meet Harvey, of Harvey Photos, plus a handful of soon to be birthday suit wearing models, and a nice photographer and a reporter combo reporting for the Tampa Bay Times. What used to be the St. Petersburg Times when I was a kid. Harvey Drouillard is a talented fine art photographer, with an extraordinary flair for surprising us. In some of the most pleasant of ways. After solving (most) all of the (foreseeable) logistical issues, he stages beautiful and unique locations, like historic venues, airports, public sidewalks, and such, with his naked models. They pop in quickly and unexpectedly, Harvey watching and photo-capturing those precious moments, then whoosh, the show is over. Nakedness dissolving like a noontime fog. After a long day filled with 5 separate shoot locations, Harvey returns to join us, his fellow Entrepreneurs, for our weekly gathering. Yup, it's Thursday night again, this one is May 16, 2019. After some initial schmoozing and sipping of cocktails, we've settled into the sit-down, meeting part of the night. To discuss many things, including our Naked Aspirations.
As always, we circled around our huge meeting table, each of us giving our 20-second pitch, passing our business cards around, and abiding the No Religion No Politics rules. Following the photo below, from left to right was: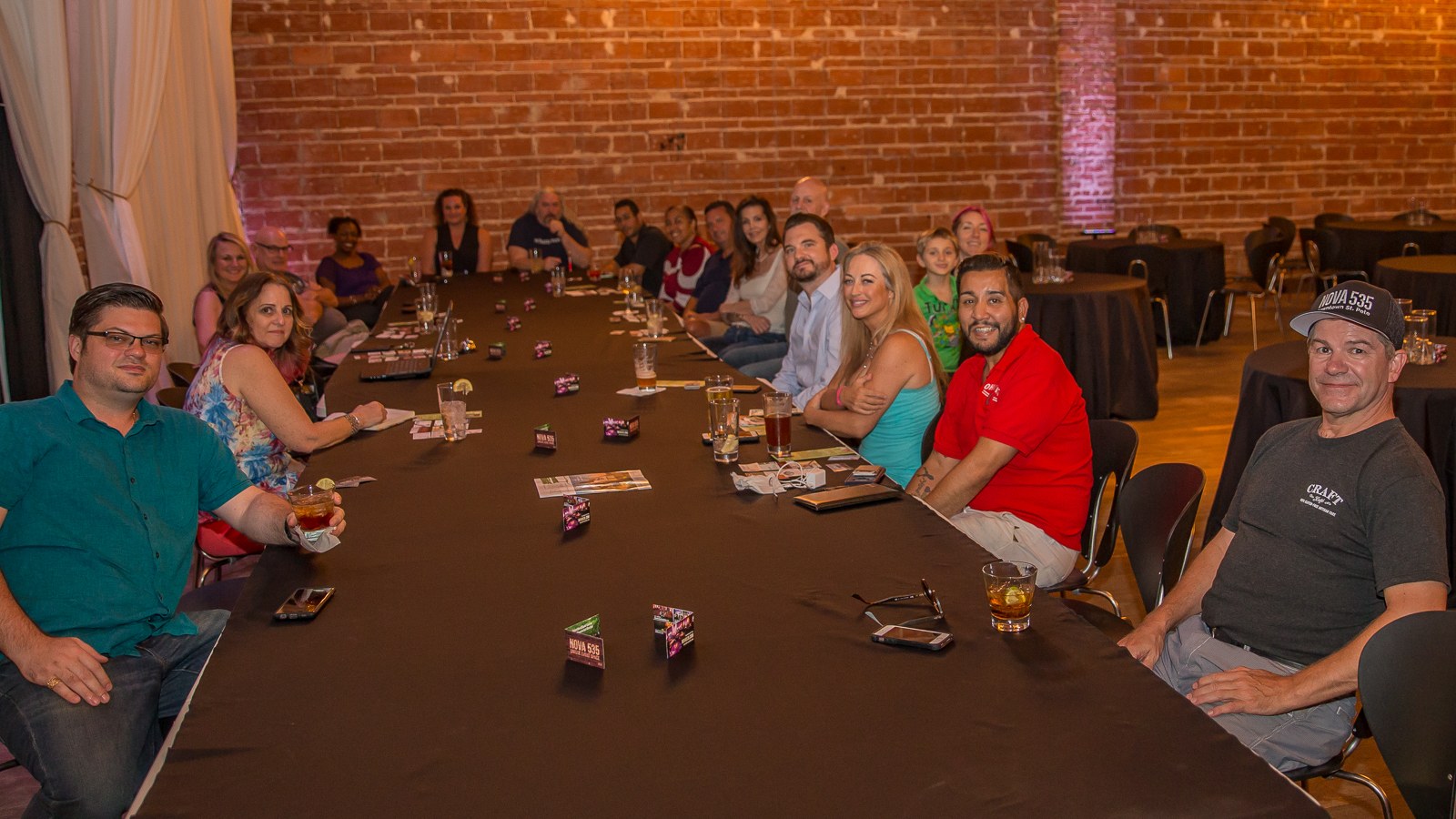 Justin Petro who makes your tech problems go away is sitting next to newcomer Michell Lieber, "the Book Lady," who sells your books on eBay. Eileen Brauch, returning after a nasty car accident (we love and have missed you, welcome back!) is now with Green Bench Monthly, St. Pete's Direct Mail Community magazine. Tony Michaelides our British accented author, speaker, and Mr. Cool Rock-n-Rolla sits next to Mimi Lange, with State Farm, her office located in Downtown St. Pete. Kym Jenkins, of V Spicery, celebrates 16 years of being in business, sits at the table end, next to hubby Chris Jenkins, our "Grumpy Old Bastard of Technology." Love ya both! 
John Periera the top dog of Imperio Realty, leans in next to newcomer Judy Sanchez, of Sanchez Rehoboth Mortuary. Judy opened their mortuary with hubby Irving, on my 51st birthday, April 1, 2019. They are not fooling around, though we shared some dead-pan humor; "All men are cremated equally", and "Your Loss is Our Gain!" Judy and Irving have created an environment, located at 6501 25 Way South, St. Pete, that doesn't feel like a funeral home. I hope not to find out anytime soon! We did push them to get lots of online reviews, especially with Google Maps.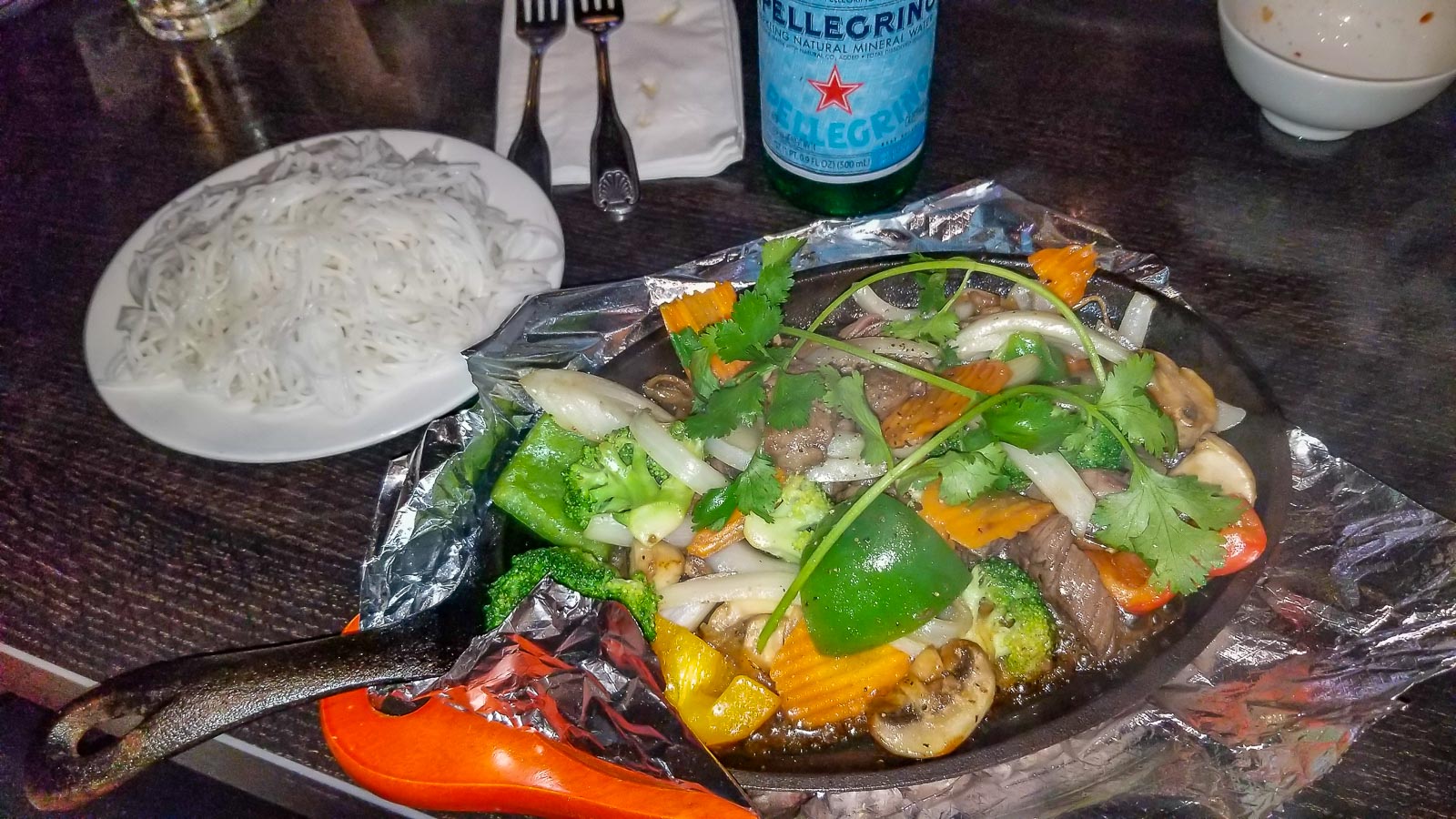 Jeff Sassano founder of Insight Consulting is sitting next to newcomer Michelle Gabriel, who previously published software called Gabriel's Lighthouse. Greg Simmons peeks over newcomers Chris Musto, a mortgage lender found at Rate.com/ChrisMusto. Smiling and happy Julia Maria, our helpful herbalist, was keeping a close eye on little Vincent Jackson, son of member Dr. Chris Jackson. Little Vincent nailed his pitch, excellent work Vincent!
Newcomer Lorette McGrath owner of Body Therapy 2 U, with 2 therapy locations in Tampa Bay, joins us via word of mouth from our logistics pal Joe Miller. Joe! Finally our star photographer, Harvey Drouillard, of Harvey Photos!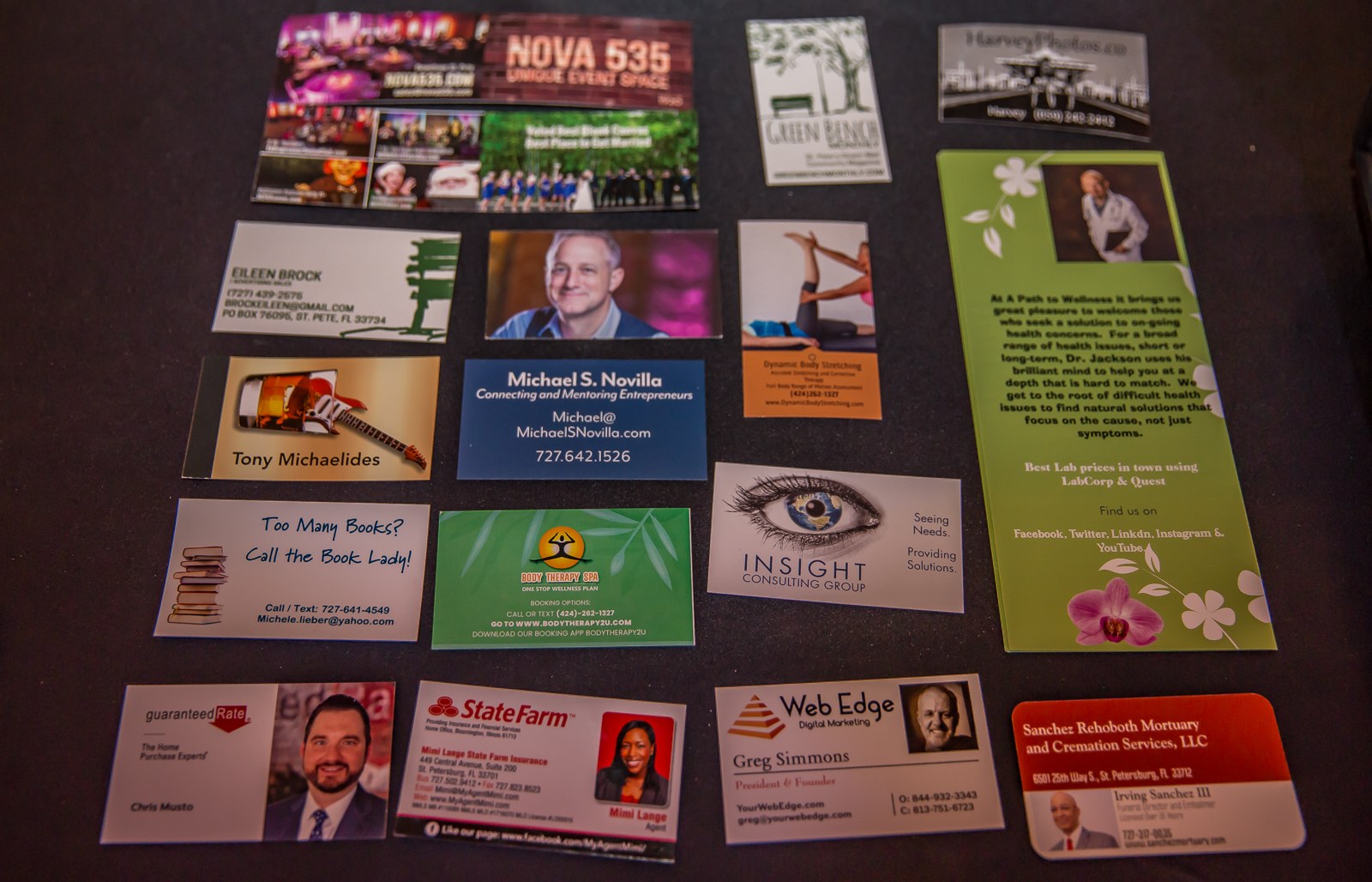 Same advice, week after week, for your business card. What is the purpose of your card? To have someone call or email you? Seems smarter to push them directly to your website. Make sure that anyone who would randomly pick your card up would understand EXACTLY what you do. Less is more. Have your font large enough to easily read. Older people have more money and worse eyesight. 
Tonight we dine at the delicious La V Vietnamese Fusion Restaurant, owned by ESC member Thuy Le, and located at 441 Central Avenue Downtown St. Pete.  I had the mixed vegetables, filet mignon, and rice noodles! Yummy, thanks Thuy!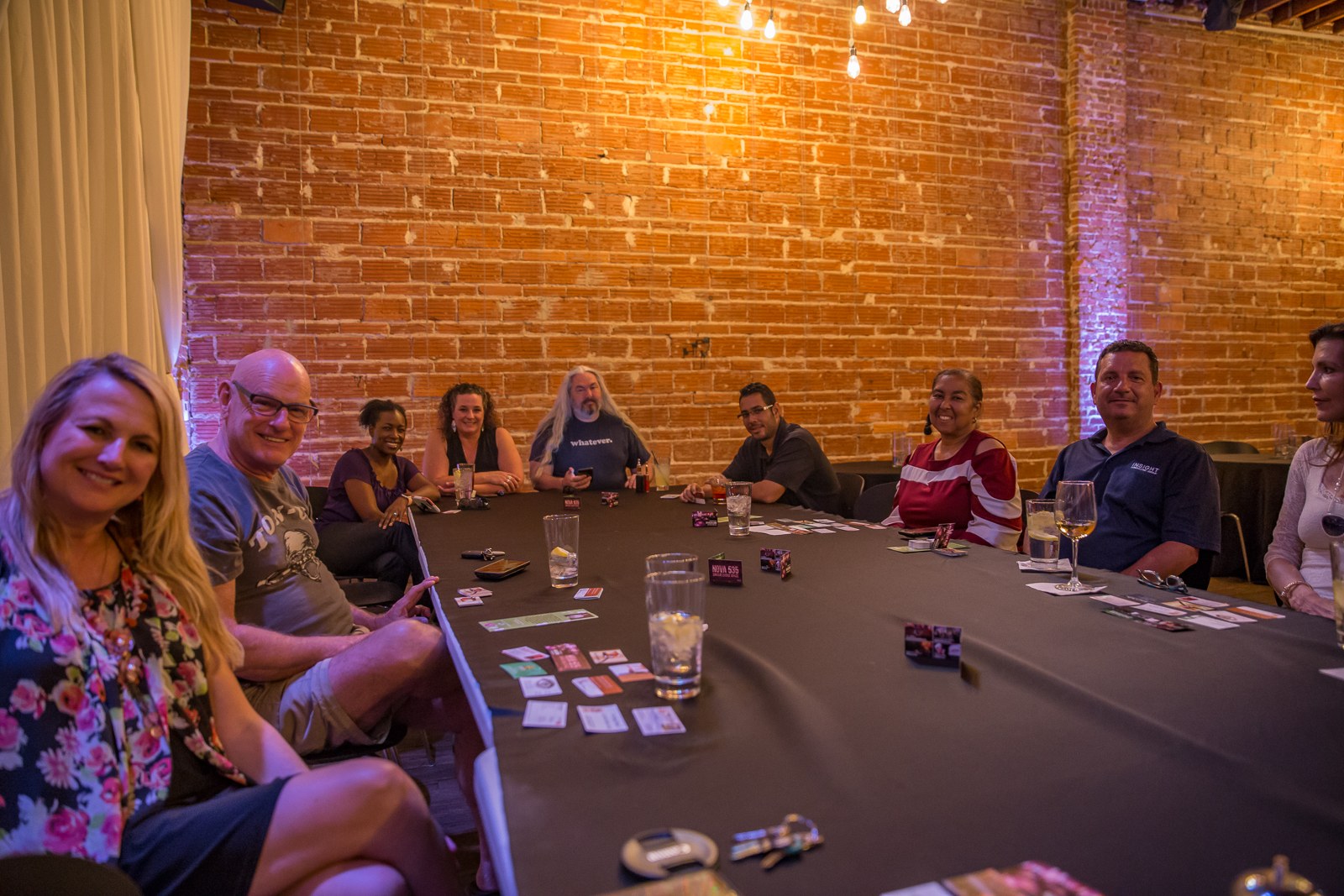 Dinner roll call tonight, pictured below, left to right: Chris and Kym Jenkins, Jeff Sassano, Justin Petro, Judy Sanchez, Eileen Brauch, Greg Simmons, Michelle Gabriel, John Pereira, and front right is my brother Jzon Livingston, founder of Higher Meading. Jzon you missed the meeting, just saying, though thankfully not the afterparty! 
Our after party was held at the swanky Room 901, located at 901 1st Avenue South Downtown St. Pete. Sorry, no action photos after 10 pm, aside for this one of their incredibly cool wall-o-books. We did have a guest appearance by "Santa Claus" who provided some late night snacks, just in the (haha) nick of time. Teşekkür Ederim! 
I asked the group for recommendations, a Book, Movie, a Helpful Suggestion, Website, etc. Here's what we learned this week:
BOOKS:
Profit First
Getting Things Done
The Power of Habit
The Chimp Paradox
Get Big Fast and Do More Good
Lessons Learned From Rock and Roll
MOVIES
The Lego Movie. Guess who suggested this one? 
HEALTH
() Black Seed Oil, is according to the internet (hahaha) "contains thymoquinone, which is an antioxidant and anti-inflammatory compound that may also have tumor-reducing properties. People can ingest black seed oil in the form of capsules or apply it topically to benefit the skin."
() Go visit Dr. Chris Jackson to be a healthier version of yourself.
() ImmunExtra "is an all natural supplement containing Proligna, a botanical extract derived from pine cones that optimizes your immune system." (Amazon)
() Fasting, which has many health benefits. 
() Check out "Yoga with Adriene."
TECH
() Block Spaces, located at  500 E Kennedy Blvd #300, Tampa, inside Tampa Bay Wave, "is a blockchain technology education and development center."
() Upwork's website says "Hire Freelancers. Make things happen.™ Grow your business through the top freelancing website. Hire talent nearby or worldwide." 
() Joe Rogan Neil Degrasse PODCAST.
() Climate-Related Gentrification. 
() What-If XKCD.
So who am I anyway? I'm Globetrotting Entrepreneur Michael Scott Novilla, founder of the Entrepreneur Social Club [tm], a fun loving guy who loves helping other Entrepreneurs. While I am home in St. Petersburg, Florida, I host this Thursday night gathering, usually here at historic venue NOVA 535. My wild and crazy life story and step-by-step guide book will be published soon, which I guarantee you will learn a lot about me, enjoy some laughs, and, if you follow my lead, be able to host your own 5-star parties, weddings and events. It's 5 AM Go Home shows you exactly how to throw parties so good your guests won't want to leave. I'm assume from your POV that's a good thing.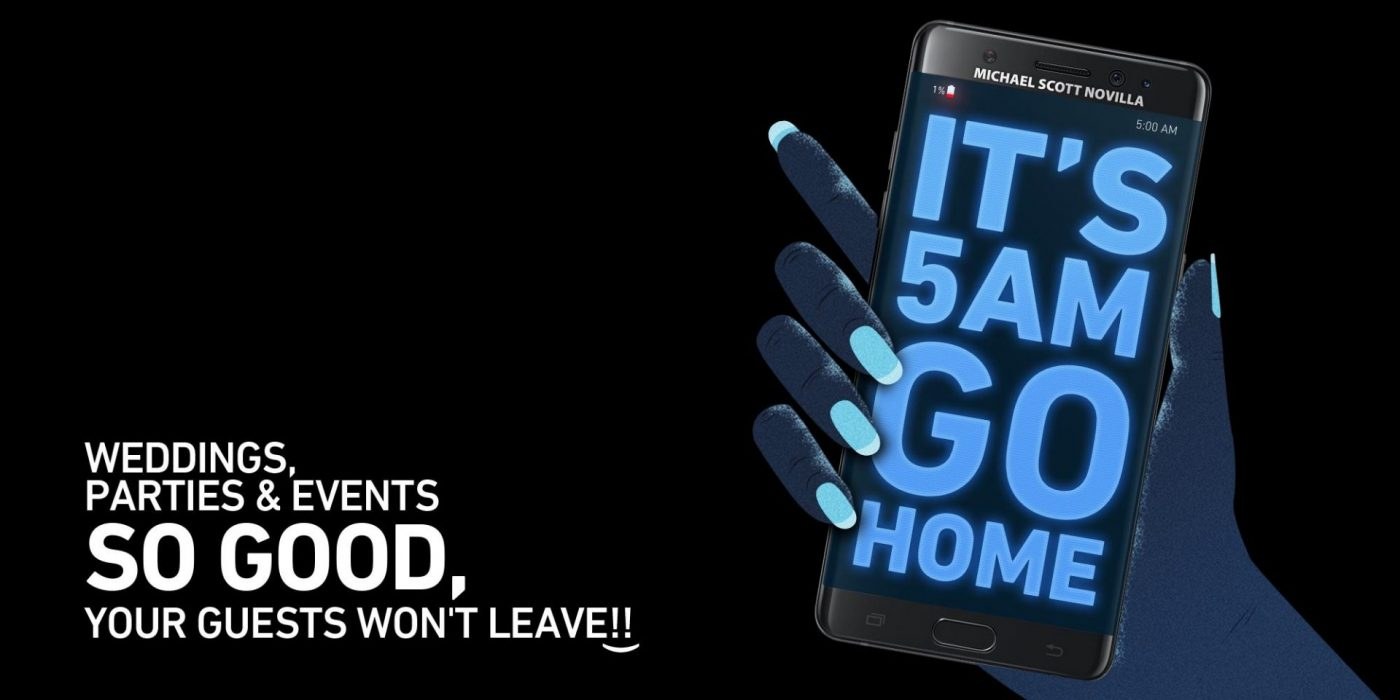 Hugs to our favorite, lovely and talented bartender Vanessa Baker for keeping our members properly hydrated. 
Thursday 6:00 pm – 8:30 pm:
May 23 at NOVA 535
May 30 at NOVA 535
June 06 at NOVA 535
June 13 at NOVA 535 
…then dinner and more drinks immediately following…join us anytime! Like what Jzon and Sheri like to do. 
=== HERE ARE ALL OUR 05-16-2019 PHOTOS ===
** YES WE CAN!! ** at NOVA 535, where we make weddings, parties, and events so easy for you, with No Limits and No Stress, just 5-Star results!
Please keep NOVA 535 in mind for your weddings, receptions, film shoots, corporate holiday parties, celebrations, and unique events! We make it so easy for you, with No Limits and No Stress, just our 5-Star results! You can Get Started or email [email protected]. Thank you!