Thursday March 17, 2016 aka St. Patrick's Day, was, as these publicly celebrated holiday are, a meeting attendance wildcard. It's uncertain how many people show up each week for the Entrepreneur Social Club, aka the ESC, as we don't require any registration. Just show up to downtown St. Pete venue NOVA 535, and enjoy! With these 'minor' holidays (we're closed on Thanksgiving and Christmas, for example) you never can tell who's gonna show up. I had just literally got off the plane from Las Vegas Catersource 2016, and it was a bit of a late start, then my fellow Entrepreneurs joined in for our weekly fix. And what an excellent night it was. I'm calling this story. A Lucky Night at NOVA 535 then Dinner and Drinks at The Queens Head. Yes I know the English and Irish aren't historically pals, but Tracy the owner of the always fun and delicious The Queens Head was in attendance, so our restaurant choice tonight was easy peasy!
We had a few first timers, including Chef and DJ Delano, yes Chef and DJ, who shared his delicious beef empanadas. Delicious!! His full name is Stephen McFarlane, yet everyone knows him as Delano. Thanks for sharing and welcome Delano to the ESC!
Tonight, March 17, 2016 (Happy St. Patrick's Day!) in attendance was:
Claudio Ceron, a longtime member and always warm and charming, is a seasoned financial advisor and great guy. 
Tracy Asalita, newish owner of The Queens Head Restaurant and Bar is also warm and quite enjoyable to spend the evening with. WE all ended up at her restaurant and Bar and ate (ALWAYS DELICIOUS) and drank several yummy bottle os red vino, plus I'm sure there were lots o' pints washing down the taste fare! Thanks for your excellent hospitality Tracy! See you again soon at Queenshead! 
Tracy Penokie has been working at Leafy Greens Cafe, and after my several recent visits, she happened to be working on a new business venture for chemical free body products. I suggested she connect with Kim founder of Bodhi Basics, who is local and making excellent soaps, and other all natural products.  She heard how fun and productive the Entrepreneur Social Club is and wisely decided to join us. Now if she listens and continues to come to the weekly meetings, she can evolve her idea(s) into a successful business. Welcome Tracy!
Brian O'Donnell was recommended to the ESC via Word of Mouth, which I always remind people that it's still the MOST POWERFUL way to gain referrals and business. Spend more time there vs Social Media. Welcome Brian!
Michele Pliner was also a newcomer – WELCOME- and she received a lot of free, VALUABLE advice on her card and pitch. Hope to see you again Michele, and that you'll listen learn and grow along with all of us! WE are ONLY trying to help!
Emmanuel Roux founder of GateauOChocolat, a delicious (I know I've enjoyed on many occasions) flour free chocolate cake.
Sarah MacQueen founder of  Big Fish Media, welcome back Sara, always a pleasure to see and learn from you. 
Karen Rowe, a Ghost Writer, took our advice and make a HUGE IMPROVEMENT in her latest version of her business card. BRAVO Karen!!!!
Ann Marie Kriso, was back, pitching her All American Apparel. Hello Ann!
Trenton Dobert, our newish Student at SPC, he's a computer programmer and we're mentoring him along the way. Great seeing you Trenton – nice choice with the Sheppard's Pie!
Gina Tracy Imagine Root Branding – also welcome back, was delightful seeing you!
Christine Fasan K9 Holistics is relatively new by a few months. She fit's so well here within our fun, smart, sarcastic, witty group of Entrepreneurs, she stayed until the wee hours at Queens Head, and we enjoyed every minute. Welcome fellow smartass! =D 
Don Kobasky, an old friend and master Oil Painter, recently spent 9 months developing the revolutionary painting solution, the Drip Krown. Don's Wisdom and Advice:  get out, never stop, keep pushing never take no for an answer, push Push PUSH and make your own good luck!
Kyle Fleming Photographer, shot some amazing photos recently for my other venture DowntownStPete.com of the St. Pete Grand Prix 2016. Welcome back Kyle! (PS All of these photos are shot on my Galaxy NOTE 5, while I'm running the club, so give me a bit of slack)
Nick Mazeika, Mr. "I'm you when you can't be"  and NOVA 535 sales manager. Always good to see big Nick! 
(BELOW – Big Nick, Ann Marie and Trenton)
(THE WILSON VAN – With Paul Wilson ABOVE in USA FLAG SHORTS)
Paul Wilson, and old pal and fellow Entrepreneur, FINALLY graced the ESC with his presence! PAUL!! We first met in 2009 I believer here at NOVA 535 when his younger brother Mark Wilson (local TV News Star) had his birthday here. That night was the first time all 3 Wilson Brothers – the 3rd being Patrick Wilson, their super hunky A list Movie Star brother – played together in what is now called THE WILSON VAN. Me, being a HUGE VAN HALEN FAN, was thrilled to hear live covered Van Halen here in St. Pete!!   Paul Wilson http://prwilsonmedia.com/ and his family have, for decades, given back so much to our community that I just want to say here, once again THANKS!! =D
(ABOVE  = Nick, Ann Marie, Tracy, Gina and Christine – all listening in)
(BELOW = Sara, Karen and Michele Pliner)
Don explaining his 9 month long process, to date, the struggles, rejections and victories with us; most importantly to those listening, we had the never ever never ever quit attitude reinforced by Don. COngrats to Don Kobasky and his ingenious Drip Krown!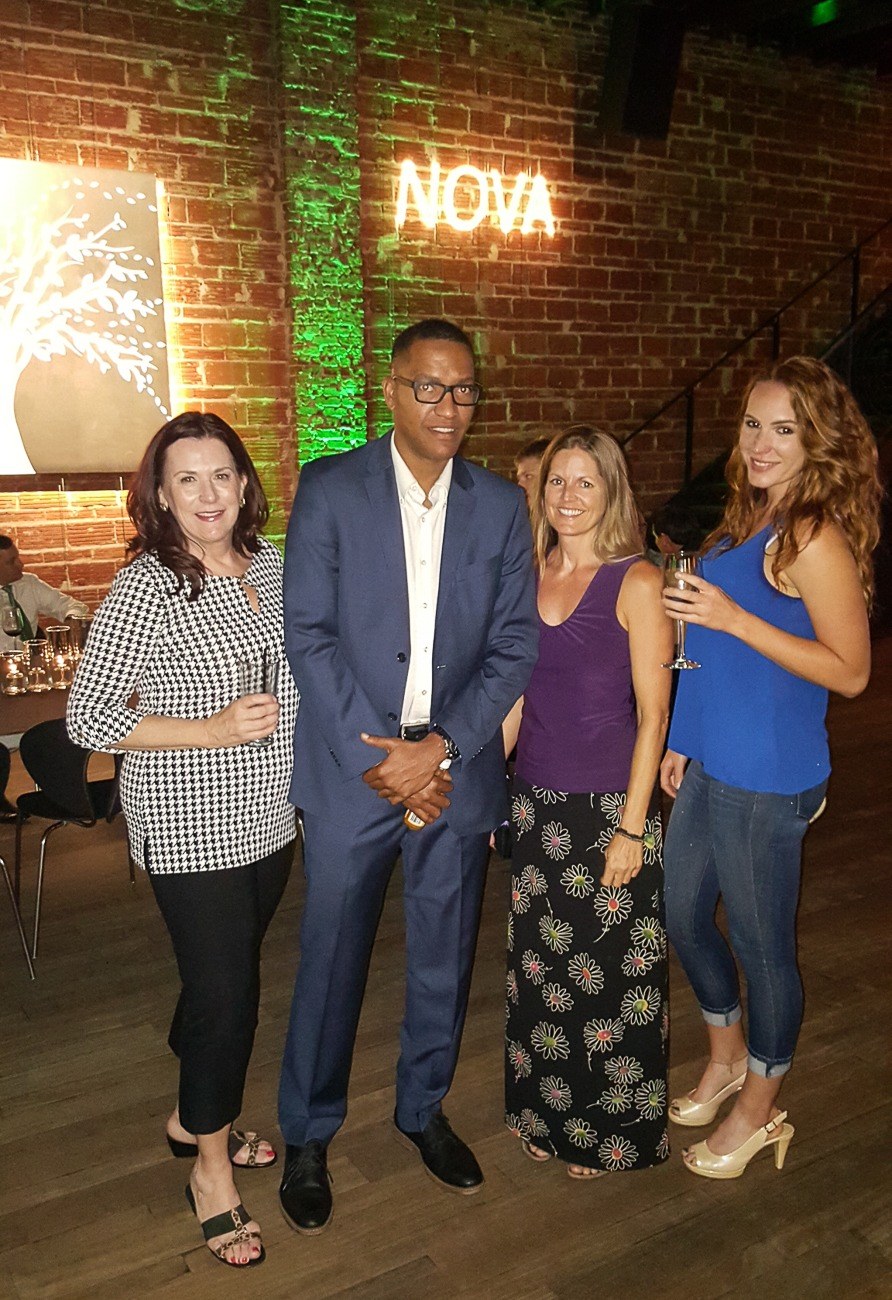 ABOVE = Ann Marie, Delano, Gina and Christine
BELOW = Newcomer Brian O'Donnell of BuyMeACarUSA.com sharing the lock of the Irish with Tracy owner of Queenshead)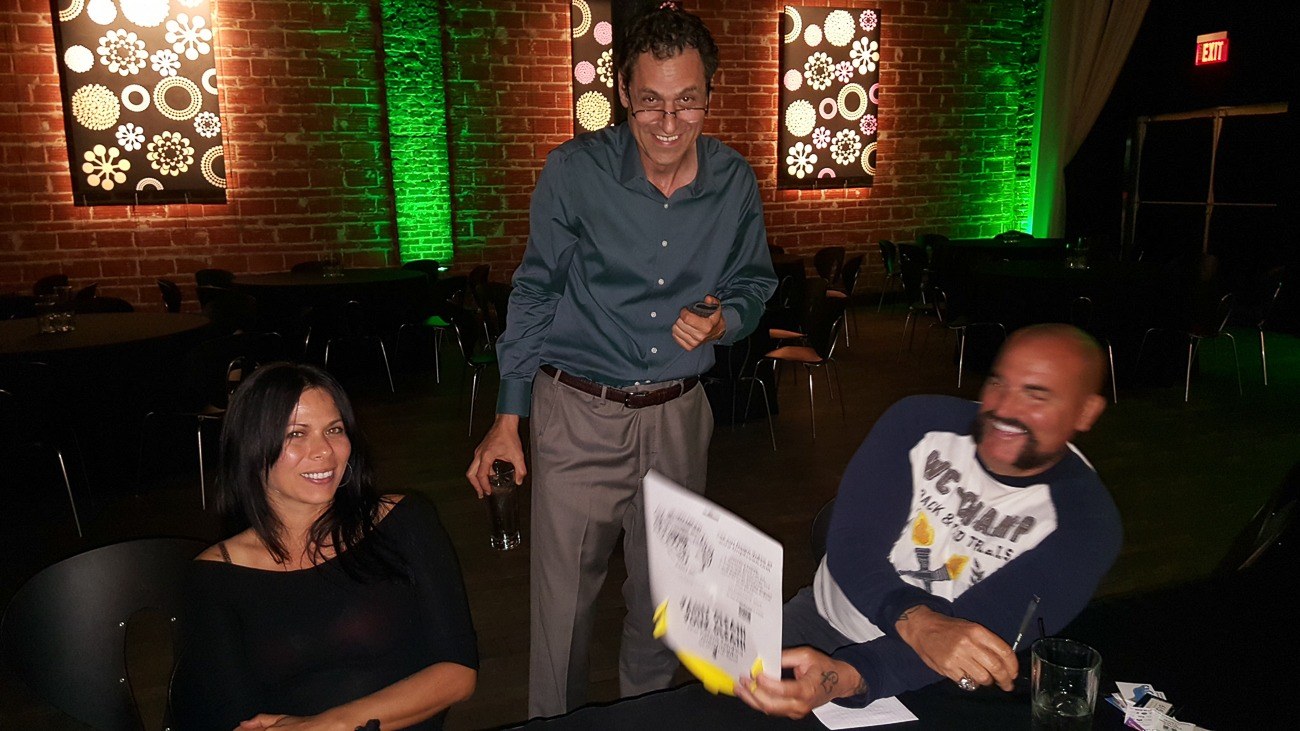 Lucky Night at NOVA 535 when we have such a diverse, witty and entertaining of inventors, designers, and Entrepreneurs all helping and enjoying each other!
ABOVE = Ann Marie and Tracie sharing a laugh
BELOW =Emmanuel and Paul Wilson, both long time Entrepreneurs and supports of Downtown St. Pete,  enjoying a moment.
ABOVE = Claudio and Sara.
BELOW = My brother Chris Novilla, one of the managers here at NOVA 535, and one of my favorite people on the planet. BUBS!
As I mentioned, Dinner and more drinks, including lots of delicious red wine, we enjoyed here at The Queens Head Cafe and Bar, located at 2– Central Avenue.
The Scallops were, as always, so tasty and yummy!! Trenton enjoying his very first Shepherd's Pie – he LOVED IT!
What I call a Lucky Night at NOVA 535 – Spending time, laughs, dinner and drinks with my fellow Entrepreneurs!
Dinner and conversation was followed by lots more red wine, great discussions, lots of silliness, laughter, music, some grooving followed by many uber rides home, way way past midnight. What a Luck Night we had!! See you all any / every Thursday Night for our Entrepreneur Social Club. Check the weekly location here, though most always at historic downtown St. Pete venue NOVA 535.