Every year here in Las Vegas, or as my late father always said, Lost Wages, there is a gathering of business owners and Entrepreneur for a convention called Catersource. This year was March 15 and 16th, 2016, and my long time business associate, adventure chef and brother from another mother Chef Brent Shaver, aka A Chef's Adventure, decided to join me on this culinary world adventure for Las Vegas Catersource 2016. See my primary business, the historic wedding and event venue NOVA 535 Unique Event Space, located in beautiful downtown St. Pete, Florida, allows outside catering for our events. I want to stay up to date with how the best of the world creates, serves, presents and stores is food offerings, plus I've been hankering to do more on-site cooking as well. Las Vegas Catersource 2016 sounded like a great way to accomplish all these goals plus spend some time in a fun city with one of my favorite humans. Here's the story of Our Fellow Entrepreneurs at Las Vegas Catersource 2016. PS we always review people's business cards – at least 10 a week since 2009. So please take our advice with a smile, we're only trying to help.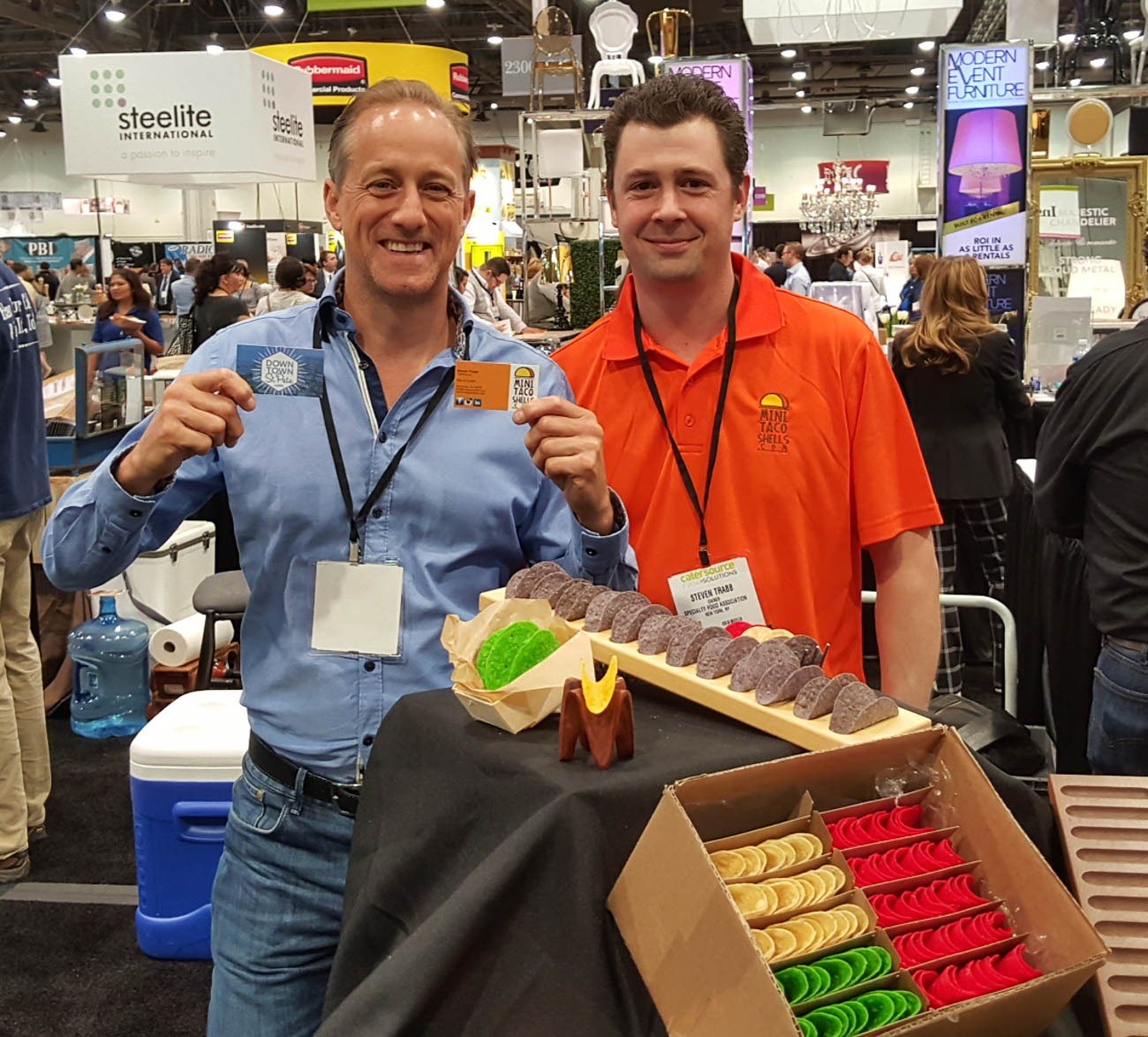 Mini Taco Shells – think taco sliders via Chef / Owner Steven Trabb from Somerville, NJ. http://minitacoshells.com  Nice job on your business card Steven!
Todd Fitzerman of Local Oven from Carrollton, Texas http://localoven.com gluten free baked goods. Love the tagline "there's no gluten…and no one knows".
LimbicMedia via Manjinder Benning, director, from Victoria, BC  http://limbicmedia.ca Cool ice breaking ideas for sure. Their business card needs work as it doesn't tell me at all what they do. Nice group of people, and they were happy to listen to my input, which was they should NOT develop the hardware portion of their product, instead use an APP and people's phone – in my opinion, people are NOT looking for another device to carry around – or to wear around their neck during an event. The icebreaker part of their offering was cool, and as a guy whose thrown over 1,000 successful events, icebreaking is an important component of any social gathering.
Champagne Creative Group – Las Vegas via Rolando Espinoza, Creative Director, their website http://champagnecreativegroup.com
Tossware.com, this was high end, very realistic glass looking eco friendly disposable glassware, about .70 / unit plus optional .$20 logo / branding, which at $.90 / unit isn't inexpensive by any measure, except that its MUCH BETTER for our environment, plus the drinking edge is smooth and the glasses looks fabulous. If your clients can afford the extra expense, Tossware is a excellent and environmentally friendlier solution. Katie Camp, an account rep who shared her excellent pitch of Tossware, was recently married = congrats to Katie and her hubby!
Backdrops Beautiful, out of San Diego, CA via Elyse Kirmaci from NYC, website is http://backdropsbeautiful.com. These are gorgeous, large – up to 20′ high x 40′ wide, artistically beautiful backdrops, for about $600 each, rental for a week
Card needs a step up, one whole side is wasted on a logo, where it should house one beautiful photo vs a 50% smaller photo jammed in with the contact info. Don't know why they have a fax number either =D it's 2016. Aside from a few business card tweaks, I'm excited about using backdrops beautiful at my historic event space NOVA 535 in sunny downtown St. Pete, Florida!
Organic Chickpeatos – Simple Ingredients, Minimal Processing via Jimmy Edgerton co-founder out of Washington DC. nicely done business card, their website is http://WATUSEEfoods.com
great breading product to replace gluteny bread, bravo!
Cigar Bella, with owner Katrina Kelly and her lovely assistant here at Las Vegas Catersource 2016.  They provide beautiful ladies who come to your event and add a unique, interactive element, perfect for us cigar lovers!
Business card is a good try but the font too light making it hard to read, and it should be improved with a great photo of a Bella Rolling Cigars on one side then the contact info on the other – an easy tweak to make a big improvement.
Nice meeting you Katrina, we wish you the best of luck! Of course being from downtown St. Petersburg, Florida with Ybor City as our neighbor to the north, we know ALL ABOUT excellent cigars, and have used them at my event venue NOVA 535 many times, always to the joy and delight of our clients and guests!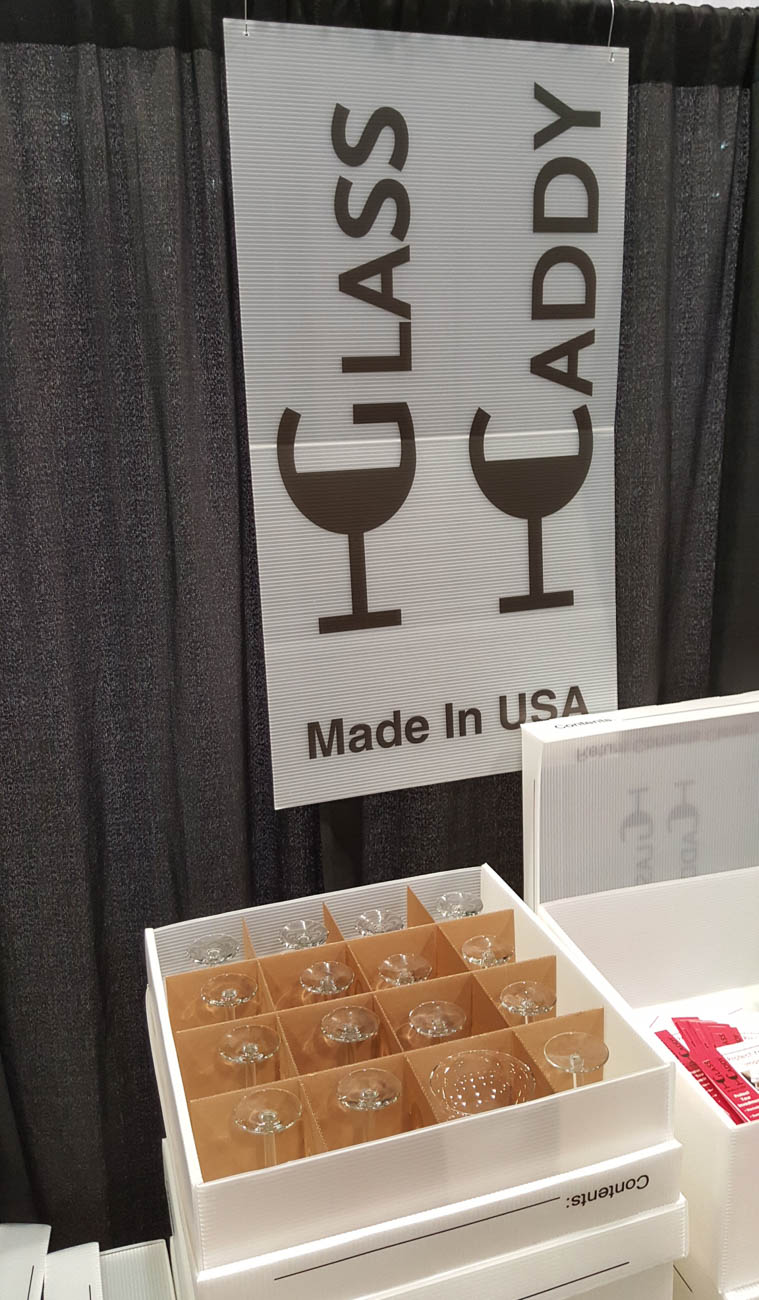 Brenda Millan the sales rep for Glass Caddy. http://Glasscaddy.net. Some free ESC advice =  [ON BUSINESS CARD] Brenda Millan, sales [email protected] – a no no, should be [email protected]. Always use every 'touchpoint" to reinforce your brand name.
Glass Caddy "Image is Everything". Good business card, but I don't get the "Image is Everything" tagline. The boxes are nice looking in white so I guess if you have to leave these boxes out for people to see then it kinds makes sense. I'd work on that tag line, more like "Safe, Sexy Glass Storage" or such
good looking product, seemed a bit expensive, about $10 / box, but nice quality and will certainly look nice, while your glasses are staying protected and dust free!
A gorgeous, space saving and mobile rolling cart Eastern Tabletop Manufacturing Company, out of Brooklyn, NY. The sales reps were quite friendly and informative
Ryan Pirkle, Foudner and President of http://airemos.com, offers a clever and good looking inflatable tent solution here at Las Vegas Catersource 2016. Ryan was friendly and exuding that stereotypical southern Charm, originally from Charleston, SC, we joked about all of the lovely ladies in Charleston. I like this strong, sturdy, inflatable in 5 minutes and you have a tent solution, and hope that Ryan's venture is successful. I'm certainly considering this tent for my wedding and event venue NOVA 535 here in downtown St. Petersburg, Florida.
AllSeated.com is 'the fastest growing network for Event Professionlas" and quite similar to the system we developed for clients and vendors at NOVA 535. Several years ago when we began opertaing NOVA, there wasn't anything on the market that suited our needs so we built one ourselves, and well so has AllSeated. Dina was the rep we spoke with, friendly and knowledgeable – thanks Dina for answering all of my questions.
IDO-TEA.com is an all natural Korean Tea company, nice looking card, though it's unclear from the card alone exactly what they offer / sell. The product, packaging and display were beautiful, and the tea delicious. I liked that for about $1/teabag I can have a custom blended tea daily, an all natural organic medicine. Tweak and improve the card as to exactly what you are selling and best of luck to my fellow entrepreneurs John J. Lim and his associate from Waltham, Mass.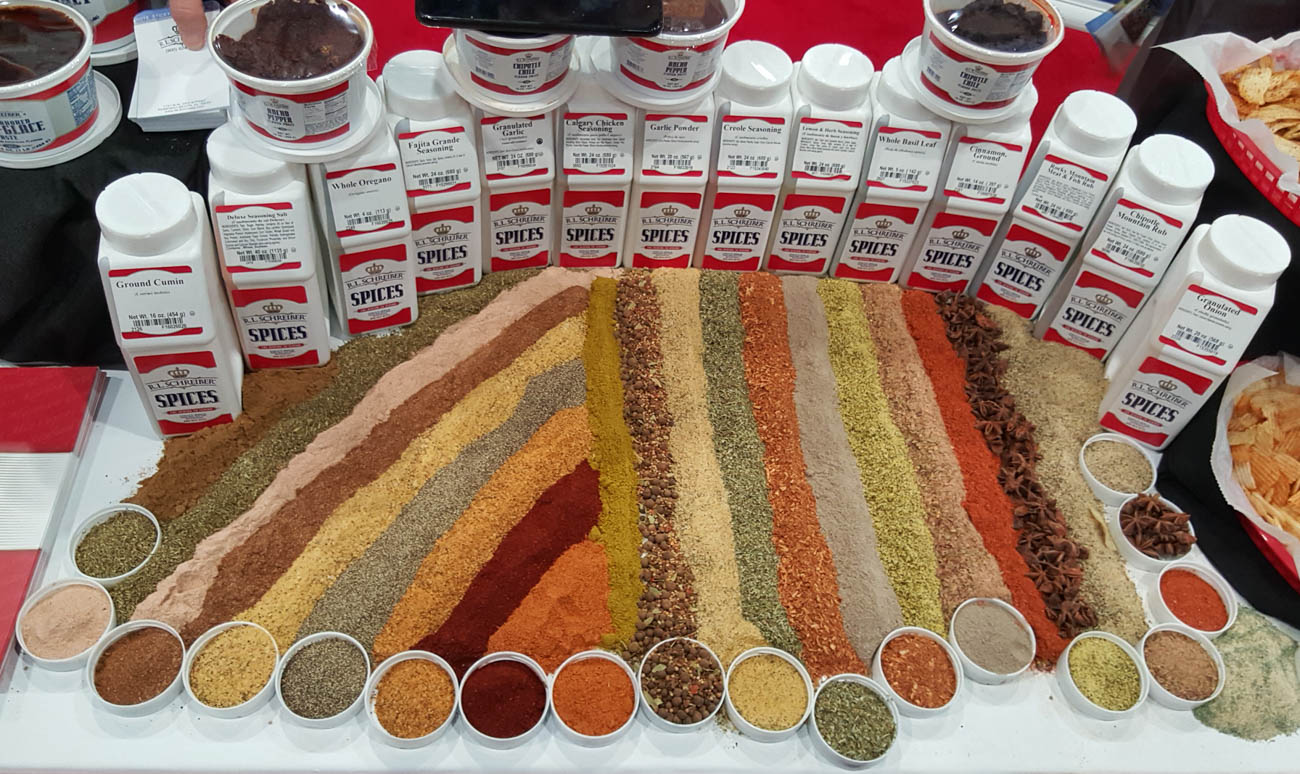 I do have to mention that both Chef Brent Shaver aka A Chef's Adventure, and I LOVED these Marin French Cheeses! If I remember correctly this is the oldest continually running cheese company in the USA. Bravo!
Chef Brent and I shared a 3 bed top flood condo at the Ogden Tower in Downtown for the Las Vegas Catersource 2016, using AirBnB and saving a LOT of $$. Thanks AirBnB!
If you live in the Tampa, St. Pete area, join us any / every Thursday Night for the Entrepreneur Social Club, most always at my venue NOVA 535, for a FUN and PRODUCTIVE night. We, the Entrepreneurs are the ones that solve the world's problems, so our club is to help and enjoy each other without allowing religion nor politics. We focus on solutions and helping each other, all while having a great time!