It's Thursday, November 14, 2019, and we are offsite tonight. A fun and hungry group of Entrepreneurs looking for that Big Catch. Our HQ, the historic venue, NOVA 535, is booked for a private event, so we are here at Our Entrepreneur Social Club [tm] member Jon LaBudde's Big Catch Restaurant.
Entrepreneurs Looking for that Big Catch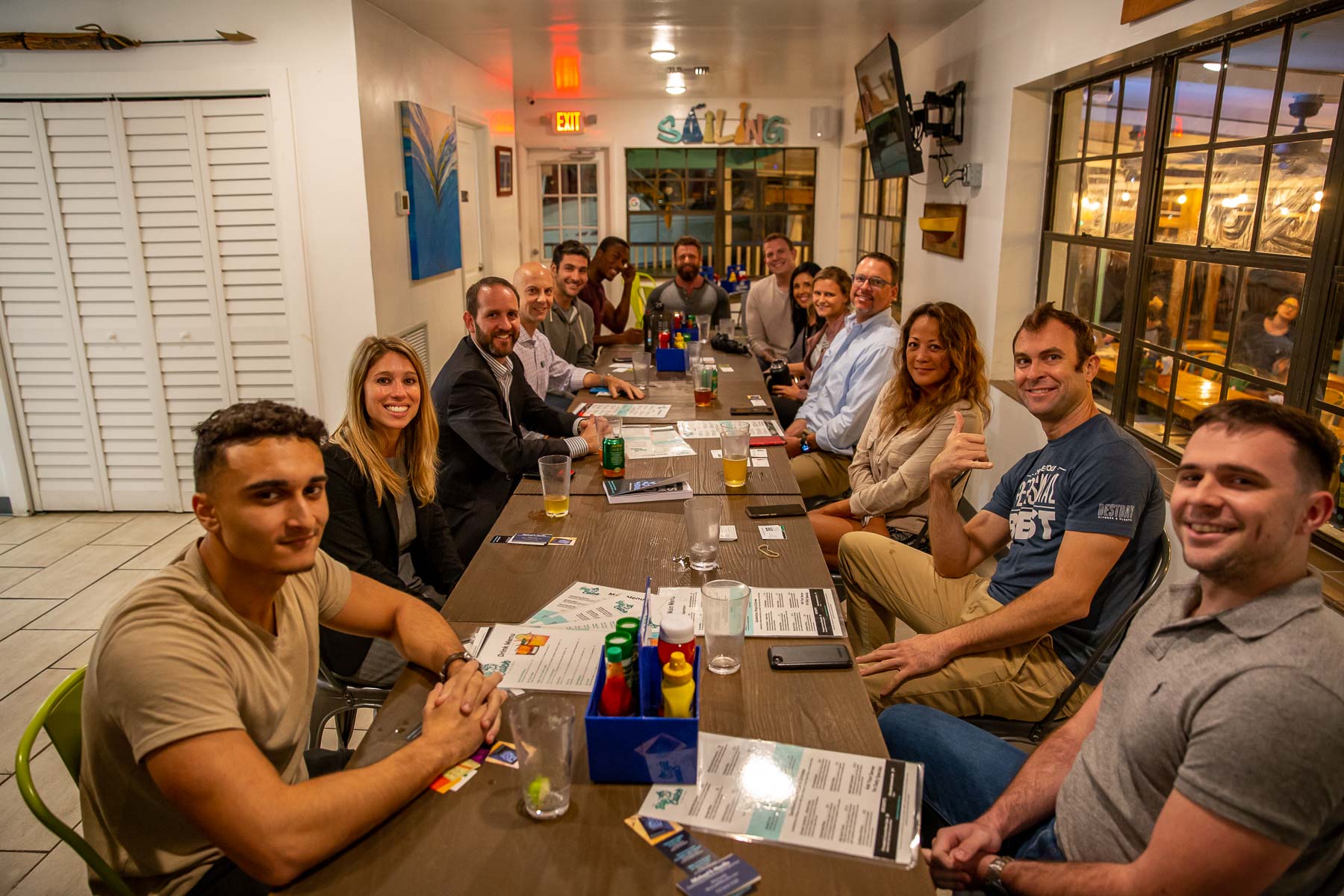 Lots of new faces here tonight at our offsite ESC meeting, which is fabulous. I never know how many fellow Entrepreneurs will show. Thumbs up to Best Day Fitness owner Chris Tolisano for brining several of them. My laptop screen proudly showcases my first published book, a hilarious step-by-step guide to throwing your own 5-star wedding, party or event; It's 5 AM Go Home! You can find it and many other excellent reads right here on our ESC website under the BOOKS tab. 
My pal Jon LaBudde is one of the owners of The Big Catch Restaurant, and Jon is ALWAYS helping EVERYONE around him. That is proudly displayed on his beautifully painted table tops, by the talented local artists of Creative Clay. Of course Jon's food was fresh and delicious tonight, as expected!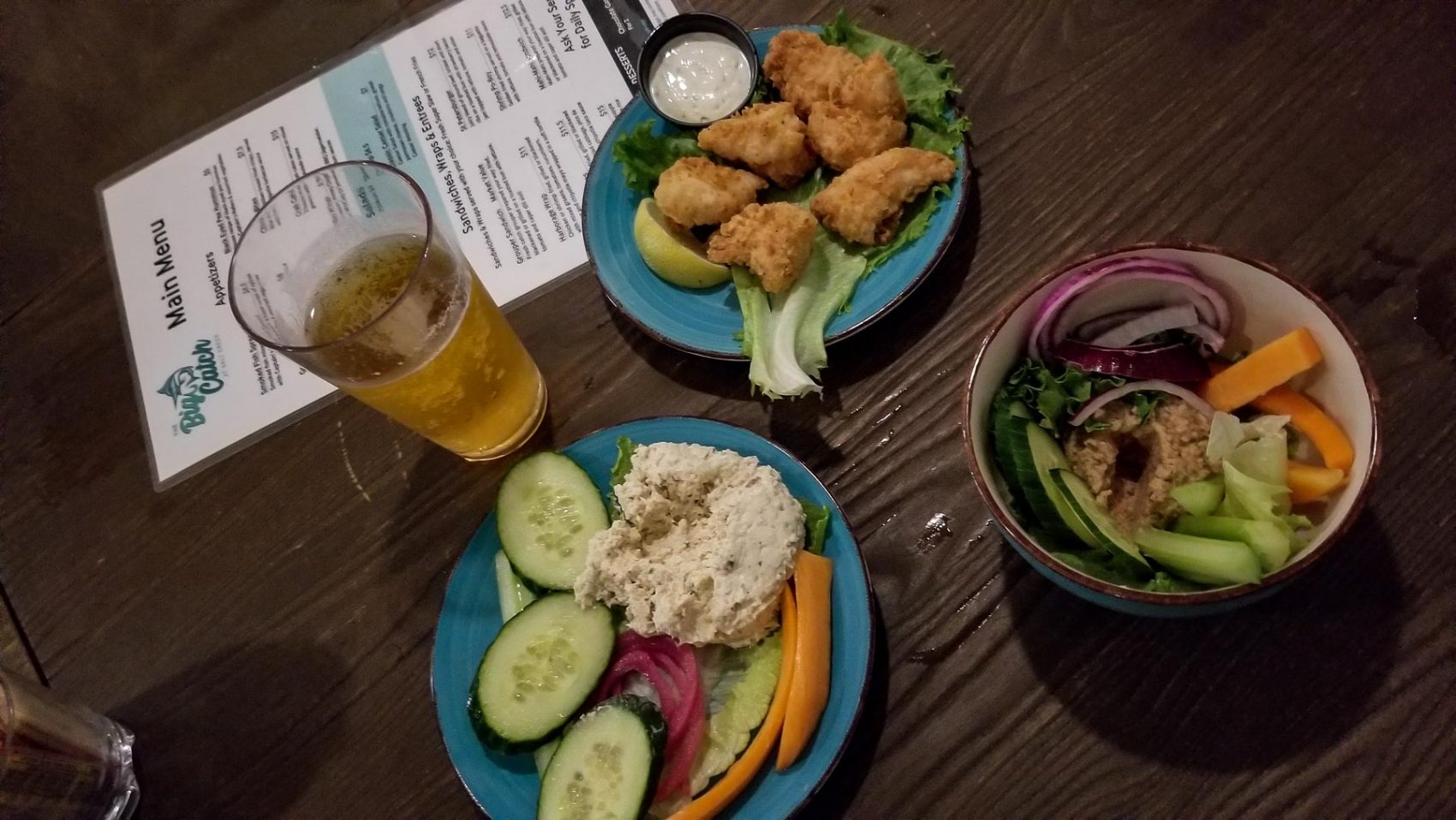 Below are newcomers Stephan Glasser and Andrea Glasser, whose first time was last week (11-07-2019) which was hosted by tech guru Seth Mattox while I was traveling. Stephan and Andrea mentor those business owners transitioning from solo entrepreneurs into larger organizations. They mention the digital business card app SwitchIt in response to tonight's discussion. They are joined below by transportation specialist Joe Miller and community cafe founder Mandy Keyes. Mandy is in the process of moving locations after responding to her landlord's abrupt vacate notification. She's a champ and will land in a better place for sure!
Stephan smiles above while Andrea snuggles in with our newest published author, the most talented Danielle Laura. Danielle actually just published TWO books, bravo!!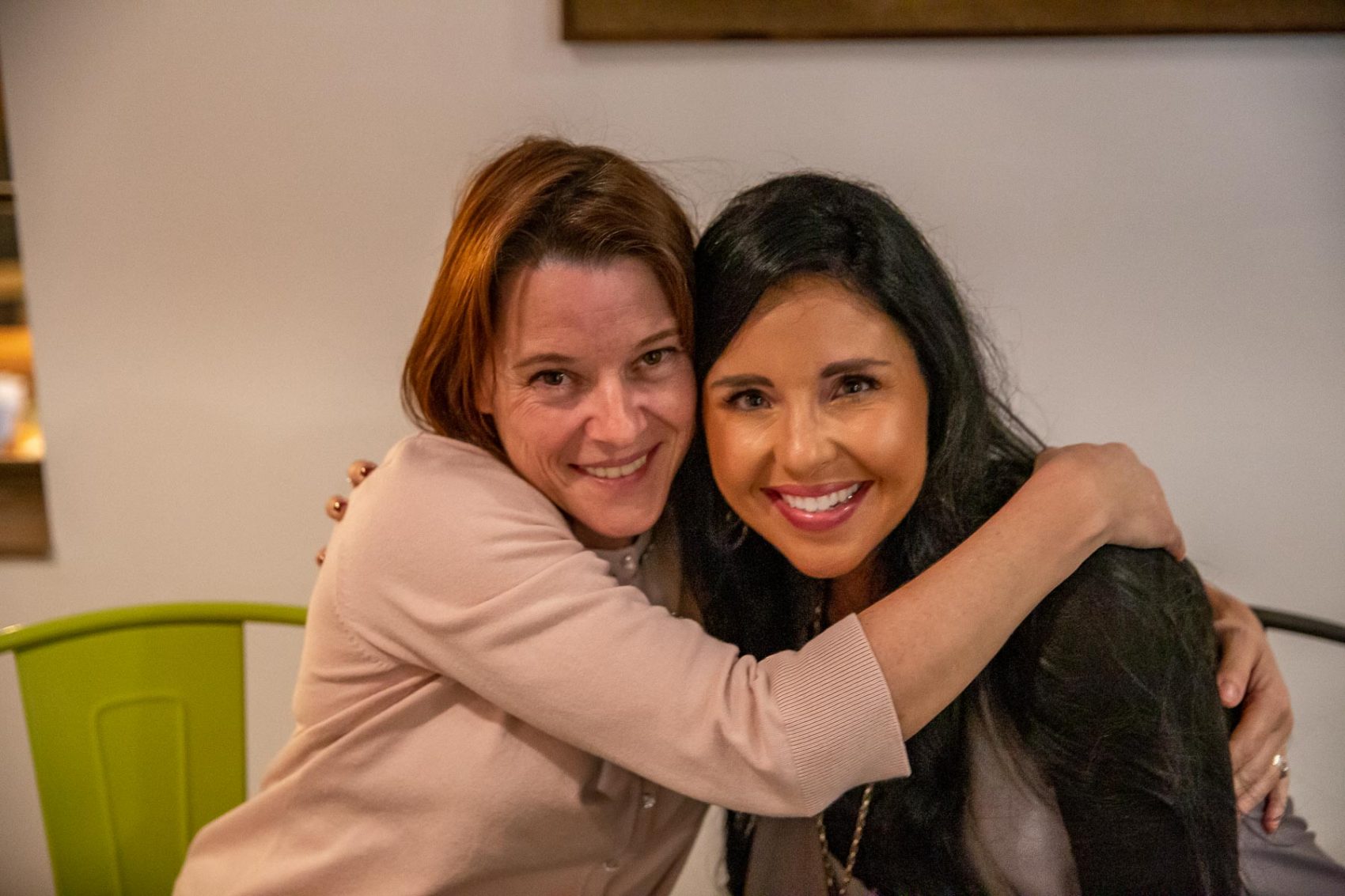 Below are newcomers Nick Kirby, who does business development for Enterprise Car Rentals..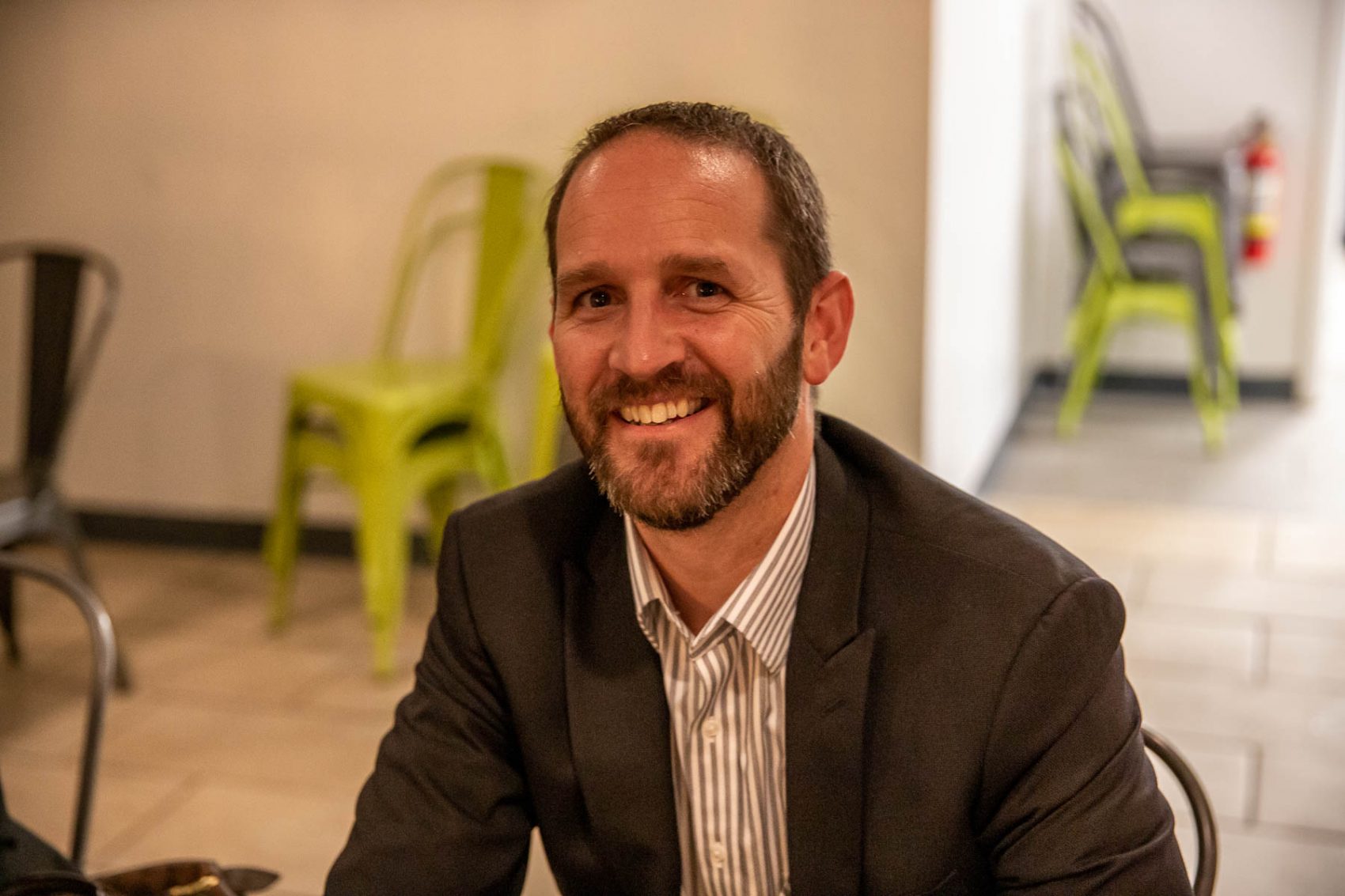 and coworker Renee Rabasca, who manages St. Pete for Enterprise. Funny enough, they were looking for the Young Entrepreneurs group and ended up with us, lucky them! Renee shared her involvement with a female leadership event, Women's Leadership Forum, a joint partnership with Earnst and Young. Enterprise hires more college grads than anyone else (according to Renee) and also buys and sells more cars than anyone else. Wow. Plus they are expanding their new car share/pool program called Commute with Enterprise.
Back to one of tonight's discussions, about building a digital business card, was initiated by newcomers Paul Thomas (gray Polo shirt) and Cayman Jeffers (tan t-shirt). They are young developing Entrepreneurs, pitching themselves as "CTOs for hire", who are building (for a client) a digital business card app called VibeMe. They defend their reasoning for why the world needs another app, doing quite a good job, though most of us ESC members disagree. Welcome gents, to the Entrepreneur Social Club [tm]!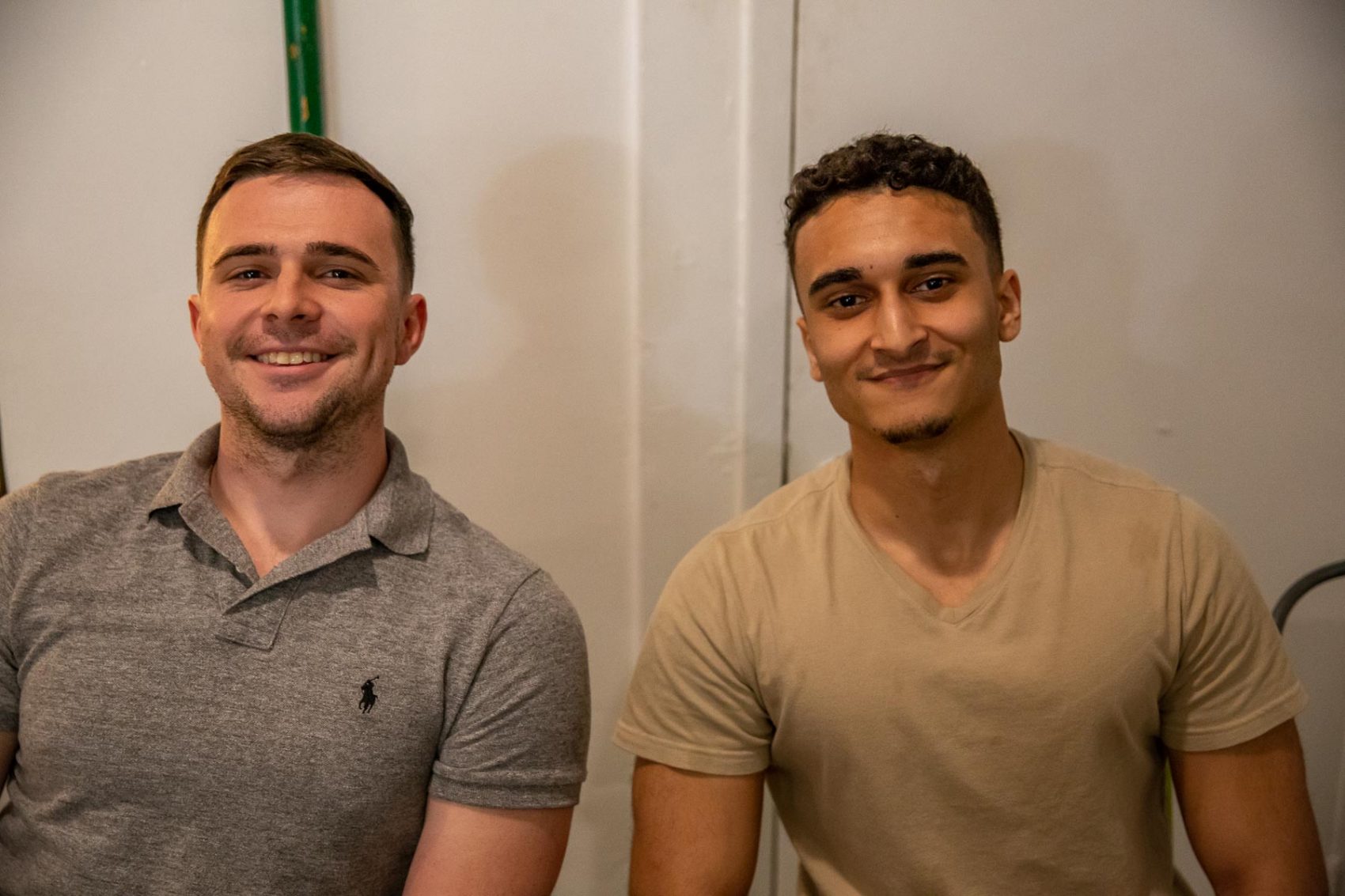 ROLL CALL for November 14, 2019
Hosted tonight by me, Michael Scott Novilla, Author of It's 5 AM Go Home. Fellow author Grow with Chihu joins us (pictured below with Joe Miller), as do success coaches Chris Delaney, and his lovely beau Danielle Laura, who is celebrating publishing her 2 New Books!! Branding expert Arlene Aranzamendez joins us, as do our happy couple of Jackie and Donny Minchillo of Pineapple Development, specializing in eCommerce. Derrick Silvers with Douglas Elliman Real Estate, Jim Solinski a mortgage broker and our pal Greg Simek of body nutrition, also join us tonight.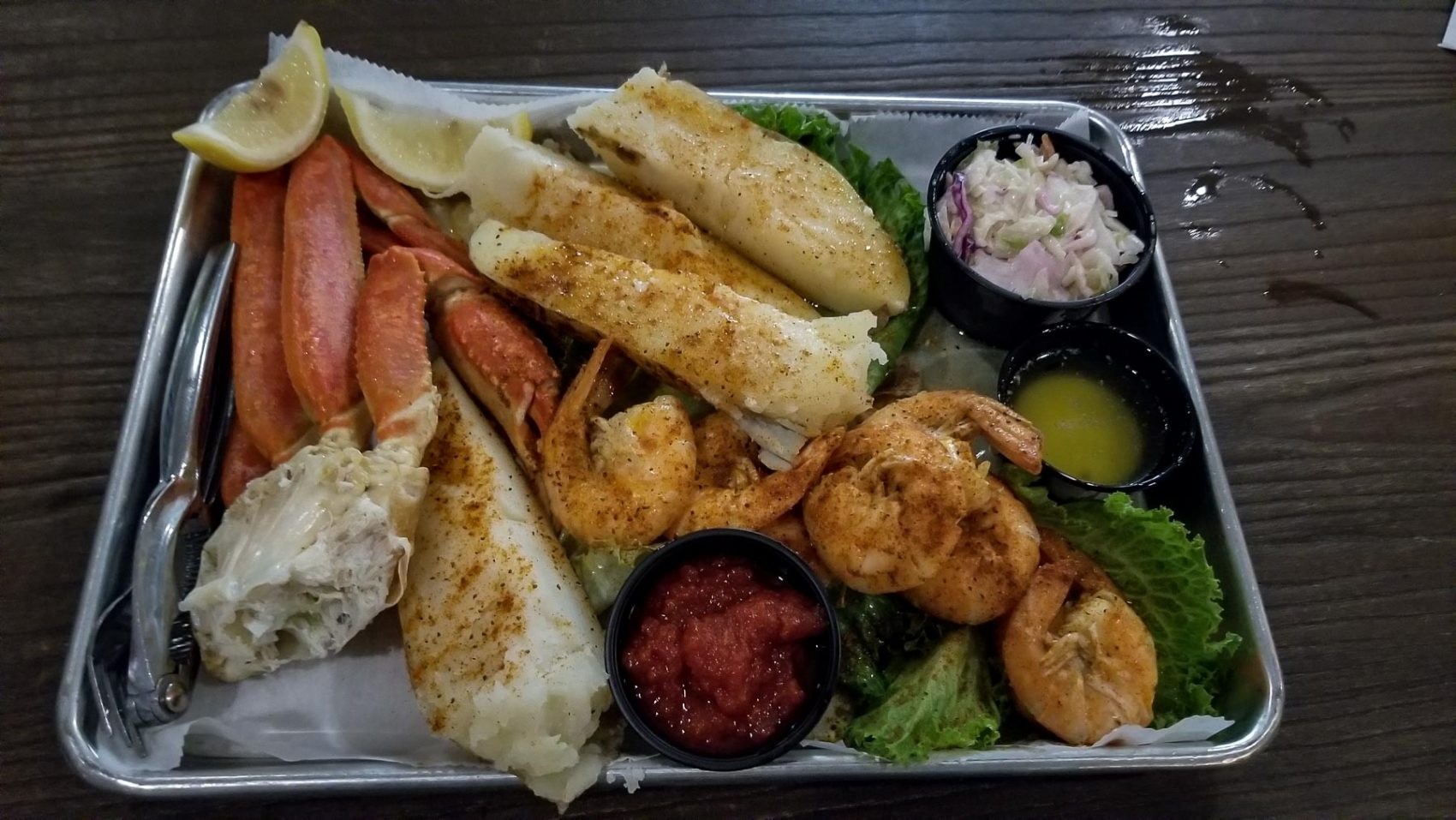 Dinner Time
Dinner tonight was at The Big Catch Restaurant at Salt Creek, located at 1500 2nd St S, St. Petersburg, FL 33701.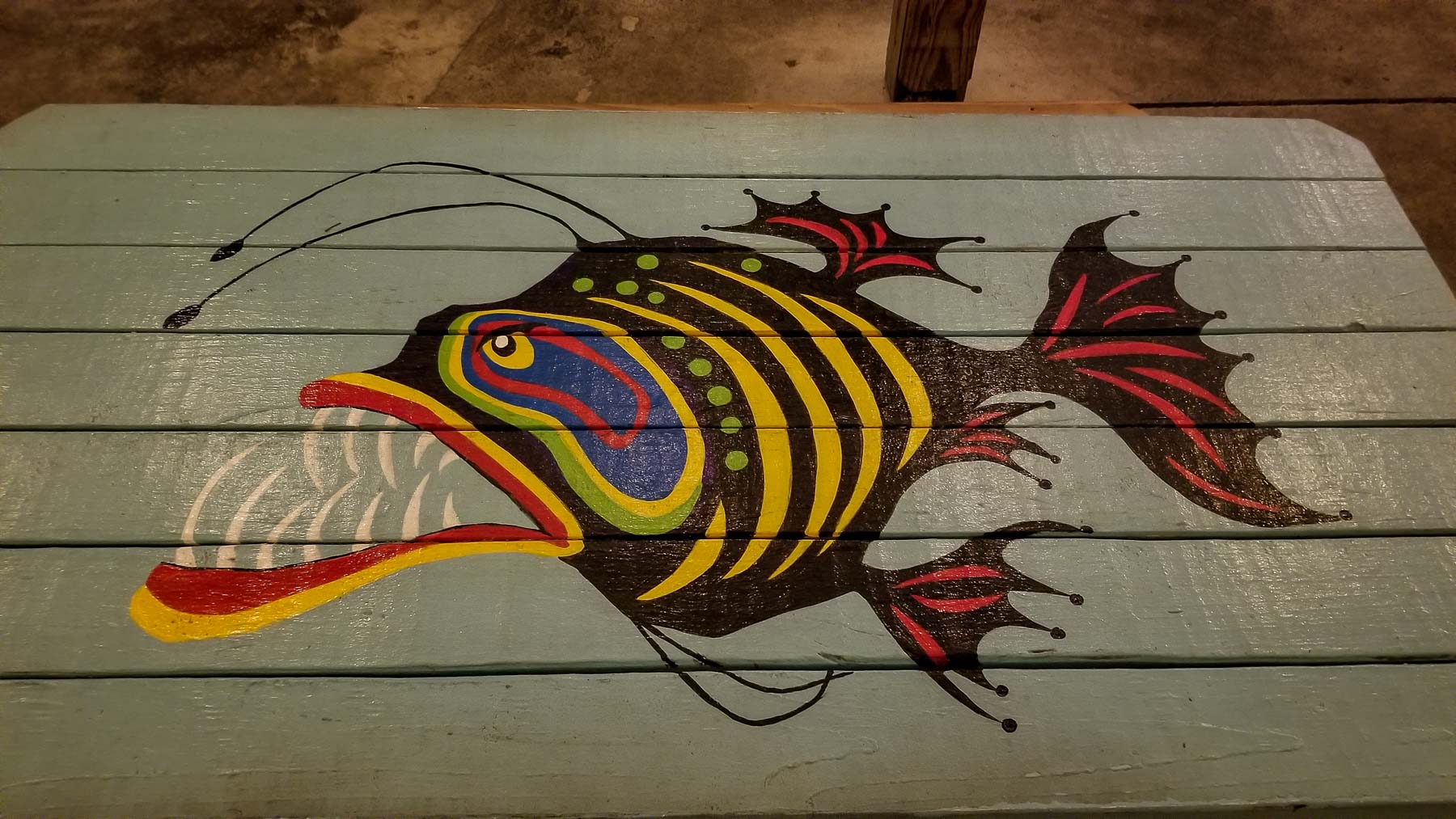 RECOMMENDATIONS
:
TV: You Are Wanted
BOOKS and AUTHORS:
John Maxwell, Napoleon Hill, When ATMs Go Dark, The Carpenter by Johh Gordon, Subtle Art of Not Giving a Fuck, Michael Singer's "The Untethered Soul, Sapiens, and Tipping Point. Of course, I'll recommend my own, hilarious It's 5 AM Go Home!
PODCASTS:
() Siraj Rival, a tech YouTuber, plus the venerable Joe Rogen.
MISCELLANEOUS:
() QUOTE "No Risk it No Biscuit!"
() Bad Fins Restaurant on CWB.
() BitCoin – havening in 2020
() 99 Designers were good 5 + years ago, now use BEHANCE by ADOBE
() Authentic Messaging by Frank Kern (marketer).
() Real Magic – External abundance without internal inner peace is like living in the river dying of thirst
() Salty sisters popcorn
() Floating at Best Day Fitness
Michael Scott Novilla
Hey everyone, I'm Globetrotting Entrepreneur Michael Scott Novilla, lucky enough to have visited 88 countries (I'm currently in Baku, Azerbaijan) in search of the world's best parties! I love hosting our weekly Entrepreneur Social Club, as well as running my world-class venue NOVA 535. Since I've produced over 2,000 5-Star Weddings and Events, I put all those wild stories and pearls of wisdom learned together into my first book. It's 5 AM Go Home is a hilarious, step-by-step guide to producing your own amazing, 5-Star, party, wedding or event. Check out my Book.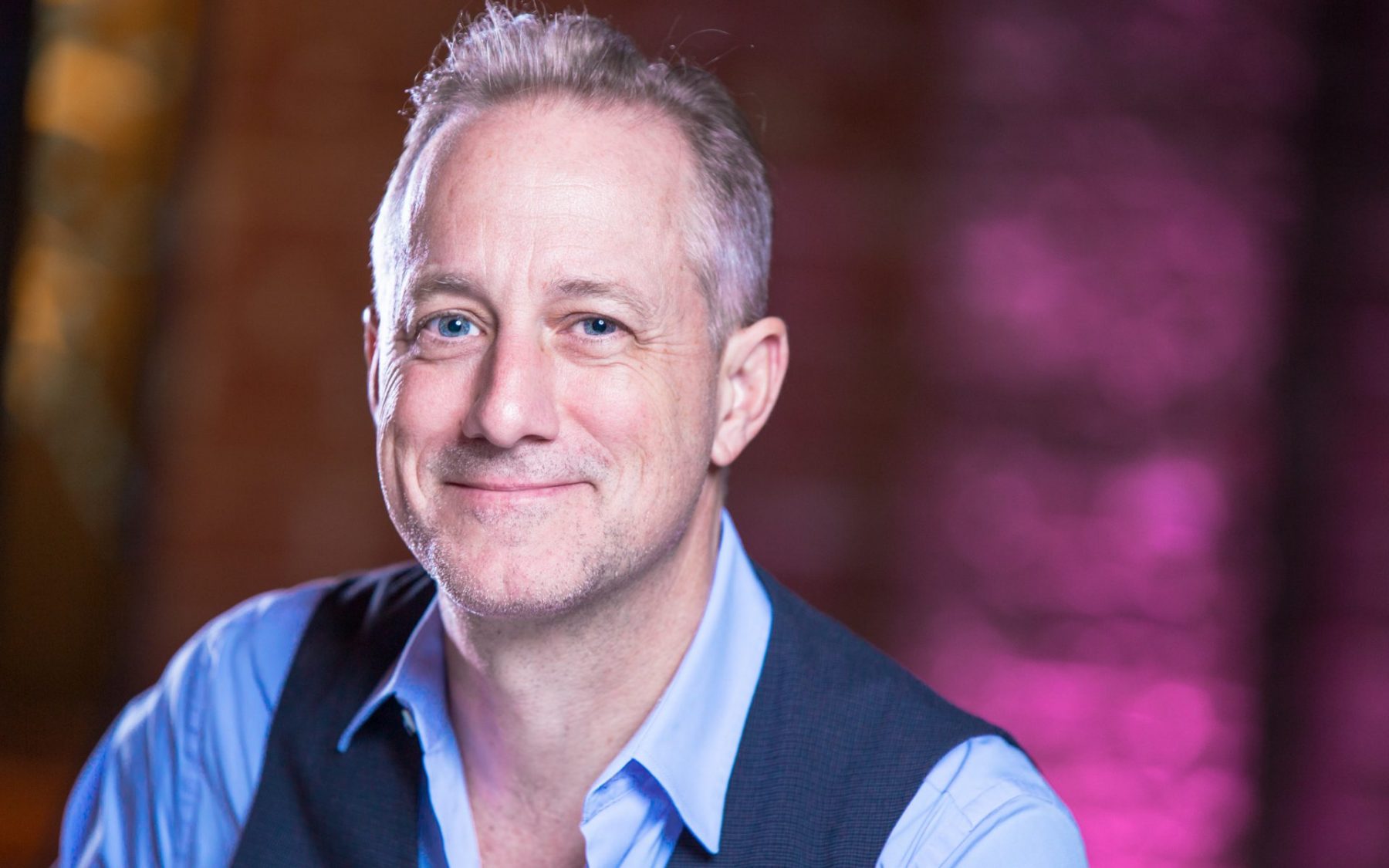 Please VIEW and SUBSCRIBE to our ESC YOUTUBE CHANNEL:
Thursday 6:00 pm – 8:30 pm at NOVA 535:
THURSDAY NOVEMBER 21 = NOVA 535 hosted by Chris Jenkins
THURSDAY NOVEMBER 28 = CLOSED, Happy Thanksgiving!
THURSDAY DECEMBER 5 = NOVA 535
THURSDAY DECEMBER 12 = OFFSITE TBD
THURSDAY DECEMBER 19 = OFFSITE TBD
THURSDAY DECEMBER 26 = CLOSED, Happy Holidays
…then dinner and more drinks immediately following…join us anytime! 
=== HERE ARE ALL of OUR 11-14-2019 PHOTOS ===
** YES WE CAN!! ** at NOVA 535, where we make weddings, parties, and events so easy for you, with No Limits and No Stress, just 5-Star results!
Please keep NOVA 535 in mind for your weddings, receptions, film shoots, corporate holiday parties, celebrations, and unique events! We create events for you, with No Limits and No Stress, just our 5-Star results! You can Get Started or email [email protected]. Thank you!