The "S" in ESC, stands for Social. A most important part, let's call it the heart, of our club. Our Social Club. The Entrepreneur Social Club [tm]. So as we gathered once again, at our HQ, the world-class historic downtown St. Pete venue, NOVA 535, we had an extra reason to smile. Tonight, Thursday Match 21, 2019, our members strolled in, beginning at 6 pm, sauntering up to the bar, saying their hellos, with warm hugs and welcomes all around. There was an extra crackle of positive energy in the air, as tonight we were anticipating a Laughter Filled NOVA Comedy Night.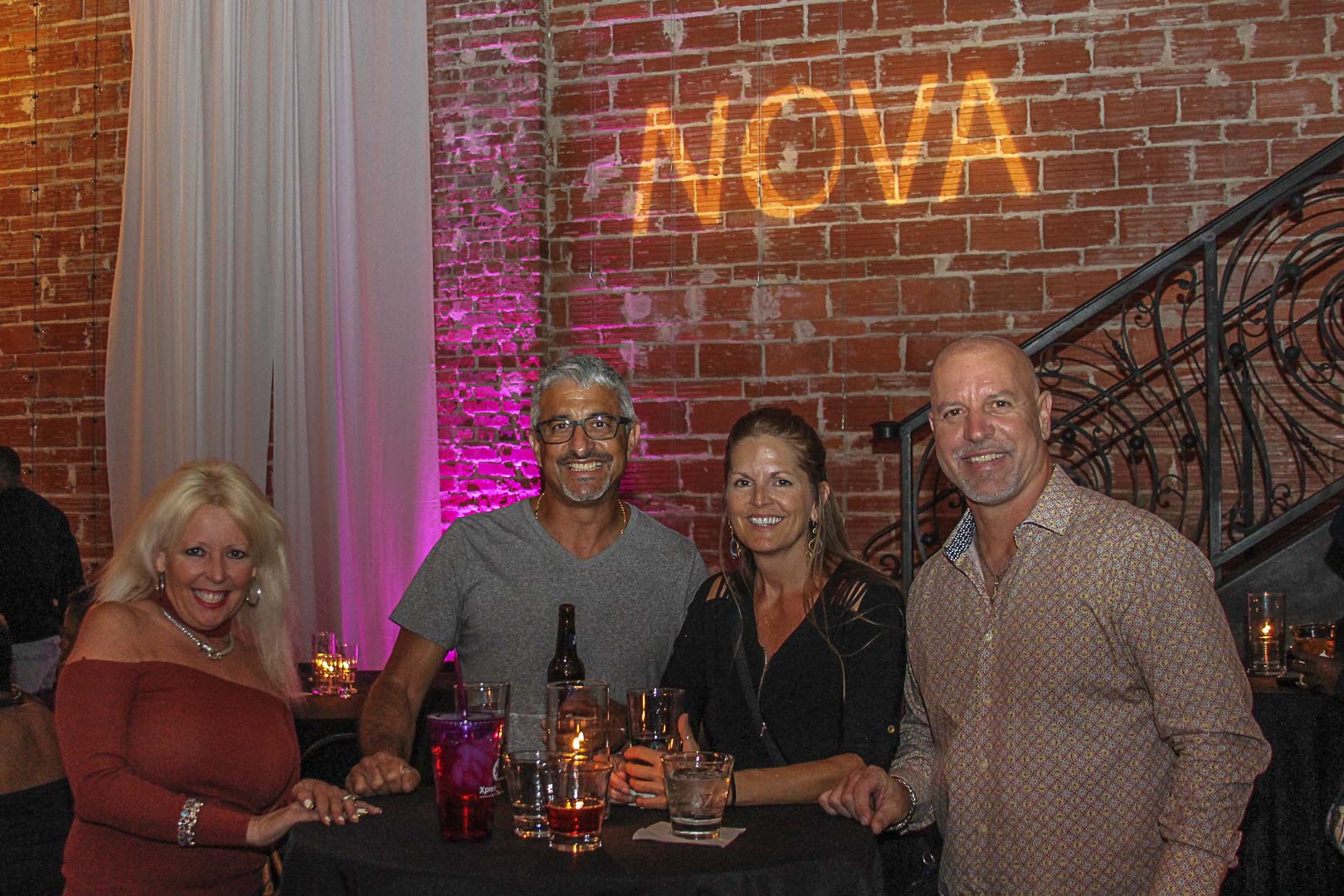 Elizabeth Olguin, wearing red, stands next to my longtime pal and master plumber Jon Aljasir. Jon was a critical component during the design and construction of NOVA 535. He simply is the best there is. Designer Gina Tracy and COO of Express Yourself Media, Paul Menegazzi, enjoy some Social time together tonight. Paul and partner Elizabeth are showcasing their digital entertainment at our upcoming Zentripz Decompression Session 4-20 Party here at NOVA 535, on Saturday, April 20, 2019! I can't wait!
Chris Jenkins, CTO of Symphony Agency, looks over at wife Kym Jenkins of V Spicery, who shares her infectious laughter with fellow joker Jodi Hansell.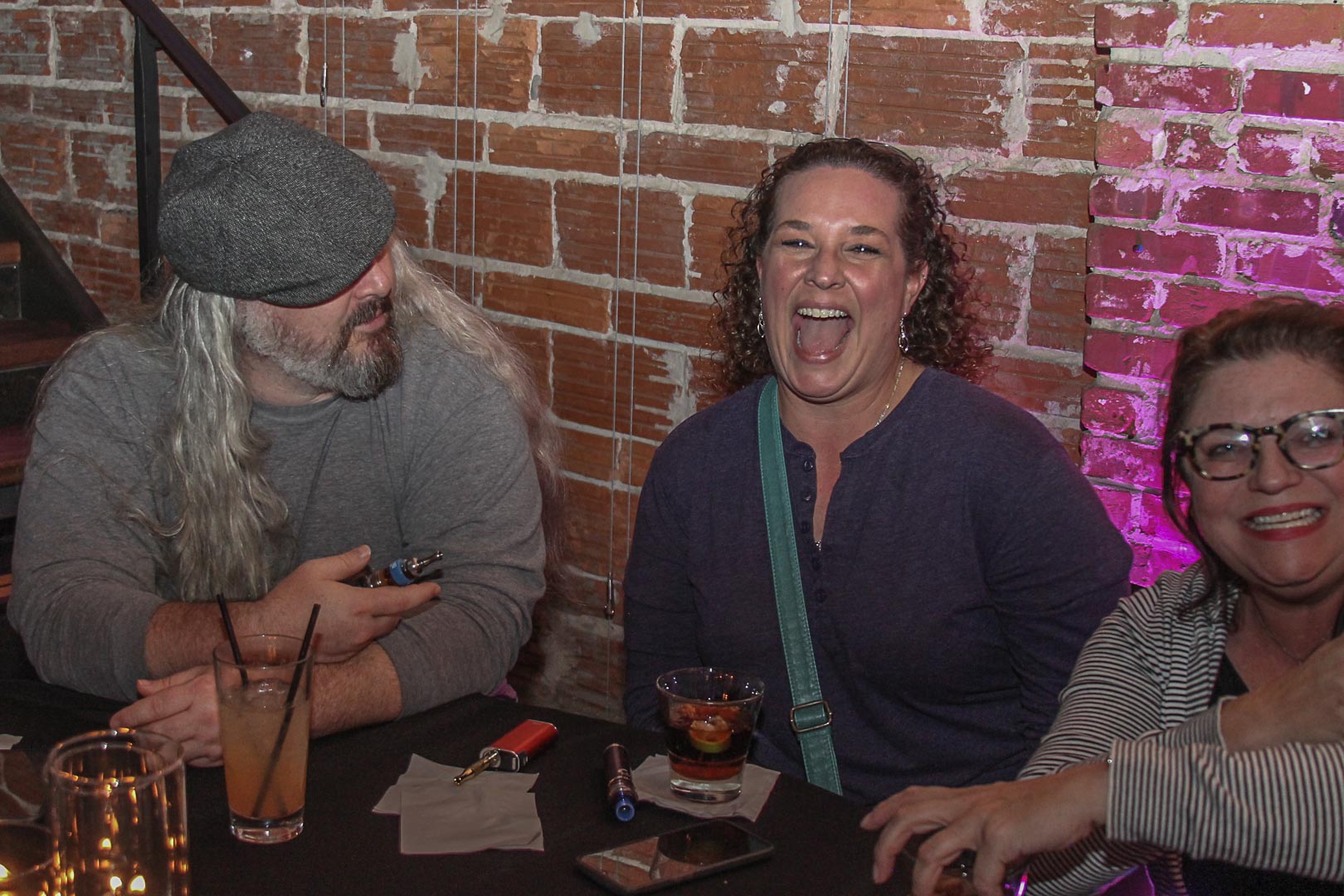 Tom "DJ DOOD" Shook waves while fellow table "End-Cap" Jodi McLean, sporting the fashionable white shades, complete the group pose. What a table-full of incredibly talented and lovely humans.  Dood will be back Saturday, April 20, 2019, for our Zentripz Decompression Session 420 Party.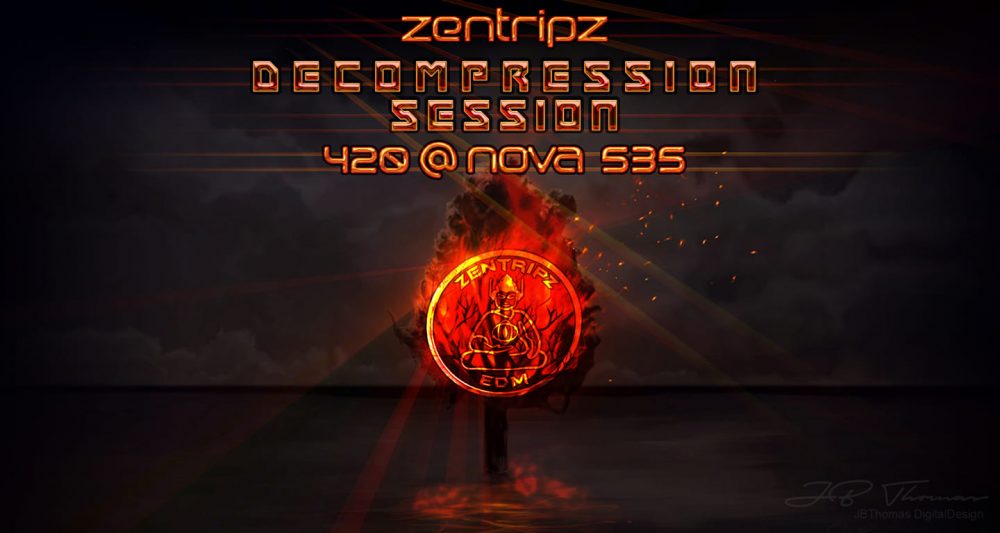 Dood is celebrating a mind-shattering 20, yes TWENTY years of hosting his Zentrips Radio Show, the longest running radio show in Tampa Bay. Join us Saturday, April 20, as this is one party destines to be EPIC!
Fellow music industry gurus Tony Michaelides and DJ DOOD enjoy getting more acquainted while Club Savor co-founder Roger Curlin and pal Justin Duncan, pictured below, enjoy some laughs over cocktails.
Speaking of cocktails, thanks to Bar Team NOVA; Batman, Tara, and Laurene (above) for keeping everyone well hydrated. And a Special Thanks to Jeff Copeland (pictured below in center) for producing the NOVA Comedy Night show, along with help from Jason Bryant of New Era Thinking. Bravo Gents!!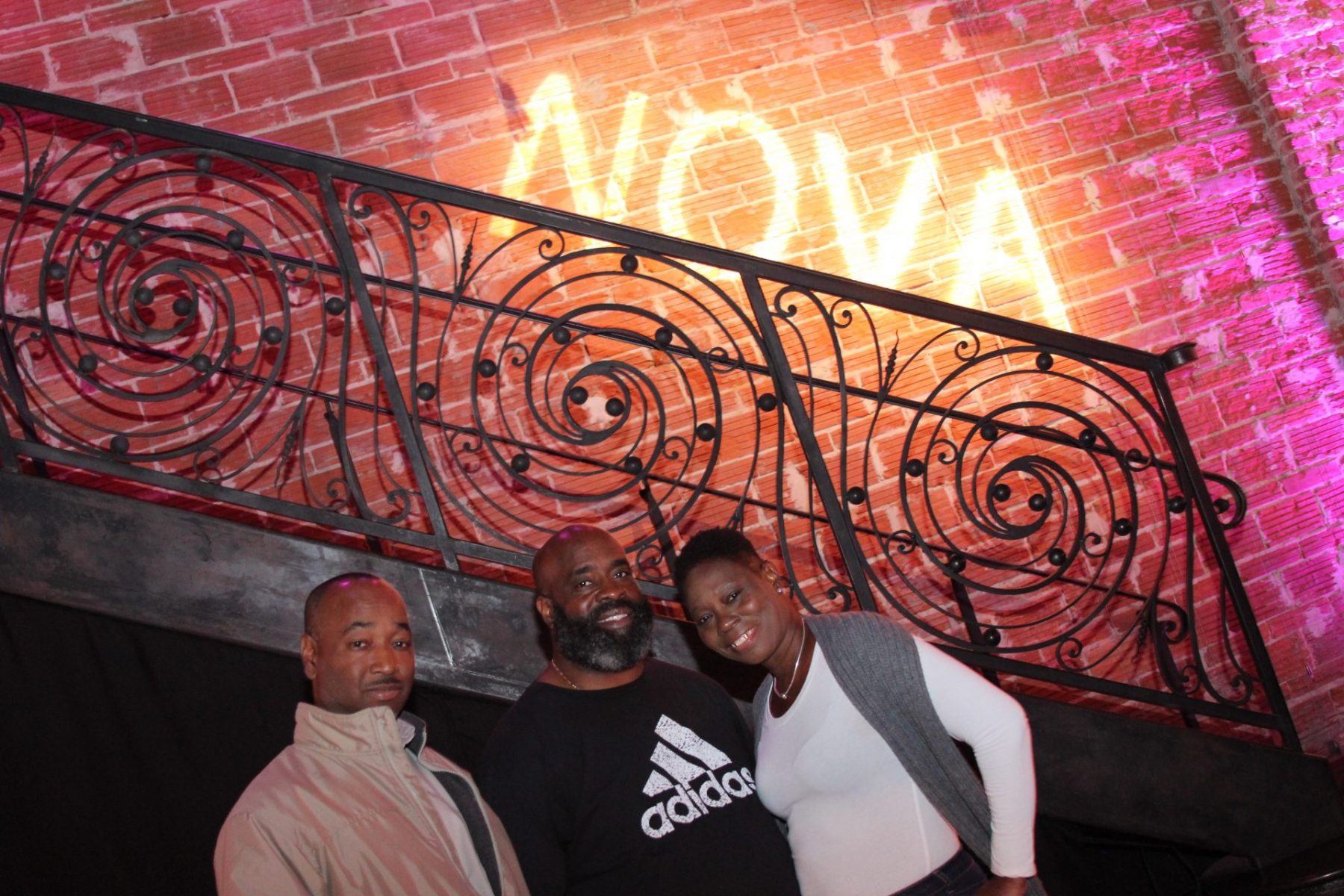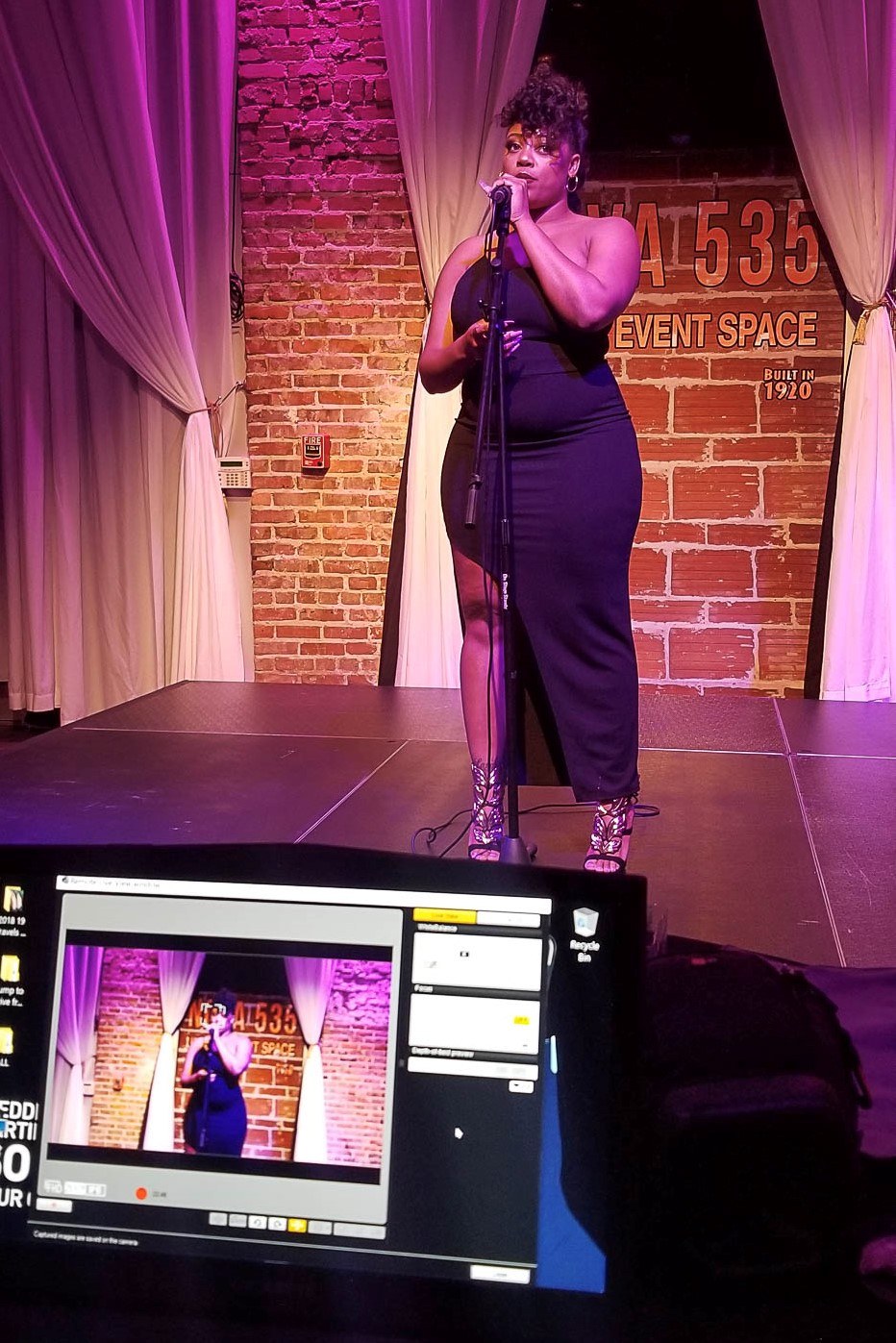 Tonight, again I'm also playing photographer, and videographer, host, ya know, wearing many hats and all that. Along with some really funny stand-up comedians, tough guy funny man "Timmy V" and hilarious headliner "Dr. Foolish" (pictured below) tonight we were hosted by the talented "Spunky Robinson" (pictured on stage below) plus we were treated to a delightful spoken word performance by the lovely, talented, voluptuous Miss Telicia Da Poet, featured above.
Below are Tony LaPorta and his beau Madonna Davis, along with Madonna's visiting family. Welcome to the ESC!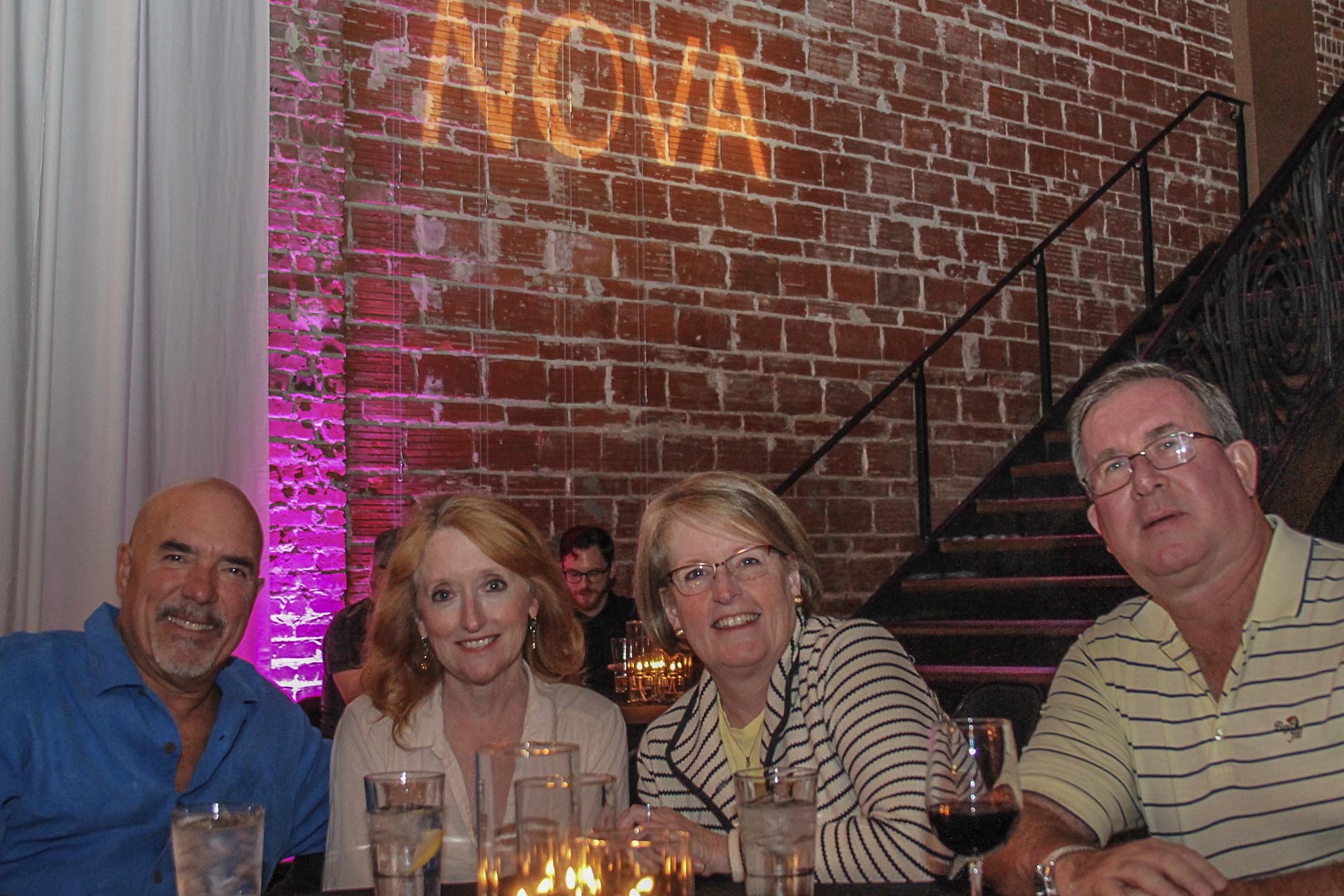 Superstar photographer Sheri Kendrick, founder of charity Little Light of Mine hugs pal Ronnie Lee, while some lovely fans of comedy pose up at our big beautiful NOVA 535 "S" bar just before the show gets rolling.  Welcome to NOVA Comedy Night!
Thanks again for coming out to our ESC + NOVA Comedy Night! Next Thursday, March 28, we are back at NOVA 535 for our regular ESC program.
Thursday, March 28 ESC at NOVA 535
Thursday, April 04   ESC at NOVA 535
Thursday, April 11   ESC at NOVA 535
Thursday, April 19   ESC + NOVA Comedy Night
===== HERE ARE ALL OUR 03-21-2019 EVENT PHOTOS =====
Please keep NOVA 535 Unique Event Space in mind for weddings, receptions, film shoots, corporate parties, and events! We are the best-rated venue in Tampa / St. Pete because we LOVE hosting 5-Star events just how you want, with No Limits and No Stress!