Tonight is Thursday, June 20, 2019, and I'm at my historic downtown St. Petersburg, Florida wedding venue and unique event space NOVA 535, here a bit early for improvement design time. We have a newcomer, new to the Entrepreneur Social Club (that's "The ESC" to us regulars) and newish to St. Pete. She, Jenifer Madson, is friendly and engaging and as we close in on 6 pm maybe only 10-12 members have trickled in. So far. Jenifer asks about attendance, and I laugh that it's never predictable, but to relax, guests and members will continue to saunter in. When we sit down about 6:40 pm for the "formal" meeting time (we aren't formal, though we have strict rules and procedures, like NO religion and NO politics), our huge table is almost full.
Then our notorious "late" comers, (one of their names rhyme with He-He) those in by 7 pm, fill up almost every spot. After each meeting, we head deeper into Downtown St. Pete (that's DTSP to us locals) and it's always a wild-card as to how many say they are coming to dinner (I'd guess 2/3), how many of them actually show up (most of that 2/3) then of course we have the "even laters", like Sir Jzon Livingston, some of our most favorite peeps, who swing in just for dinner. Well, dinner and a long night of deserting. Tonight as Chris and Kym Jenkins are both out parenting, luckily Seth Mattox says some smart stuff to cover for Chris' missing technobabble. I love the ESC!
Seth Mattox says some smart stuff
It's a good thing to have brilliant minds, on tap. Our world is a-changing, and the rate of that change (the good ol' 2nd Derivative) is increasing. Just ask my bestie, Mr. "Perfect SAT Math" Drew Edwards, about derivatives. Or trying to tutor me in calculus, back in 1988, when I was in full-on party boy mode. Thankfully I settled down a bit, got my MBA, and am now even publishing a hilarious, autobiographical "How to Throw an Amazing Party" guide book dubbed "It's 5 AM Go Home". Hits the shelves, both analog and digital, July 2019. Wow, I feel like the little kid on the 2nd story diving board for the first time. Scared + Excited. Anywho, let's see who made it tonight!
Arlene Aranzamendez, Mr. Fix Anything with Wires Justin Petro and CPA Dan Novello pose above, while Compass Group mastermind Steve Rosen and the St. Pete Group leader, Joe Hamilton join in below. Joe just interviewed me for his St. Pete Catalyst Influencers Podcast, I'm honored. I'm excited to hear and share the final cut. Joe mentions his current need for a mid-level marketing person, full-time, 40-45 hours a week, with salary ranging from $50,000-$70,000 depending on experience, etc. Maybe ask Seth Mattox or Sara.
Returning newcomer Arlene (pictured above in a peachy pink blouse), is a brand strategist and creative director, and Mr. Logistics Joe Miller share smiles, as do Chihu Ikechi-Uko and newcomer circus arts performer, Gabriela Rosa, pictured below. Check out Gaby's troupe, the UnderGroundCirque.com
Smart, Lovely, Strong, Leading Ladies
Elizabeth Olguin and Paul Menegazzi are always cheerful and looking fabulous, enjoy the moment (above) while, (below) is Gabriela "Gaby" Rosa, Arlene, Kelly Black CPA, just behind State Farm Insurance guru, the always smiling Mimi Lange (red shirt), Julia Marie (pink hair and kitty ears), newcomer from Seattle Sheri Mackey, and Jenifer Madson and finally high-fiving Elizabeth "Liz" Olguin of XpressURselfMedia all join in for a ladies line-up photo. Beauty, Brains and so much amazing talent, bravo!!
Mr. Nutrition Greg Simek and our long-long time member Justin Petro returns tonight, welcome back gents! Greg confirms that everyone in his industry is moving towards plant-based and away from animal and dairy ingredients. Smart and healthy!

Pictured below is our friend Steve Rosen, then newcomer CPA Kelly Black of BLK Accounting and Consulting, they help biz owners understand their number. Kelly found us tonight via Word of Mouth (WOM). Next is fellow newcomer, Author, Mentor, and Coach Jenifer Madson,  found us via the St. Pete Chamber, (then in red) returning champ Mimi Lange, and first-timer Sheri Mackey, fresh in from Seattle Washington. Sheri sold everything and moved to the sun and fun of St. Pete, Florida. SMART! She is here to connect with relatable people, having previously owned massage and cleaning companies. She is also here from WOM, which is always more powerful than social media. Remember that kiddos!
Sandwiched in between Jenifer and Justin, is new-ish member Chris Carmichael, pictured below, the owner of First Leaf Farm. They offer microgreens, which are superfoods, so if you want to be healthy, they are all vegan-friendly. These microgreens are grown in coconut husks, not in soil that could be possibly contaminated. The most common forms of manure, we learn tonight, are worm and bat poopie. Poopie is a fun word to say. Thanks for educating us a bit Chris. I've purchased his microgreens several times, they grow in these flat pans, you bring them home and pick the fresh greens as desired. 

Pictured above to our right, wearing a gray t-shirt, next to Seth Mattox in red, is newcomer artist Chon Mosley, of ChomoGroup. ChomoGroup touts that "Diversity is a necessity. One Stop Branding Shop. We paint, and print on almost anything imaginable." Below in center wearing glasses is John Pereira of Imperio Real Estate who shares a new hot project, 90 Day Dream Home.  This hot new HGTV show is where "Brian and Mika Kleinschmidt are a husband-and-wife team from Tampa, Florida, that makes dream homes come true. She's the realtor, he's the developer and together they help clients both design and build the perfect house from the ground up in 90 days or less."
Mr. Smarty Pants Seth Mattox
takes over tonight for MIA tech guru Chris Jenkins (and superstar Kym Jenkins of V-Spicery, his wife), saying all kinds of interesting high-level technobabble. 
TWITCH, according to its website is, "the world's leading live streaming platform for gamers and the things we love. Watch and chat now with millions of other fans from around the world." Seth, whose business likely lives on Twitch, mentions micro-influencers (10K to 1MM followers) and super micro-influencers (which I believe are 1k – 10K followers), both are new terms to me. He continues that, and I'm paraphrasing here, once micro-influencers have been legitimized, they lose some of their genuineness, which is part of the allure for those being influenced. There is a "Partner Status" that you can achieve, meaning that 60 to 80 people are watching you play (on Twitch) at any time. Seth says if you want to utilize a micro-influencer, it's better to DM (direct message) them, and try to stick to those who have around 3K followers. That's a good sweet spot for small businesses to utilize their appropriate influencer(s). I mention local Influencer tracking software, like Intellifluence, that may prove to be helpful. Continuing on, Seth shares that anything done online in text can be parsed, whereas video and audio currently cannot, so expect this next step to happen soon. If you get it, great, if not, come next week and ask our tech gurus. 
Around the ESC table Recommendations:
() Cognizant digital solutions company.
() If you're trying to sell semi-valuable home interior items, Paul suggests The Missing Piece.
() Justin recommends following the personal finance section on Reddit. FIRE Financial Independence Retire Early.
() SERIES: Imposters, Counterpart, When they See Us, Dead to Me, Love Island (British tv show) and The Giant Beast Our Economy
() MOVIES: Shaft
() HEALTH: Swimming, meditate and manifest, Hypnosis (from Joe )the good old Treadmill, SMILING (from Julia!), YOGA on the beach, Ballroom Dancing, and to get up at (early), give yourself your own personal time.
() From Magic Johnson (not at the meeting) to collab with your competition, tread employees like an asset.
() Listen to Joe Hamilton's podcast StPete X.
() Learn how to Juggle (Gaby)
() Looking to buy a car? Looking at days on the lot where the car sticker has a smiley face (or not) as the smiley face means they need to sell soon so discounts available. 
() BOOKS: Muscle and a shovel, Michael Porter's The 5 forces Analysis, and my new pal Nathan Van Coop's fantastic time travel books, set here in St. Pete, Florida



Who is Michael Scott Novilla?
I'm a guy who LOVES throwing GREAT parties!! So if you want your next event to be 5-star fabulous because inside every event should be a great party, then maybe you should learn from me, a guy who has hosted over 2,000 successful 5-Star events. Live events are where everything can, and will, go wrong. There is no pause, no replay, no do-overs. It's one and done. If you are looking to host a kick-ass event, check out my hilarious step-by-step guide book, It's 5 AM Go Home, being published in July 2019.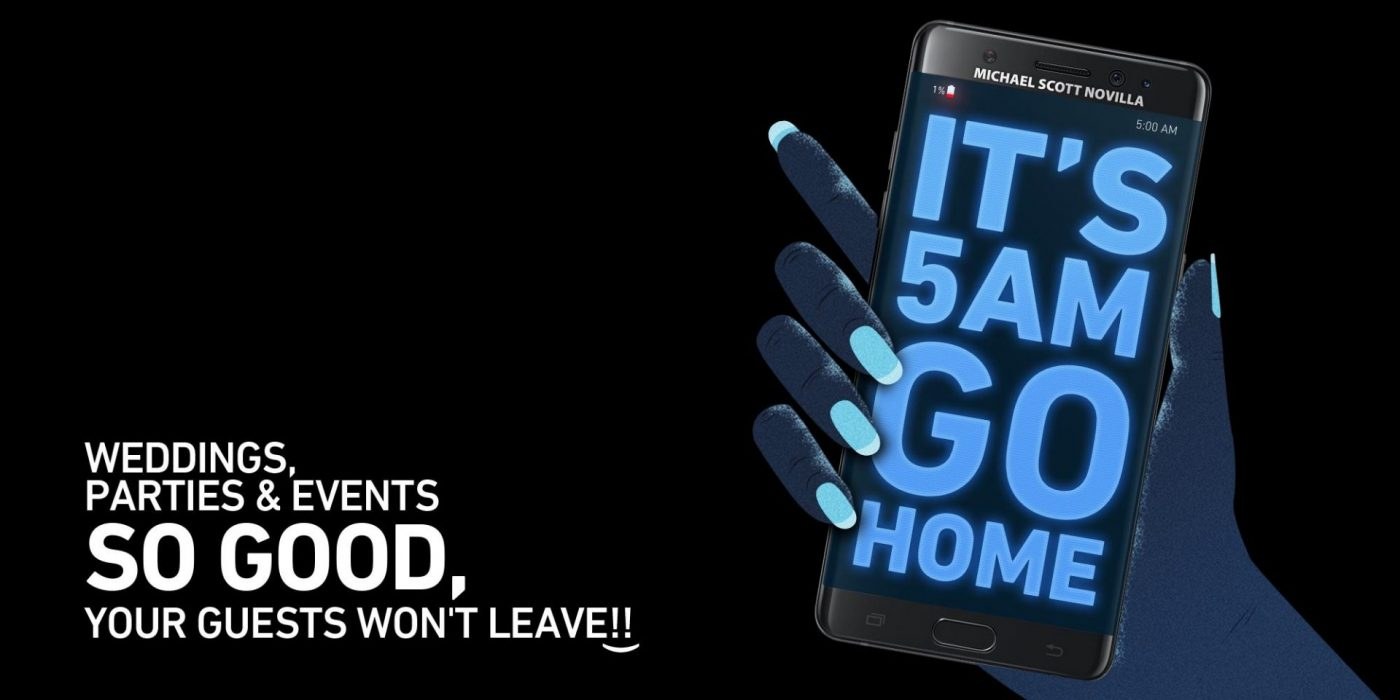 Hugs to our favorite bartender Vanessa Baker, with her super cute new haircut!
 Delicious dinner tonight was at The Lure located at 661 Central Avenue North, Downtown St. Pete.  
Please VIEW and SUBSCRIBE to our ESC YOUTUBE CHANNEL:
Thursday 6:00 pm – 8:30 pm:
June 27 at NOVA 535 
** July 4 CLOSED **
July 11 at NOVA 535
…then dinner and more drinks immediately following…join us anytime! 
=== HERE ARE ALL OUR 06-20-2019 PHOTOS ===
** YES WE CAN!! ** at NOVA 535, where we make weddings, parties, and events so easy for you, with No Limits and No Stress, just 5-Star results!
Please keep NOVA 535 in mind for your weddings, receptions, film shoots, corporate holiday parties, celebrations, and unique events! We create events for you, with No Limits and No Stress, just our 5-Star results! You can Get Started or email [email protected]. Thank you!