Entrepreneur Social Club enjoys Scientists Sushi and Splits in Hanoi Vietnam.
Tonight is Thursday June 7, 2018 and Michael Scott Novilla, that's me, the founder of the "ESC", am hosting my always fun and productive Entrepreneur Social Club [tm]. Productive AND fun? Yea!! Check out the photos and ESC BLOG from last week's May 31, 2018 meeting! Once again we gather at TOONG CoWorking, located at Tầng 3, 8 Tràng Thi, Hàng Trống, Hoàn Kiếm, Hà Nội. See I've been hosting this weekly meeting virtually every Thursday night since 2009. While I'm Globetrotting, fellow ESC member Chris Jenkins our web master and CTO of Symphony Agency handles the St. Pete, Florida meetings. At our HQ, located at my world-class wedding and unique event venue NOVA 535. Here in Hanoi, I'm using MeetUp plus old school style networking, and passing out my business cards. This is connecting me with my fellow like-minded Entrepreneurs. Locals and people visiting from all over. China, Korea, Japan, Brazil, Paraguay, Italy, Spain, Canada, France, and well, you get it. Let's keep things moving and find out why the Entrepreneur Social Club enjoys Scientists Sushi and Splits in Hanoi Vietnam.
Above is our lovely returning ladies, fire fighting consultant Nadia Nguyen  (glasses white and black striped shirt) and Lucy Minh, our Vietnam "Sexy Time" Education expert. Welcome back, you two are so much fun!! Below is our ESC Gentlemen, from our left to right, Sebastian Goh, back from Singapore. He offers Student Recruitment services, to study in Singapore. Next is newcomer Luiz Storino Jr. from Brazil, working with a Canadian Company developing specialized ingredients for animal feed. Also returning is Khien Phan (tall wearing a grey and glasses), "Sonny" Dang (seated wearing a darker grey shirt) who is working with the high quality TOMOProject.com, his (and our) pal, RMIT student Jan Tran, plus fellow American Harrison, a marketing master currently working out of Tokyo. Finally is Hanoi local Entrepreneur Thuc X. Vu, founder of HearMe.vn, a new POS review system.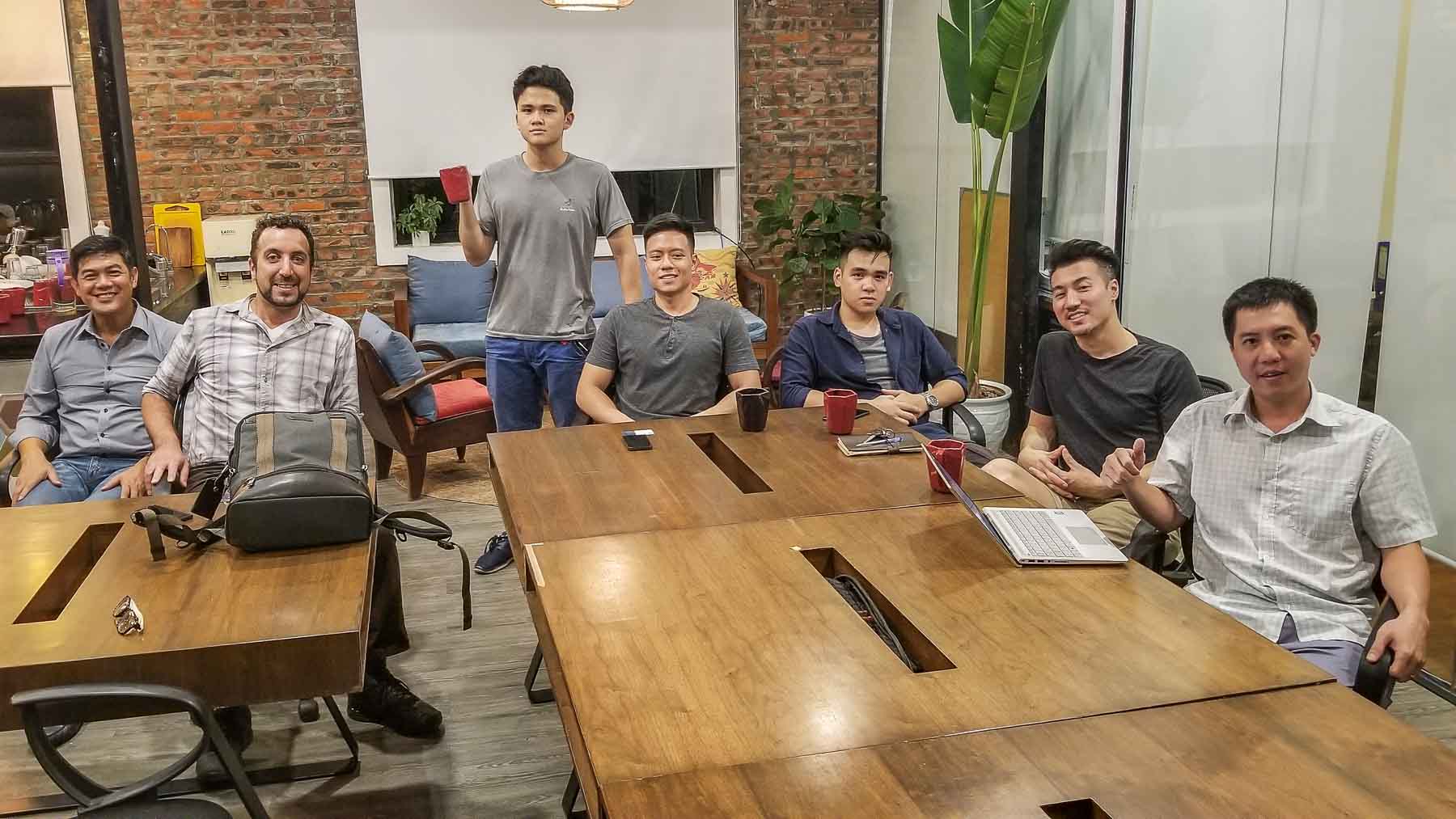 Books the group recommended this week:
The Subtle Art of Not Giving A Fuck
Pictured below, standing in the back row, 2nd from left with light tan colored short sleeve shirt, sporting a short beard is "all thumbs up" Brian McDonald. Brian is the founder of the wildly popular A Taste of Hanoi, a food based tour operating since 2015. Book his tour! Brian is  originally from New York, now living in SEA since 2011. His A Taste of Hanoi offers fantastic food tours, city tours, craft beer tours, and more! Check out TasteOfHanoi.com! We met recently at one of his fun, tasty Dinner Club Meetups, an Egyptian dinner party; so nice to know you Brian!
Pictured below is Ho Quoc Trung, who works in his family's Geological Services Company, and newcomer Eon "Adam" Jiyun from Korea, with DSP a company offering electronic device protection services. Gents!!
Below are the lovely ladies of ESC Hanoi. Pictured from our left to right is Lucy Minh, newcomer from Paraguay Sandra Ovelar, Hanoi event planner Huyen Thanh Nguyen who is also studying Tourism, Hang Thuy "LUCY" Nguyen wearing a white shirt with short brown hair, she's living in Hanoi and offering AirBnB Homestay to visitors. Newcomer Mia Vu Thu Thanh is also from Hanoi, wearing a white blouse and cute glasses, she is a HR Specialist. And finally is the always smiling, delightful returning member Huong Nguyen "Rose" (wearing white shirt with black buttons, also with cute glasses) who is working importing and exporting products into Vietnam. Ladies!!
Wrapping up the night by midnight, lame my my standards but still FUN, at my fav little craft cider (and beer) spot, Peachy Craft Beer Pub. Peachy is located at 87 Hàng Đào, Hoàn Kiếm, Hà Nội, just off the Hoan Kiem Lake! Our ESC "After-Party" crew tonight features Harrison, Luis, the lovely Peachy Bartender from Bulgaria "You Ask Her Name Yourself When You Order A Drink From Her" and finally your pal, Michael Scott Novilla. Mr. It's 5 am Go HOME!
Tonight's smartman Scientist was Luiz Storino Jr. in from Brazil. He's working for Ceresco, a Canadian company that develops ingredients for animal feed. They discovered a electromagnetic process so animals eat less, gain more weight, while the product is (supposedly) all natural. It goes into animals that will ultimately be eaten for their meat, cows, fish, chicken, etc. Luis is thinking, in pre-Startup mode, for solving problems with fish and fish farming. The concept is using a electrical current to put animals safely to sleep just before it dies so it doesn't tense up the meat, no stress hormones, etc. This is much more humans, the meat lasts longer and tastes better and is healthier;  lower cortisol levels in the meat. Win-WIN.
Luis explains that they take silica (sand) and separate it, keeping only the white sand, then they put on a laser and inform it with a frequency to change into a crystal, which now pulses. Feeding this to animals helps (ultimately human) digestion. This process, when added to the animal (feed) allows for more protein assumption in the animals, with less food intake, lower costs, lower energy requirements, and less waste. He explains, (he's a smart dude) that the energy that is found in life (chi) is found in water, and that energy (chi) can be changed with the addition of electrical stimulus, for better AND for worse. This is IMPORTANT as we ALL are water creatures. #CleanWater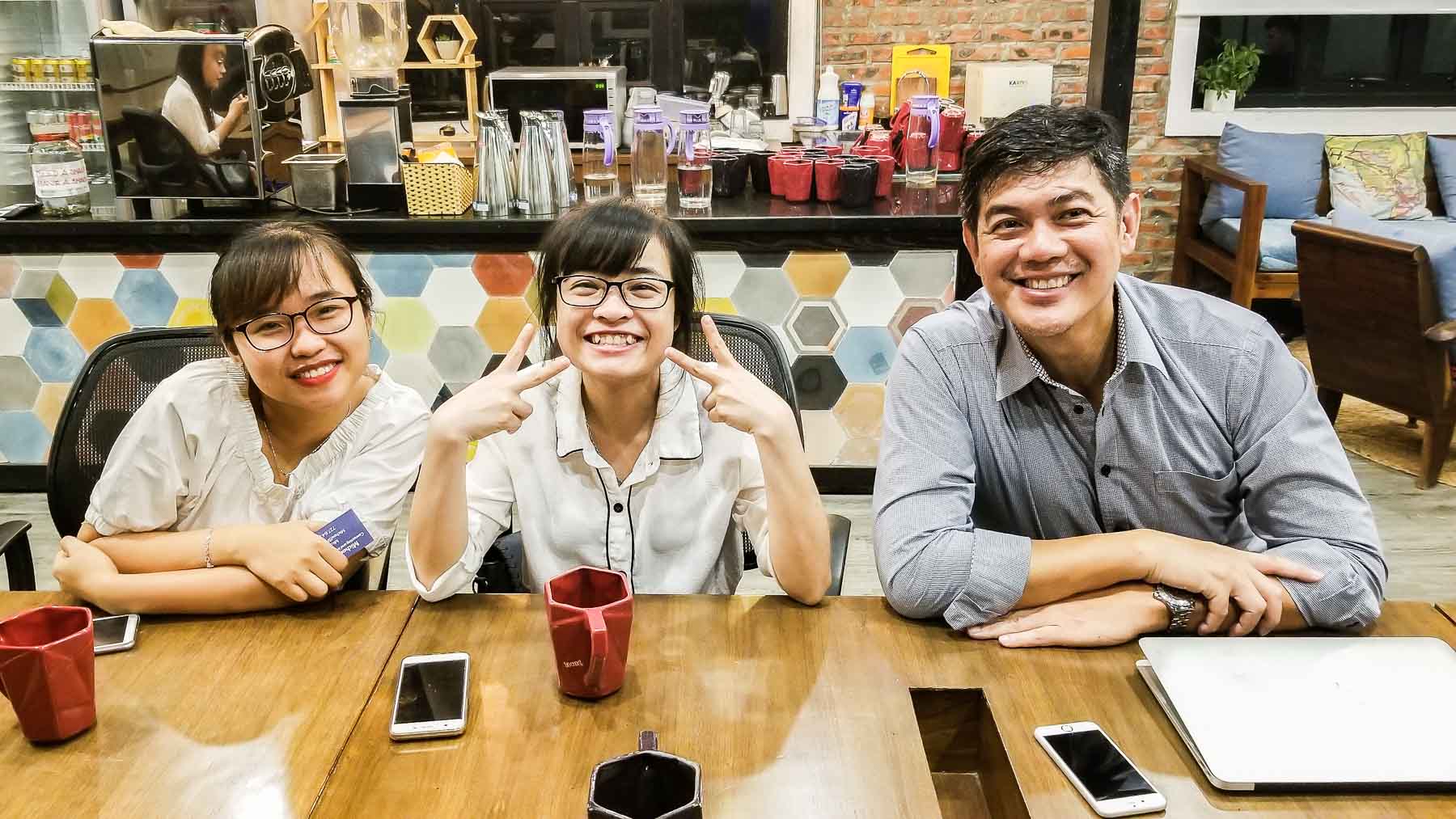 It's me below with my new bonita amiga Sandra Ovelar, a spanish teacher for kids, and a Animal Psychologist, aka pet master. She is visiting from Asuncion, Paraguay where I happened to visit last year on my way into Brazil. She loves animals and wants to start company here in Hanoi, training the HUMANS who own pets. On how to treat and care for them properly. Like NOT using leashes (around the neck = BAD) but harnesses instead. Why? Well she loves pets and wants to train the humans, so we suggest to look at Hoan Kiem on the weekends. Tons of pets and their humans there. Harrison aska, "What specifically will you pitch to people, what problem are you going to solve?" The group offers suggestions; Pet Trainer. Coaching Pet Owners, Happy Pets. Happy Pet Academy. Voy = happy. Welcome Sandra!
How did you (newcomers) hear about the Entrepreneur Social Club?
InterNations.Org = 1
WOM = 4
The lesson being that Word of Mouth still the MOST POWERFUL way to influence people.
WHAT do you RECOMMEND: FILMS, SOFTWARE, APPS, GADGETS, HACKS
Eating Well and Exercise.
Socialize with the Right People (average of your 5 closest friends).
Lower expectations of things being easy.
Travel.
Learn How to Deal With Fire.
Be Nice to Animals.
Make Lemonade from lemons.
Movie – The Billionaire (Thailand).
Visit Busan, Korea.
Force yourself to Network more often, several here in Hanoi: Chamber of Commerce, a French one, etc.
East side of WestLake there are many cool restaurants, shops, etc.
Dinner tonight was at restaurant Mirai Sushi & Sake 2D, Hàng Trống, Hoàn Kiếm
https://goo.gl/maps/4rynqPnH12u
While the ESC is a productive and educational business meeting, it's also a wild and crazy social club. If you listen and apply what you learn, your business and personal life will improve significantly.  If you need to throw a 5-star wedding, party or event, one that is SO GOOD that your guests won't leave, then read my first book "It's 5 am Go Home!."
Rules of the Entrepreneur Social Club.  
NO religion, NO politics, NO bullies, NO thieves, NO liars, NO Racists.
The ESC is open to all adults 18+ who want to learn, grow, laugh, share, connect, network. Improving themselves and the world around them. BE HONEST! The "minor" rules are turn your phone ringers OFF, and only one person talking at a time. I act as moderator, taking control and keeping the conversation flowing, so the one person speaking can be heard. I hope you enjoyed Globetrotting Entrepreneur and ESC Founder Michael Scott Novilla's story about how the Entrepreneur Social Club enjoys Scientists Sushi and Splits in Hanoi Vietnam. And by the way, did you find the SPLIT in my story??
FOLLOW US, and make sure all your WEBSITES and SOCIAL MEDIA have the same NAME / URL
https://youtube.com/c/EntrepreneurSocialClub
https://facebook.com/EntrepreneurSocialClub
https://instagram.com/EntrepreneurSocialClub
If you are in HANOI, VIETNAM, check out our ESC MEETUP GROUP
https://meetup.com/Entrepreneur-Social-Club-Hanoi
BELOW is ALL OF MY PHOTOS from THURSDAY JUNE 7, 2018