Entrepreneur Social Club enjoys the Sweet Chaos of Hanoi Vietnam
Tonight is Thursday May 31, 2018 and I, Michael Scott Novilla, the founder of the "ESC", am hosting my always fun and productive Entrepreneur Social Club [tm]. Fun AND productive you say? Check out the ESC BLOG from last week's May 24, 2018 meeting! We meet again at TOONG CoWorking, Tầng 3, 8 Tràng Thi, Hàng Trống, Hoàn Kiếm, Hà Nội. I've been hosting the ESC virtually every Thursday night since 2009, and while I'm wandering around SEA, fellow ESC member and Tech Guru, Chris Jenkins runs the ESC in St. Pete, Florida. At my world-class wedding and unique event venue NOVA 535. Here in Hanoi, I'm using MeetUp and a lot of daily networking, plus passing out my business cards like free candy, to help me connect with the like-minded local Entrepreneurs. Let's find out how the Entrepreneur Social Club enjoys the Sweet Chaos of Hanoi Vietnam.
Pictured below, STANDING, left to right: Ha Le, event planner Huyen Thanh Nguyen, Tien Nadia (wearing yellow jacket), the always smiling Thuy (Lucy) Le (checked shirt and glasses) who is developing a new organization for helping women with the selling of their handicraft, and finally ESC founder Michael Scott Novilla (yup that's me standing in Kung Fu pose on table, black hat, black shirt).

Picture above, front row SEATED are Lucy, Vivian, Lucy Minh (Black dress), newcomers Jay Balachadi with Rubicon Alexia Learning Solutions, Travis Smith from Korea, and Danny Chan, plus Hung Lai Rosie – a student and teaching assistant, and finally Giang Hoang (salmon shirt with glasses).
Pictured above, STANDING in back are Huong Nguyen "Rose" (yellow shirt, glasses with black hair), BioChemistry student Mai Ngoc Ngo, our returning Hanoi pals 'Ryan' Khiem Quang Pham, Ho Quoc Trung, and newcomers Loki Mepkov from Ukraine with his girlfriend Ksenia Ruzanova, they co-own Viet Aroma, and returning gents Jan Tran (black shirt black hair) and translator Daniel Keys (glasses, short beard and wearing a white shirt) who is a Freelancer from Columbia.
Above is our lovely returning stars Ha Le and Tien Nadia.
Below is Loki Mepkov from Ukraine, who has lived in Vietnam for 3 years, and his girlfriend from Russia Ksenia Ruzanova. They own Viet Aroma which, according to Tripadvisor, is a "Shop of Vietnamese delicacies, sweet Asian gifts. You can buy traditional Vietnamese spices, nuts, dried fruits, candies, coffee beans and oolong green tea. There are products from Dalat, Daklak, Khanh Khoa provinces and Phu Quoc island. The mission of our shop is collecting traditional Vietnamese delicious in our shop and introducing for our guests high quality products." Check them out at 33A Gia Ngu Street, Hoan Kiem District, Hanoi. +84 167 585 9953. I did, and purchased some fantastic coffee, delicious dried fruits and some yummy snacks!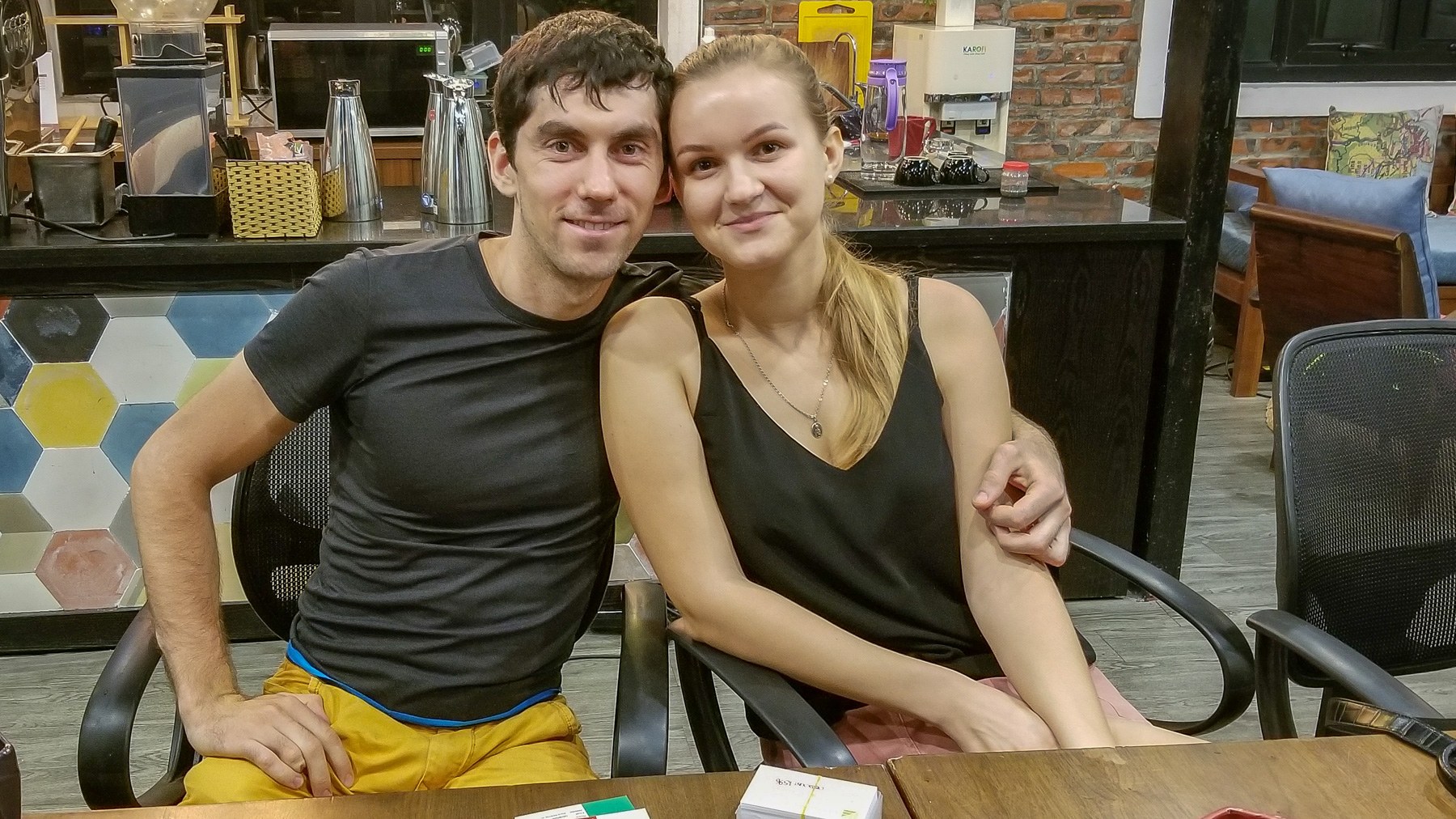 Pictured below is Lucy Minh, Ivy, Ha Le, Tien Nadia, Ho Quoc Trung (gentleman in yellow shirt) who works in his family's Geological Services Company, Vivian (with blue purse and peach color shirt) who is next to Danny Chan from New York – and loves fashion and Cosmetics.
Danny is in PRE STARTUP mode. I ask him to have real good answers to my 4 questions BEFORE he goes down the rabbit hole:
1 = Why is he starting a business?
2 = What problem is he trying to solve?
3 = Does anyone care that he is solving it?
4 = Will anyone PAY for his solution?
Filmmaker Van Ha with Red Bridge (film) Production, suggests to Danny (cosmetics startups) that the VN Tax code complex and uncertain, so instead of trying to start a business there, instead find a unique 'small product or service' to offer. Hoang Nguyen, Red Bridge production Manager, and Van are visiting the ESC tonight on my special invitation. I'm pitching the ESC as a TV series, talk about a content rich environment! It'll be incredible! They are pictured below, top left (Hoang wearing the black V neck and Van in white/gray shirt). Delightful meeting you both!
Pictured below are the smart, hardworking, lovely ladies Lucy Nguyen (pink shirt) from Vietnam Hanoi, an AirBnB Host, newcomer Linh Chi Doan a Marketing Specialist at Topcurve. and finally is Huyen Thanh Nguyen a rising star event planner. Thanks for coming out tonight!
The cute ball of all smiles and good energy, sandwiched in below, is our favorite Business Coach, Trainer and Writer Jen Vu Huong. Welcome back!!
Pictured below is Lucy, Hung Lai Rosie, Danny, BioChemistry student Mai Ngoc Ngo, plus Giang Hoang (salmon shirt with glasses). Giang is a researcher for an ecological protection organization. Last but certainly not least is Thuy Le Thanh "LUCY" wearing glasses and and a cute black and white checkered shirt. Ladies!
Below is Ho Quoc Trung, who works in his family's Geological Services Company, and our fabulous AirBnB host Lucy Nguyen. Welcome back you two!
I ask the group tonight, "How did you hear about the ESC?"
Facebook = 1
Word Of Mouth = 5
Meetup = 1
The lesson being that Word of Mouth still the MOST POWERFUL way to influence people.
(I also ask the group) "What are your TIME SUCKS? " In other words, what do you waste your time on?
Social Media =1,1,1,1,1,1,1,1,1,1,1   (Hint, at least switch from FB to LINKEDIN)
Thinking = 1,1
Worrying = 1,1
Procrastinating = 1
Harrison = perfect
Time management = 1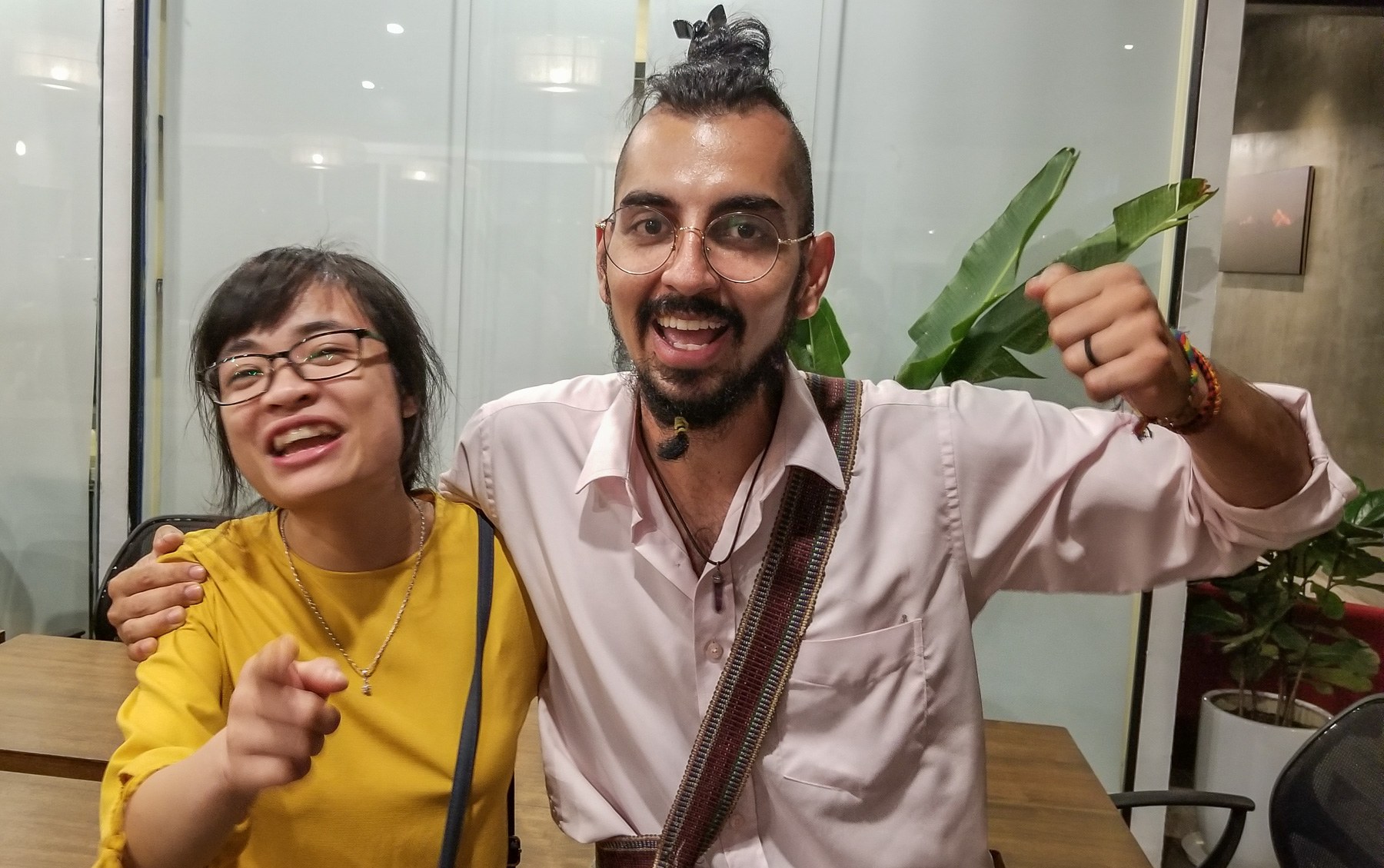 SEXY TIME VIETNAM. 
Ok, because Lucy Minh is our Sex Education Expert, I decided to ask the group to pick one of the 3 answers to "How did you learn about Sex?" Meaning, Where did you get your Sex Education? Lcy is working towards a nation wide Sex Education program, face to face education, for kids and adults alike.
School =3
Parents = 3
Street = 19
Seems that there is a serious need for real, universal Sex Education. Best of luck Lucy!
Dinner tonight was at restaurant Khazaana Indian Restaurant, located at 34 Đường Thành, Hàng Bông, Hoan Kiem District, Hà Nội. https://goo.gl/maps/WVeV5TcrH8w
While the ESC is a productive and educational business meeting, it's also a wild and crazy social club. If you listen and apply what you learn, your business and personal life will improve significantly.  We didn't stay out too too late THIS TIME, at least not until 5 am. And Speaking of 5 am, if you need to throw a 5-star wedding, party or event, one that is SO GOOD that your guests won't leave, then read my first book "It's 5 am Go Home!."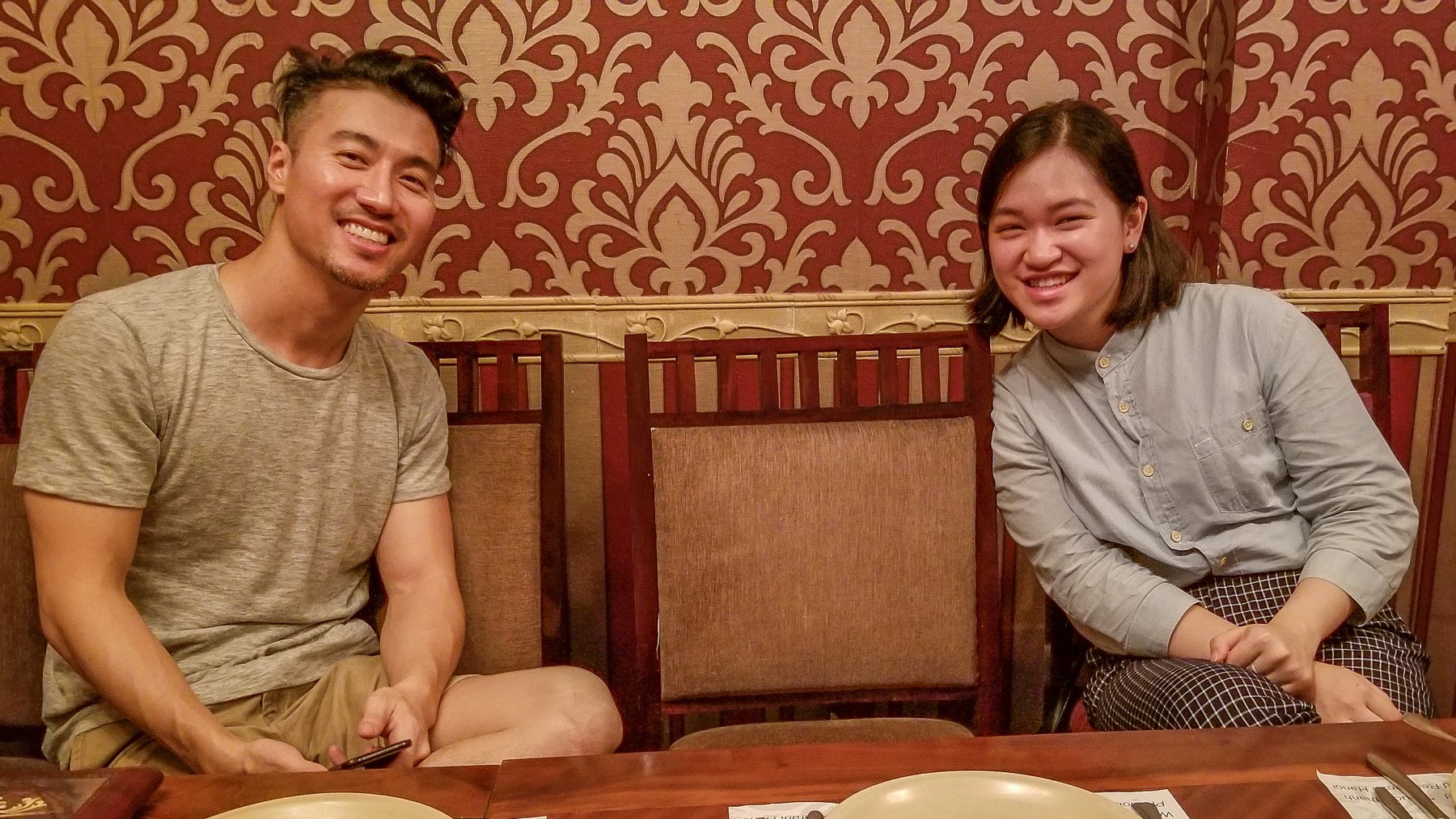 Rules of the Entrepreneur Social Club.  
NO religion, NO politics, NO bullies, NO thieves, NO liars, NO Racists.
The ESC is open to all adults 18+ who want to learn, grow, laugh, share, connect, network. Improving themselves and the world around them. BE HONEST! The "minor" rules are turn your phone ringers OFF, and only one person talking at a time. I act as moderator, taking control and keeping the conversation flowing, so the one person speaking can be heard.
WHY are the ESC Member HERE tonight?
To meet new people = 7
Find IT and Online teaching solutions = 1
Meet other Startups = 4
Learn Entrepreneurship = 1
For Inspiration = 5
Hear Stories = 1
Find Projects that are Similar to my Interestests = 2
I hope that as Entrepreneur Social Club Enjoys the Sweet Chaos of Hanoi Vietnam, it's been fun, educational and has helped to connect many fellow Entrepreneurs and business owners. Good luck to us all!
Make sure all your WEBSITES and SOCIAL MEDIA have the same NAME / URL
https://youtube.com/c/EntrepreneurSocialClub
https://facebook.com/EntrepreneurSocialClub
https://instagram.com/EntrepreneurSocialClub
If you are in HANOI, VIETNAM, check out our ESC MEETUP GROUP
https://meetup.com/Entrepreneur-Social-Club-Hanoi
BELOW is ALL OF MY PHOTOS from THURSDAY MAY 31, 2018