Entrepreneur Social Club returns to Toong Coworking Hanoi Vietnam
Tonight is Thursday May 24, 2018 and it's me, Michael Scott Novilla, the founder of the Entrepreneur Social Club [sm], the "ESC", hosting another Entrepreneur Social Club meeting OUTSIDE of the USA. Check out the ESC BLOG from last weeks May 17, 2018 meeting! Tonight we meet again at TOONG CoWorking, located at Tầng 3, 8 Tràng Thi, Hàng Trống, Hoàn Kiếm, Hà Nội. I've been hosting the ESC every Thursday night since 2009, though while I'm Globetrotting, my pal and ESC member, Tech Guru, Chris Jenkins runs the ESC show back home in St. Petersburg, Florida. At my gorgeous, world-class wedding and event venue NOVA 535. Here in Hanoi, I'm using MeetUp and a lot of daily networking, old school handing out of my business cards, saying hello, kissing babies, all that. Forming a new crew of like minded Entrepreneurs. So let's take a paak at who showed and what we discovered tonight in the #SweetChaos of Hanoi, Vietnam!
Dinner tonight was at restaurant bar Highway 4, located at 25 Bát Sứ, Hàng Bồ, Hoàn Kiếm, Hà Nội, Vietnam foun here on Google Maps
Pictured below is Robert James Everitt and Thuc X.Vu founder of customer feedback company HearMe.Vn
Below is Tien Thuy Nguyen of Loop Translations and Ho Quoc Trung who works in his family's Geological Services Company.
Pictured below, left to right is Pham Cong Tu, Huong "Rose" Nguyen (glasses, smiling, wearing blue and white dress), Nguyen The Anh (seated, glasses with $ shirt), 'Ryan' Khiem Quang Pham (standing with gray shirt),  smiling Thuy Le Thanh "Lucy" (wearing flower dress), Le Van Cuong (light green shirt), Dang Phan Son (striped shirt) and wearing jeans jacket is our Italian fratello Davide Bernardi.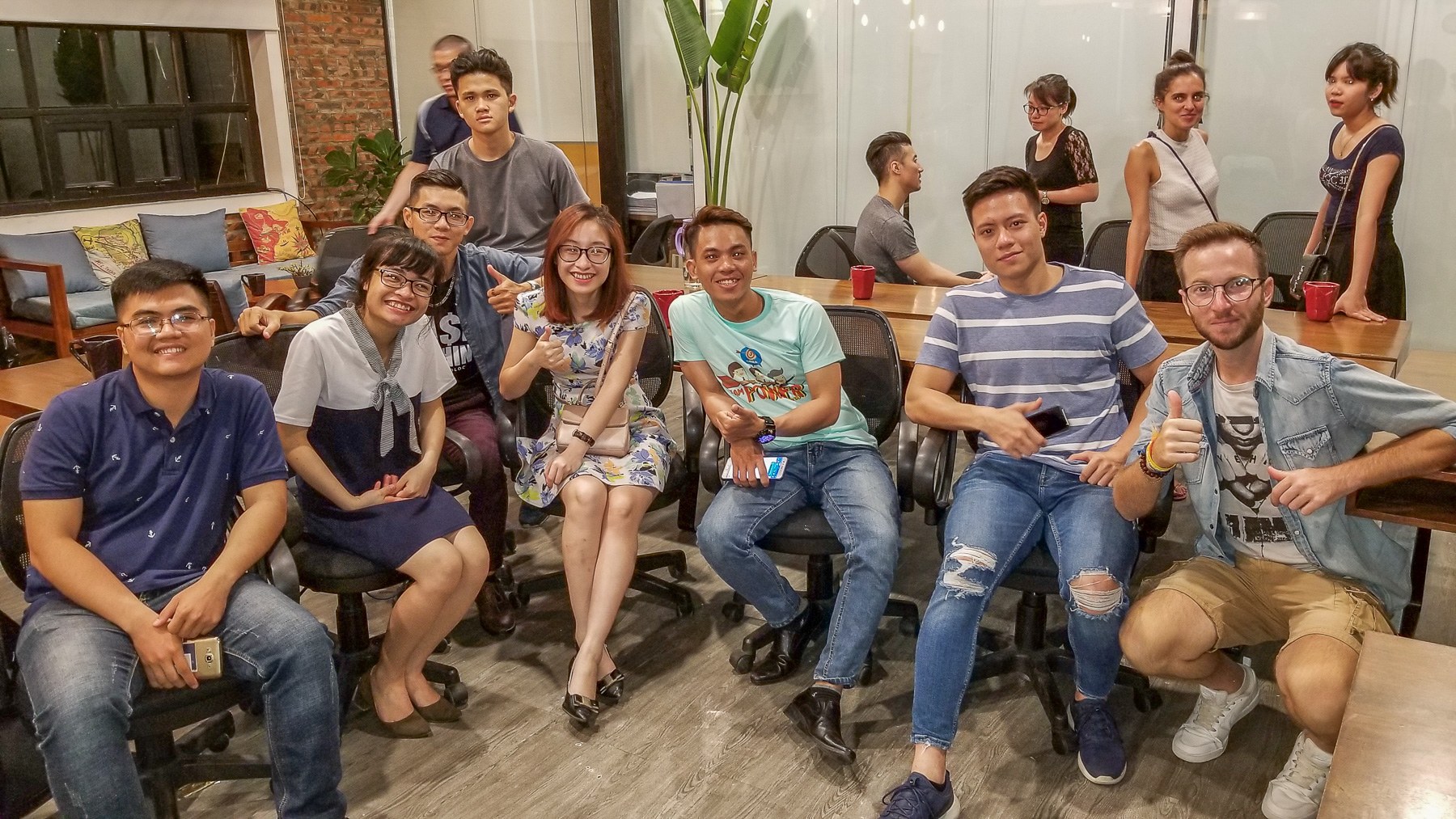 Rules of the Entrepreneur Social Club. The ESC. 
NO religion, NO politics, NO bullies, NO thieves, NO liars, NO Racists.
The ESC is open to all adults, 18 years and older, who want to learn, grow, laugh, share, connect, network; to improve themselves and the world around them. BE HONEST. This is a Free Speech Zone, aside from the guidelines above. The other "minor" rules are phone ringers OFF, and only one person talking at a time. I act as moderator, taking control and keeping the conversation flowing, so the one person speaking can be heard.
Above on our left, sitting by himself, is Jan Tran.
Below is Huong Nguyen "Rose", marketing master Harrison and newcomer Libra Hong.
Pictured below are friends 'Ryan' Khiem Quang Pham (gray shirt), Real Estate Building Designer Pham Cong Tu (blue polo shirt and glasses) and Nguyen The Anh (?) (Cash Machine Shirt, wearing glasses) .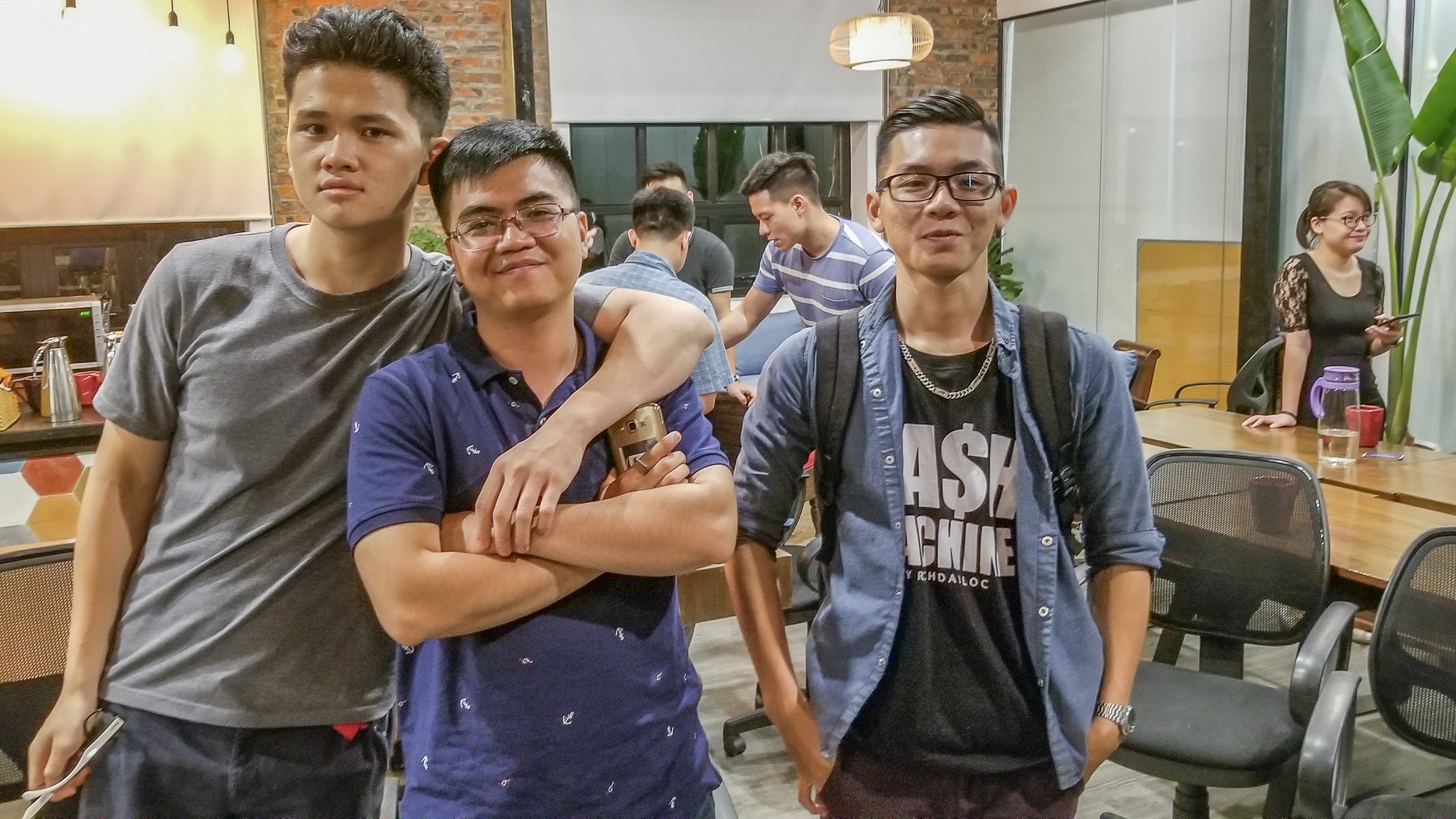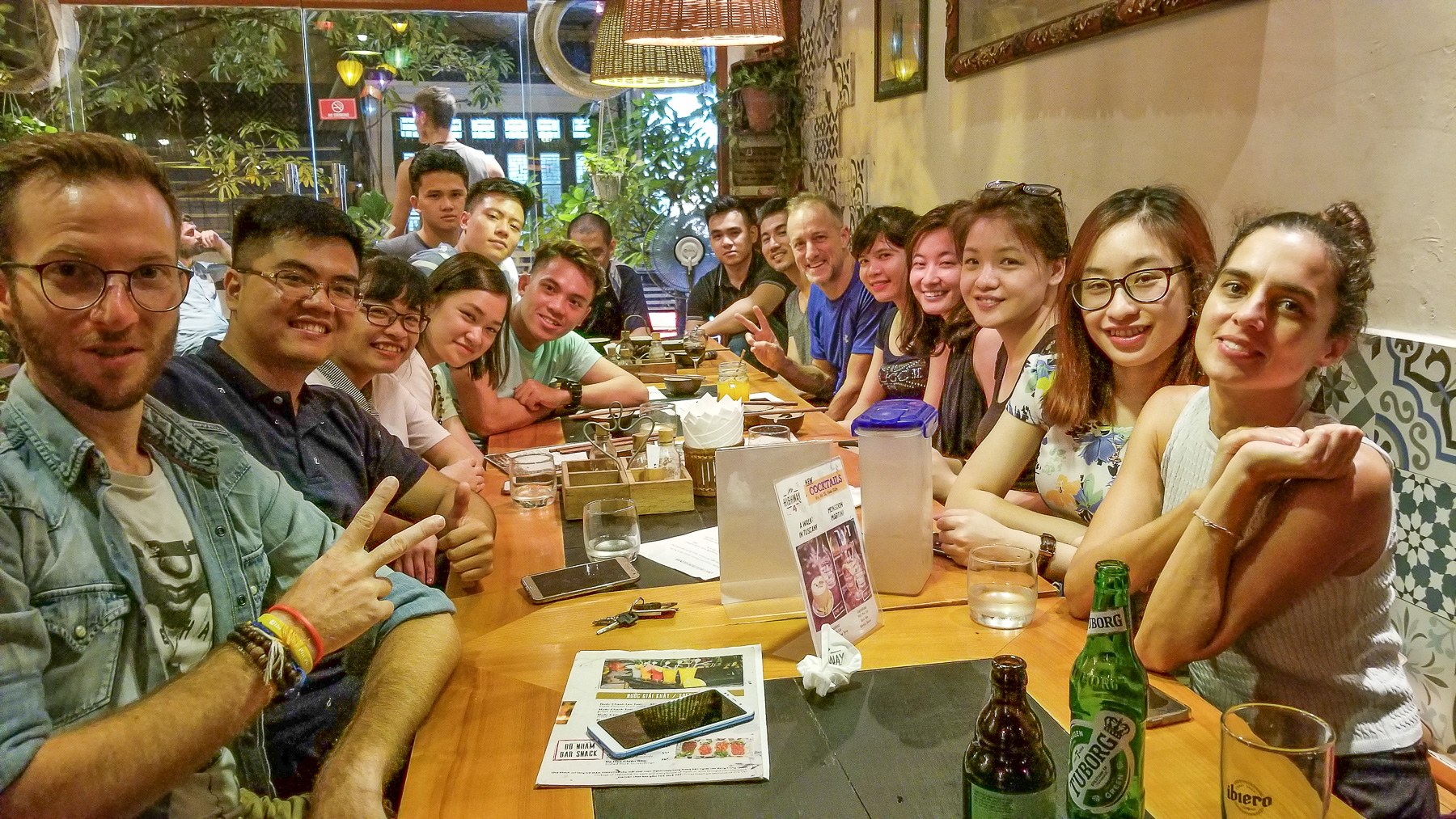 Harrison asks the group about their and Vietnam's appetite for doing CASHLESS business. Would you use QR CODE payment system? (VS. MOMO, for example). It seems that Cash is preferred in VN, but that is changing. Cashless systems must go through young people and connect the vendors AND the consumers.
We mention:
facebook.com/HelloWeekendMarket/
http://kickstarter.com as a way to raise money
and that you (our startup people) should video and capture your journey, the why, the daily steps you take along your unique path from concept to start-up to (hopefully) successful thriving business!
Below, from our left to right, is Estrella from Argentina, who wants to work with children with Special Needs. Seated next to Estrella is "Kristina" Ha Le, with Ho Quoc Trung and Davide Bernardi (wearing jeans jacket). Standing behind are Le Van Cuong (light green shirt) from Ho Chi Minh and the smiley Thuy Le Thanh "Lucy" (wearing flower dress).
Above I'm toasting with some enjoyable French Beaujolais next to Ha Le, Tien Thuy Nguyen (Loop Translations)  Libra Hong, Thuy Le Thanh "Lucy" (framing her pretty face) and finally our South American bonita Amiga Estrella.
Below BioChemistry student Mai Ngoc Ngo shares a hug with Sex Education expert Lucy Minh. Lucy is working towards a nation wide Sex Education program, face to face education, for kids and adults alike. Working with schools and institutions. We suggest her reviewing the reactions to the original Human Sexuality Studies done in the USA back in the 1940s by Alfred Kinsey. Harrison suggests to focus on shared PROBLEMS first, unwanted pregnancies, abortions, STDs, etc.
Pictured standing above is educational systems expert Robert James Everitt, offering decades of Child Education. He is searching for a progressive activity based teacher who does high quality youtube videos. Robert needs help with finding the platform to go to China for his new ONLINE TEACHING platform.
Pictured above (seated) is BioChem student Mai Ngoc Ngo, Le Van Cuong (light green shirt) and start-up pals Dang Phan Son (striped shirt) and Nguyen The Anh (gray shirt), Dang who was kind and brave enough to stroll the streets of Hanoi with me and Harrison for a bit after dinner. Thanks to my new brothers from Hanoi! Below the team enjoys the fantastic card magic from magician ?his name? from Spain (plaid shirt), seated in the middle of the gentlemen.
Pham Cong Tu shares a smile with our lovely Entrepreneurial ladies Thuy Le Thanh "Lucy" (front left) and Libra Hong (wearing black).
Below is HearMe.com Founder Thuc X.Vu, Audi salesman Davide Bernardi from Milano, Jan Tran wearing dark gray polo shirt and finally Dang Phan Son (striped shirt).
WHY are the ESC Member HERE tonight?:
To meet new people = 7
Find IT and Online teaching solutions = 1
Meet other Startups = 4
Learn Entrepreneurship = 1
For Inspiration = 5
Hear Stories = 1
Find Projects that are Similar to my Interestests = 2
Speaking of Entrepreneurs, do you want to be featured along with our ESC ENTREPRENEURS? Complete this form and if you qualify, you will be!
The ESC is a Social Club, lots of fun and zaniness to be had, while still a productive and educational business meeting. If you listen and apply what you learn, your business and personal life will improve significantly.  This week we didn't stay out too too late, not until 5 am. But if you find yourself needing to throw a 5-star wedding or event, one that is SO GOOD that your guests may not want to leave until late late in the morning, then read my first book "It's 5 am Go Home!."
I hope that as the Entrepreneur Social Club visits Toong Coworking Hanoi Vietnam, it's been fun, educational and has helped to connect many fellow Entrepreneurs and business owners. Good luck to us all!
Make sure all your WEBSITES and SOCIAL MEDIA have the same NAME / URL
https://youtube.com/c/EntrepreneurSocialClub
https://facebook.com/EntrepreneurSocialClub
https://instagram.com/EntrepreneurSocialClub
If you are in HANOI, VIETNAM, check out our ESC MEETUP GROUP
https://meetup.com/Entrepreneur-Social-Club-Hanoi
BELOW is ALL OF MY PHOTOS from THURSDAY MAY 24, 2018