Shaken and Stirred. Red or White? Domestic or Imported? Tonight, Thursday January 26, 2017, as our delightful bartender Vanessa enjoys some sin city with her friends, I add to my roles that of Bartender. Luckily, not the first or even 100th time, so we're in good shape. Not as good when she is around (don't leave us Vanessa!) but we'll survive! And yes Art, you can have another Vodka and Soda, just let me put my camera down!
Celebrating some Success Stories:  Andreas Neuret  (above left) Got 23 downtown Tampa businesses connected, and created a passport during the Tampa Raymond James' National Championship Game. Andreas is a serial Entrepreneur and, as I found out recently, an excellent bartender. Brian O'Donnnel (below far left) saved a guy with bad credit $17,000 via his BuyMeACarUSA.com.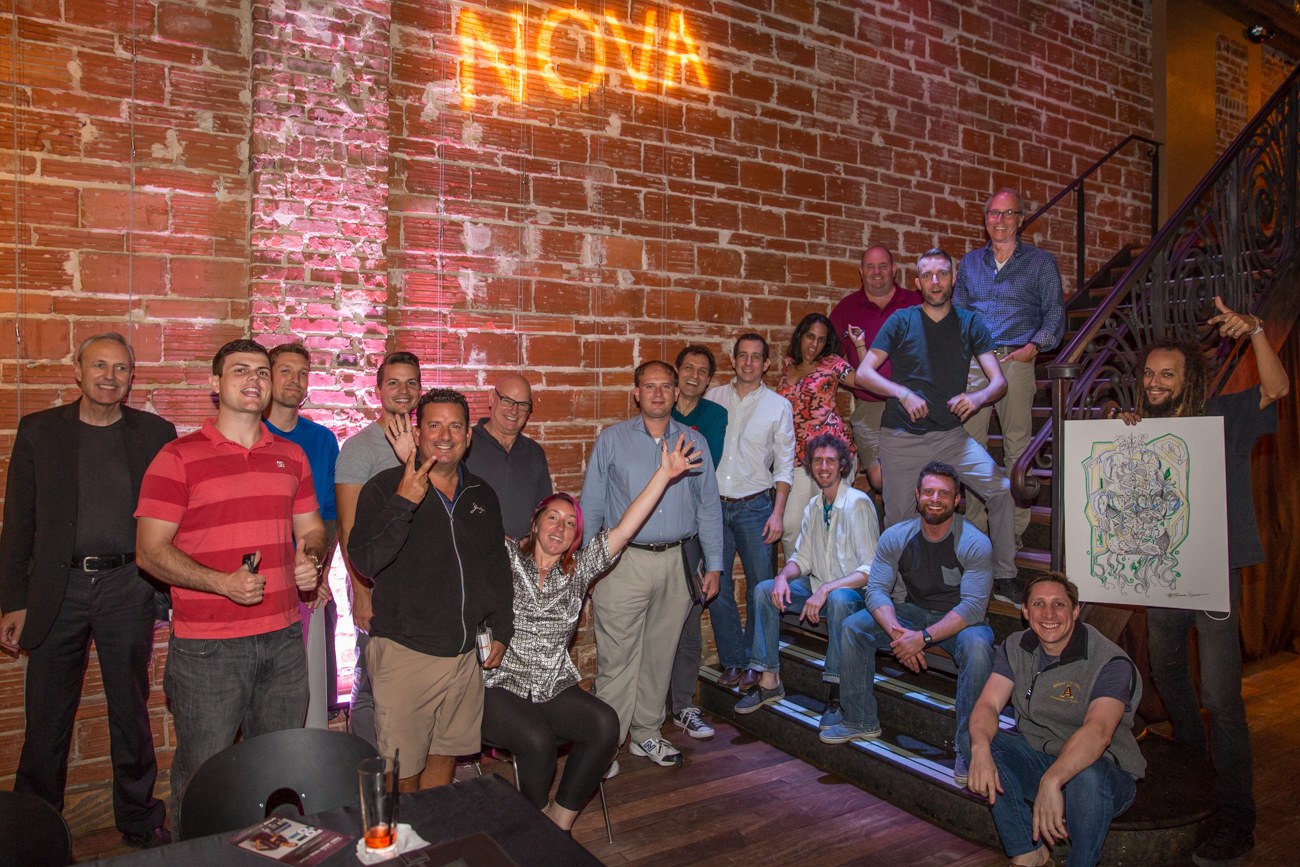 Daniel Niryi (above 4th from left, standing in back, grey T-Shirt) won Most Innovative Business for his 4U-Fitness. Congrats Daniel! The award came from our local That Business Show. Our pals with SymphonyAgency.com were also in the running, ultimately loosing out to Daniel's 4U-Fitness. Symphony is fabulous, check them out! Daniel also shared that they were shooting the film Generation Iron II at his studios. Plus Daniel is helping to train Mr. AND Mrs. Olympias. WOW!  Newcomer Simmy Pappachen (she is wearing red/pink floral dress, standing on stairs above – it's Jimmy with an "S" she says) is from NJ. For 10 years, (now is a silent partner) did interior design, by taking fine art and translating it into hand made rugs…hand made in Nepal. She left NJ because of the cold, and because it gets dark at 4 pm. Welcome to SUNNY ST. PETE! She is now a web developer github.com/sspnyc.
Tim (just above Simmy on stairs in red shirt) suggests flexjobs.com for web development, some remote and high paying. Upwork.com was also suggested by Troy.
Newcomer Jabaar Edmond (pictured above) – welcome!
From Jabaar's website "Danny Greene (Cranstan Cumberbatch) , a homeless war veteran who suffers from P.T.S.D. is in a fight for his life trying to survive living life homeless in the streets of St. Petersburg. Upon a chance encounter he meets Sandy (Stephanie Porto), a mysterious stranger who through her efforts helps him to see that " just because you're homeless doesn't mean you're poor", and from this meeting opens his eyes to a different level of homelessness, his talent to do Art, and love. Now, Danny must make a decision on taking a leap of faith in trying to change his quality of life, or continuing with life as he knows. The film stars: Stephanie Joy Porto (Also a St.Pete native), Cranstan Cumberbatch, and Co-stars the beautiful city of St. Petersburg and its one of akind murals and landscape."
Jabaar did a test screening and are looking for feedback for their next step. Feel good story, yet realistic. USFSP was helpful. I asked why? "I'm the VP of Child's Park Neighborhood Assoc. and this story came about because of my interaction with the local homeless community." He's also a director and writer.  He's a youth coordinator for Job Core in DTSP. I'll connect you with Tony Armer SPCW Film Commissioner.
FTI: Cranstan Cumberbatch translated the book to the script, also lead actor in their film Art in the City.
Jason Deutsch (above on right)  vibration form roller is his new product. Used to break up the muscle after exercise. Inviberon.com Going to do the professional angle and the humor angle. Retail just under $100. Since the pain is the body's way to say "stop", the vibration is more helpful without the harmful bruising that can happen with regular rollers. Best of luck Jason!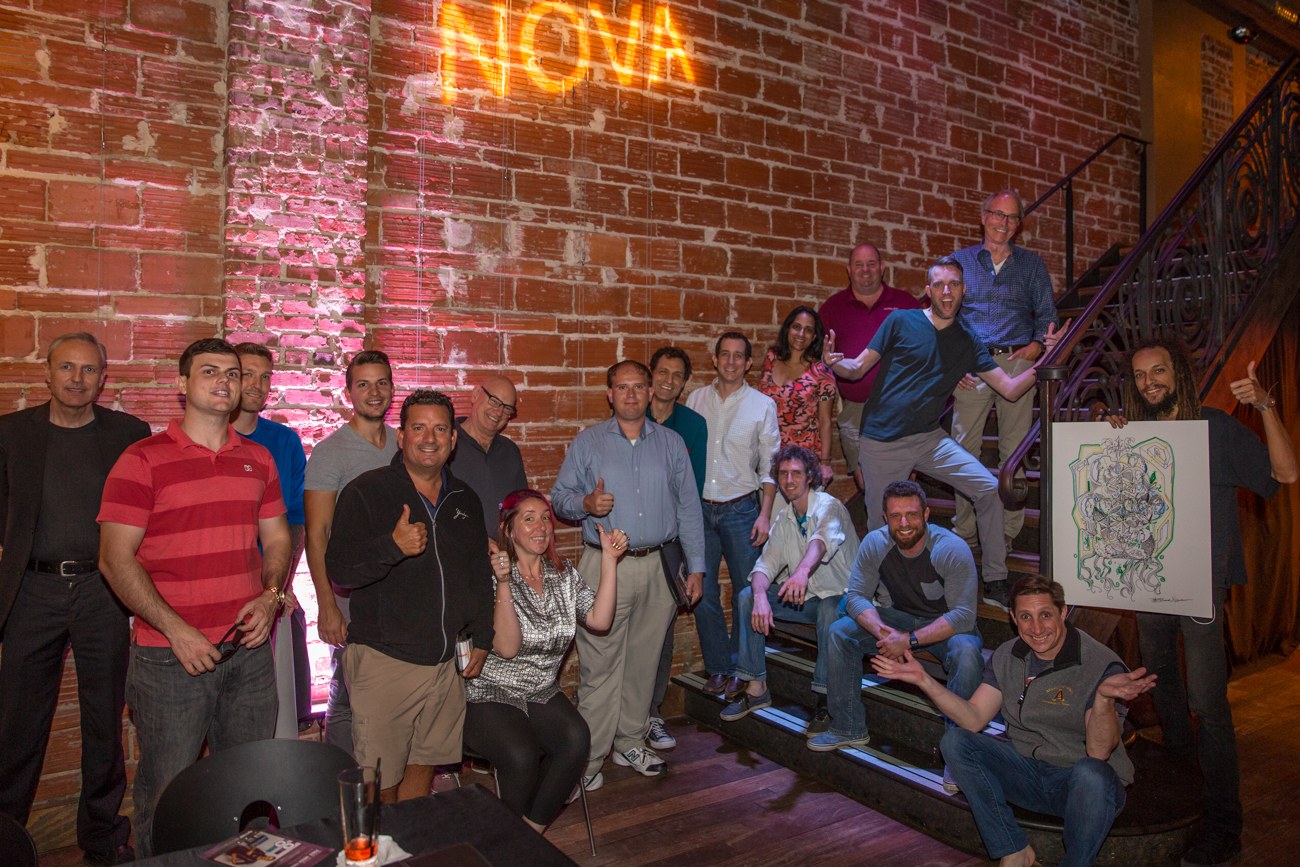 BOOK REVIEWS and SUGGESTIONS:
KPI – Becoming a Key Person of Influence.
Tools of Titans by Tim Ferris.  I just finished this book, excellent!
Go Giver and Go Givers Sell More. Go Giver in on my Kindle.
Never Split the Difference. Daniel and I both read this, excellent also.  The author suggests using the sentence, for when someone doesn't answer, you reply then "Are you giving up on ________ ?
Grinding it Out, about Ray Crock. McDonald's – renovating and automating. Table Service and pizza over. Main Street in
Rejection Proof – went out to find rejection.
Stroke of Insight by Jill Tailor
E-Myth Manager a classic must read.
Recently moving to our area (welcome!) Troy Morgan takes photos from the air; and has been doing it for 5 years. Has lots of stock aerial photos of St. Pete looking to sell. Especially to realtors. Wants to start a 501 C3 to help people transition phase with the steps from corp to entrap jobs, roles. Nick Mazeika suggested 1,000,000 cups and SP Greenhouse, and I suggested Stephanie Wynn, our new member who is just publishing her first book!
Mike Jones (above left) is focusing on St. Pete….Starting a new food brokerage, Social Enterprise, company. Connecting farms, restaurants and consumers. He's sitting next to Julia Marie of 5DollarFacials.com and our favorite Coastguard officer.
Check out Evan Niemann's gorgeous, unique artwork at MyArtYourPrice.com
Dinner tonight was at Hawkers Asian Street Fare 727-521-7253  1235 Central Avenue which was tasty and a lot of fun. I had some great shots form my Note 5, but it did a hard reset and they all got wiped before the auto cloud update happened. Oh well, hopefully I'll have a few from my pal of Halsam's Bookstore fame, Ray Hinst III, who joined us for dinner. Along with Ray Milton of Ray's Vegan Soul, plus Drew Edwards and Rod MacKenzie of BridesAgainstBreastCancer.com
See you all Thursday…it'll be Shaken and Stirred!