Unfortunately, or not, I've still gotta experience, organize, type and publish my stories here, old school. Ish. Like "Back in the Day," I'm still taking photos with a physical camera, editing them on my computer, and typing these words on a frustrating keyboard. One that I still have to look at here and there for the correct keys. Liquid Paper and 8 1/2″ x 11″ paper, plus those maddening printers are gone from my desk, but typing and thinking and crafting a story are still the same as Back in the Day. So tonight we discuss the future and what "back in the day" means to us all. 
The Future of Back in the Day
Tonight is Thursday, April 4, 2019, and we're gathered around our long ESC meeting table. Comfortably nestled inside my historic Downtown St. Pete venue NOVA 535, and ready for another unique, one-of-a-kind evening that can only happen when Entrepreneurs, from all industries and stations, gather for drinks, camaraderie, and sharing, where everything goes EXCEPT religion and politics, liars bullies and thieves. 
In case you're new here, I'm Globetrotting Entrepreneur Michael Scott Novilla, who started this crazy ESC group back in 2009, to mentor and connect with like-minded Entrepreneurs. To brain dump with other creative, productive humans. While I'm home in Sunny St. Pete Florida, I enjoy hosting my weekly Thursday night Entrepreneur Social Club [tm], almost always here at NOVA 535. Big props and eternal thanks again to my pal tech guru Chris Jenkins for holding down the fort over the 14, yea fourteen months, I was away. Traveling to 29 countries, over 416 days. Wow, #gratitude and #thankfulness. Take a peek.
Steve Rosen of Career Compass Group (pictured in the middle, black short-sleeved shirt, glasses) makes his living helping organizations find key employees. I'm on your left with grey long pants, black shirt and giving the aloha hand sign.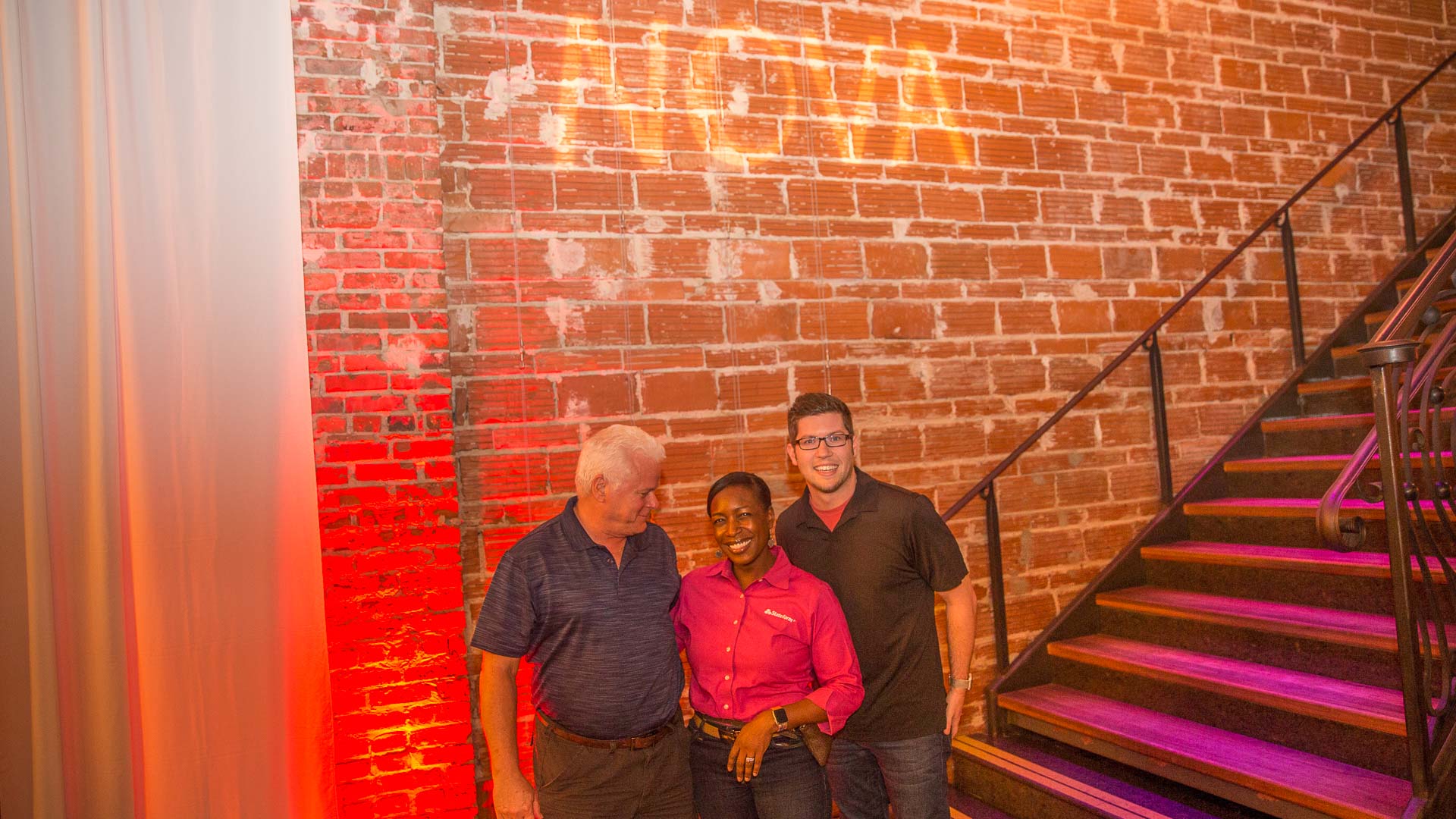 Seth Mattox (above on right, black polo and glasses) is a successful internet entrepreneur and currently reading the book Principles by Ray Dalio. Seth recommends Kindle Paperwhite, maybe it's time to upgrade mine. Seth found success by purchasing old, once thriving websites and then re-energized them, utilizing the existing backlinks. Until Google killed them. Not to be defeated, Seth learned his way through the ever-shifting internet labyrinth, and now he is a master of his craft. Finely tuned websites, like his AutoServiceCosts.com. Back in the Day, Seth was able to identify high search traffic with low competition, found organically inside Google searches. Brilliant. He suggests doing our own URL research and then determine the competitive nature of it, using MOZ and Raven Tools.
Greg and Tommy (above) posing for a shot from my 6D. 
Seth continues on how, that Digital Money, aka time units (time of processing and the electricity utilized) for the action to decrypt, is now being built on a distributed ledger system. CryptoCurrency, opposite of the historical centralized banking systems. These are virtually unhackable unless 50% of that distributed network is controlled, which has happened. Ain't nothing perfect.
Seth moves on to AR (Augmented Reality), where some of his seemingly endless passion lies. He discusses 3 fields where AR will explode: 
Bio-Tech, Nano-Tech, and Info-Tech. AR has been elusive thus far, (lack of) 5G (really fast cellphone networks) being a hindrance. AR will change how we interact with our environment, by using holograms and digital objects in your hands. AR will become true 3D as we are teaching computers how to recognize things visually. AR offers a Brave New Universe to be explored and invented. 
Kym, Mimi, and Seth posing above. Mimi Lang, our favorite State Farm Agent, reminds landlords and tenants alike the benefits of Renters Insurance. Kym Ottaviani of Rex Rentals and Realty Kym reminisces "Back in the Day" of his family making Gin in their basement, somewhere in his home state of Wisconsin. He feels that the medical field, within 8-12 years, will become highly automated. Smart software already outperforms humans on many tasks, with accuracy, reading of charts, finding cancerous cells, and more. I remind everyone of the classic 2006 film IDIOCRACY starring Luke Wilson. Check for the Auto Doc scene for some laughs, the entire movie is hilarious. Scarily prescient, yet so so funny. 
Tony Michaelides, (pictured below wearing hat and glasses) recalls Back in the Day his incredible times during The Who Quadrophenia concert, and now how through the use of AR, and Holograms, these insanely expensive and complex live tours can be (re)created inside our computer systems. For anyone with access and the proper gear to enjoy. From anywhere, at any time. Quite different than Back in the Day with my Atari 800. 48K.  
Tony Michaelides our resident Music Industry Exec, who was with Magic Leap, continues to share how extremely expensive it is to take a LIVE SHOW on the road, but how we can now do the 'same thing' via AR. Check out Magic Leap to have your mind blown!
So what do those of us here tonight feel defines "Back in the Day?" When the days were longer when we were seeing things for the 1st time, mostly during our High School years, when we were experimenting, until mortgages and kids and the stress of our world news started beating us down. Back when you'd cover your waterbed with Crisco, or ride your bicycle off the roof of your house into your pool. Dumb, fun shit. Back in the Day. Soon my first book It's 5 AM GO Home will be published, filled with zany stories of my youth. 
DINNER tonight was at The Mill DTSP, located at 200 Central Avenue #100, Downtown St. Pete, one of our favorite restaurants, and winner of 2015 Best New Restaurant in Florida. Still delicious!!
Music industry Entrepreneur Tommy, pictured below, front right with dark hart and glasses, plays a role in the upcoming film EPIPHANY, played during Sunscreen Film Festival. The SSFF is here in St. Pete, every April. We are delighted to support the SSFF, now in its 14th year. Get some tickets and enjoy films from across the globe!
Allison Granell, pictured above center right, leans in with hand on head, wearing a white shirt. She sits next to her hubby Jayme (black shirt, arm tats, and glasses) during dinner tonight at The Mill. Their food and cocktails are fantastic! They are both returning to ESC, partially to pitch their wedding band FromMetoYouBand. Allison's grandfather bought their marina (Tampa Bay Marina) from Howard Franklin himself, and she is working hard on continuing his successful legacy. They are sweet people and I'm most grateful they choose to spend their Thursday nights with our crazy crew.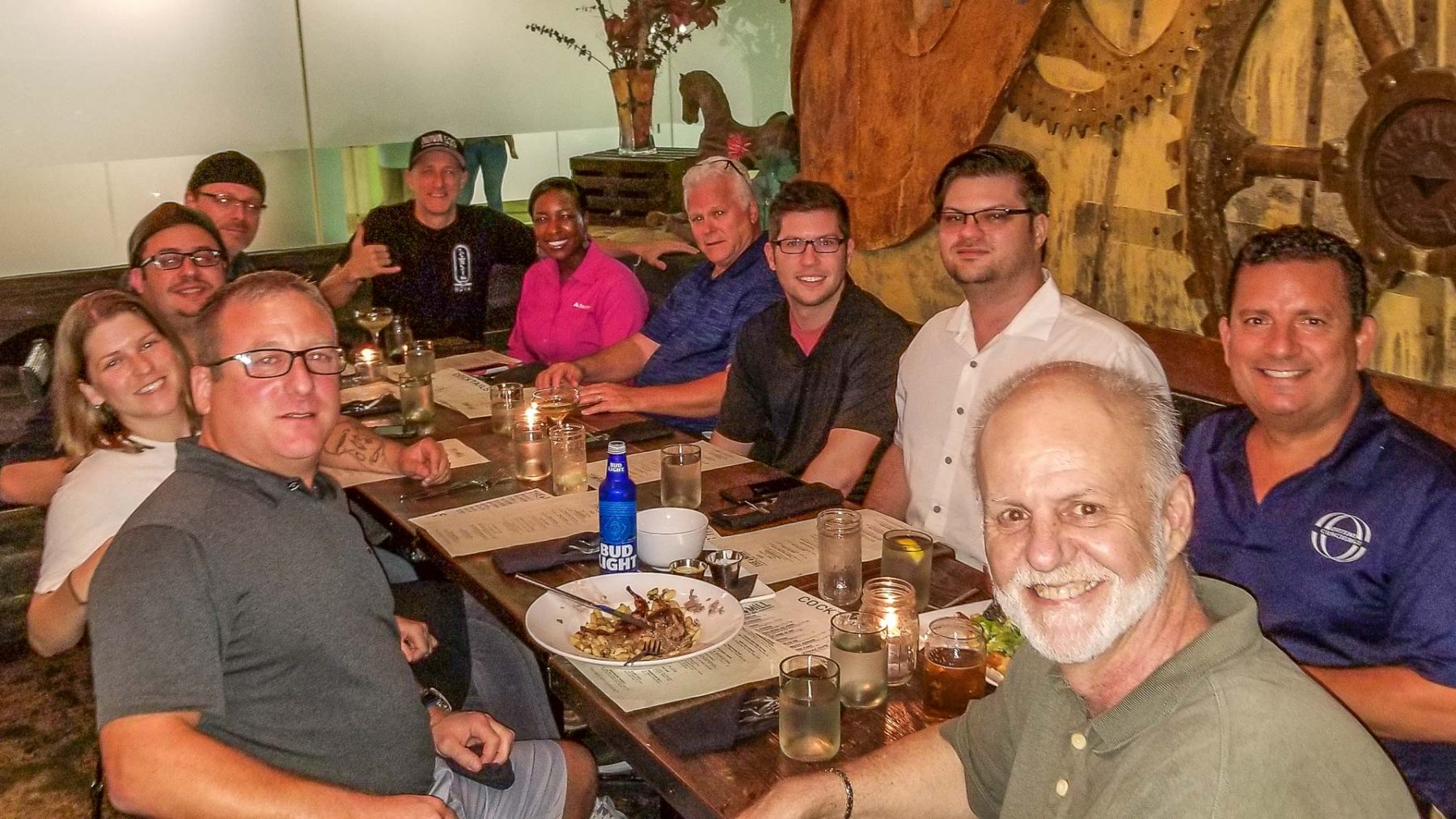 Greg Simmons (smiling, front and center) SEO Company Web Edge Digital Marketing with Jeff Sassano Insight Consulting (dark blue shirt, just above and right to Greg). Both are ESC veterans! Michael Carlisle, of Carlisle Insurance, joins us tonight, his insurance company in the family since 1948. And get this, their company has been incorporated since 1890. WOW! Mike sits left of Greg wearing glasses and a grey shirt. His company offers all kinds of insurance, everything except health.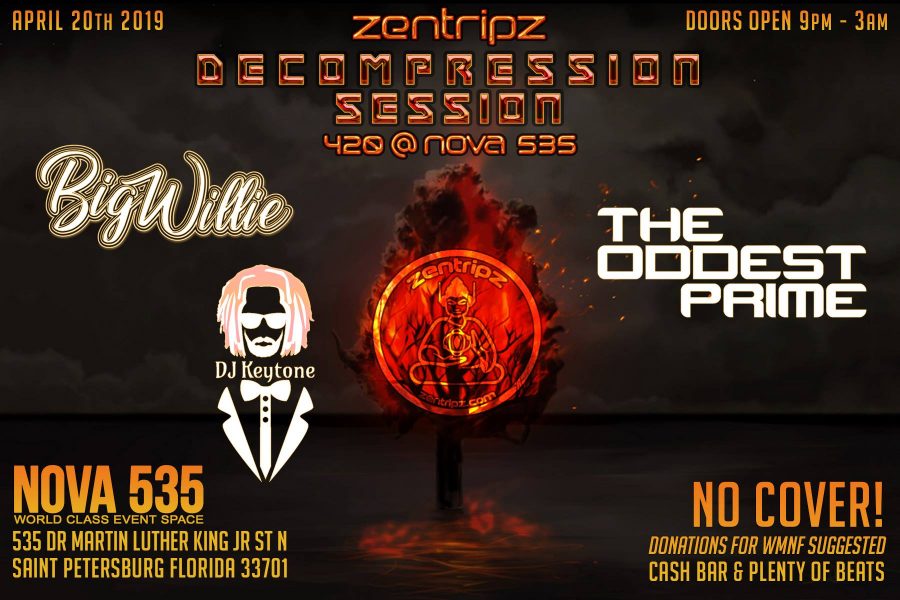 My pal, radio guru Dood Zentripz, is celebrating a mind-shattering 20, yes TWENTY years of hosting his Zentrips Radio Show. It's the longest running radio show in Tampa Bay. Join us Saturday, April 20, from 9 pm to 3 am, what will turn out to be a legendary celebration. Burlesque Dancers, Stilt Walker, 3 DJs, and wow so much digital and analog entertainment, GONNA BE EPIC!! No cover just donate a few $$ to WMNF at the Door!!
Justin Petro of Advanced Millenium Computers "Makes your Tech Problems Go Away" is pictured below, wearing a white shirt, glasses, and dark hair. Justin has been attending the Entrepreneur Social Club [tm] from Back in the Day. Almost from day one. Haha oh wait, that's not Justin, that's a bowl of The Mill's delicious fried avocados! Yummy!
Thursday, April 11, we are back at NOVA 535 for our regular ESC program. Thank you for following along today as we discussed The Future of Back in the Day!
Thursday, April 11   ESC at NOVA 535
Thursday, April 18   ESC + NOVA Comedy Night
SATURDAY APRIL 20 9 pm – 3 am
Dood Zentrip Decompression Session 420
===== HERE ARE ALL OUR 04-04-2019 PHOTOS =====
Please keep NOVA 535 Unique Event Space in mind for weddings, receptions, film shoots, corporate parties, and events! We are the best-rated venue in Tampa / St. Pete because we LOVE hosting 5-Star events just how you want, with No Limits and No Stress!