Off to Casablanca Whoopsie Hello Riga!
Our aloha pos system went down at my main gig, wedding and event venue NOVA 535 (ugg, hard drive crash, quickly fixed by fellow ESC member Justin Petro of Advanced Millennium Computers, he's fabulous!!). Too bad the NRC team wasn't as great as Justin, they got 50% right then I left, and well the crazy busy night we have every First Friday was rocky. The POS wasn't returned to "good to go" condition as planned. Luckily my amazing brother Chris Novilla and big Nick Mazeika were there to lead our team NOVA and our 100s of partying guests to victory, rough night but they got things done! Bravo guys!!
This was followed by our sound system crashing at NOVA, (a HUGE thanks to Chuck Taylor of Production Source, [he's the Gandalf of the AV world] for saving our arses, THANKS CHUCK!!). Plus my packing and the usual craziness inside the NOVAverse. My original plan of going Tampa Airport to JFK to Casablanca got scrapped yesterday due to bad weather around JFK.
My heart dropped upon seeing this delightful update…
The weather 'round New York caused multiple hour delays, and many many sad faces around me. So my entire Morocco trip had to be cancelled. 2 flights + hotel, 2+ hours on phone with Expedia; Delta refunded their part easy peasy.., other restructurings were root canals. So I went Tampa to Gatwick direct (luckily there was a few seats left on the 6pm).  My debit card was not working momentarily (here's a collective BOO to the shitty banking system, this is after 2 calls and trying online (web failure on their part) towards setting my debit card for international travel). Then PayPal was not working and then finally my debit card worked for the ticket purchase, ugg! So I finally departed 6pm, arriving now 7am into London. I got lucky with some help with the local Gatwick airport staff, again my debit card was not working so I had to pay cash, though only had US $. Luckily the staff was super nice and converted for me, as I only had an hour total to turn and burn. They told me that Gatwick is run by an American company – bravo to the USA style of excellent customer service!
My direct flight to Rīgā was easy (2.25 hour flight, 2 hours time zone away from London) and here I am…at the Royal Square Hotel, 5 star for $80/night.. loving the local views and pricing here!!

Friday 8am was last shower until just now, 4:51 pm Saturday local….ahhh hot water and soap!! Hello Riga!
Time to explore Old Town Riga!!
And FYI:
Thanks = Paldies
You're Welcome = Ludzu.
Clean and ready, I'm off to explore! Hello Riga!
Enjoyed two delicious chocolate and caramel bites at the Riga Black Magic Bar, around for a bit (since 1752) delicious! What a cool ancient building and business. Some things are timeless: chocolate, coffee and liquor, plus really cool spaces! http://blackmagic.lv
After some Black Magic got my hitpoints filled up just right, I strolled around for a few hours. Needing to stretch and unwind after a 5 hour chaotic Tampa Airport (love the TPA Airport, it's world-class!), rearranging my entire 1st week of travel schedule, then the 8 hour flight to Gatwick, then the 1 hour turn and burn, then the 2.25 hour flight to Riga, then a taxi + expedia search to get me to the charming Royal Square Hotel (more but this later) and so yes a stroll around the lovely Old Town Riga was much MUCH needed. NOTE: Unlike younger people who take this for granted, I can TRULY APPRECIATE how amazing it is to use a small piece of plastic and metal (my Galaxy NOTE 5) to research a completely foreign town's hotels reviews and details, and quickly land on my best available options, within minutes, all while riding in the back of a taxi, 1000s of miles from home. Bravo to all the nerds out there who made this possible!!
Enjoy my Hello Riga strolling adventures… The park was beautiful, the people friendly and helpful. Loving Riga so far!!
Around 730pm local, I started tuning into what dining options were available. That's when I noticed Muusu. There was a momentary interruption with a sprinting thief, who collided with me and a waiter in a tight stretch of the sidewalk, we slowed him down, another guy grabbed him, knocking the stolen wallet free…and all was returned to normalcy.  NOTE: Riga feels calm and safe and has a great vibe. Thieves are everywhere, sad but truth.
Dinner was at Muusu, and the only thing that wasn't 5 star was the missing U in the logo. Cute idea but make it 100% clear what the name is…and your pretty sign needs a new light inside. MUUSU was exceptional, start to finish!
SALAD Fried Rabbit livers in port wine caramelized plums, red-wine redcurrant sauce. 10 Euro
SOUP  River fish and crayfish soup with dark rye bread langoustines, halibut, potatoes, dill, sour cream. 9 Euro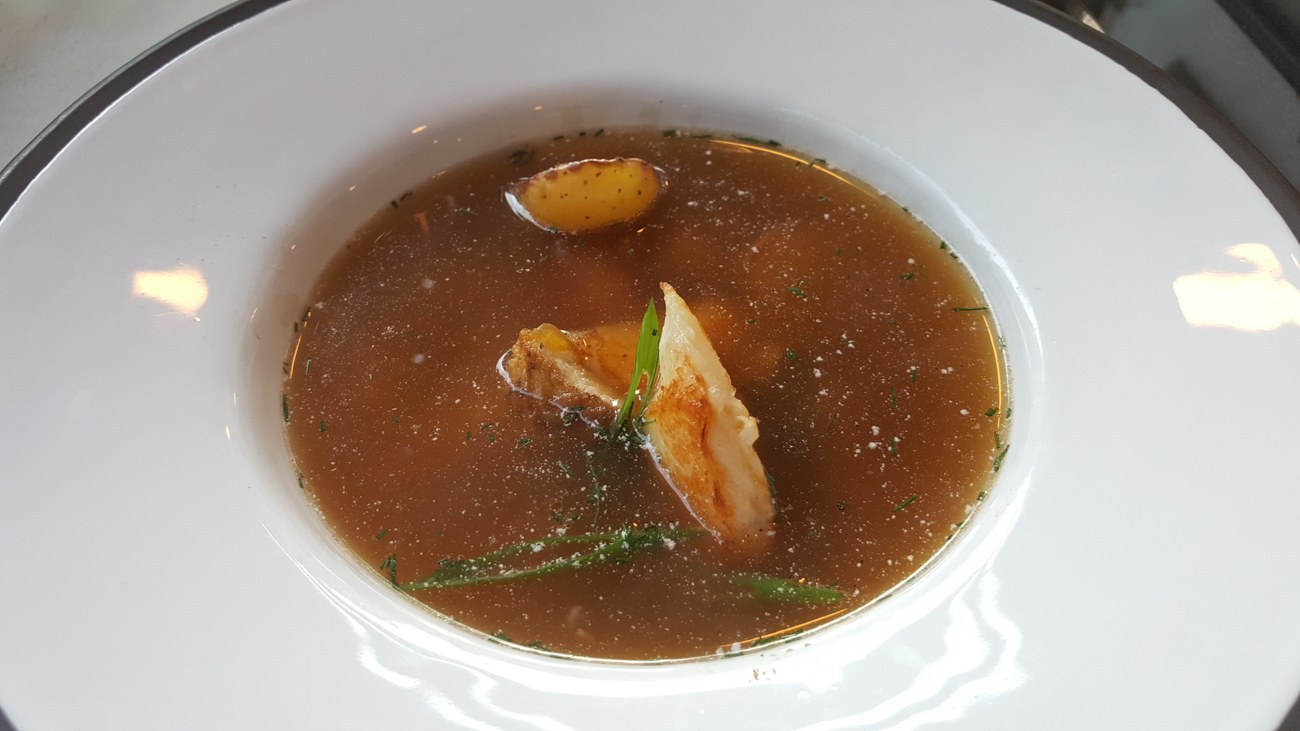 ENTRE  Mangalica pork loin steak (slow cooked) parsley garlic oil, soaked wheat grains, baked-apple puree, carrots, red-wine blackcurrant cause 18 Euro.
My delightful waitress was Linda Karpenko, 5 star service, thank you!! (She's a keeper!)
Owner's (son) Kaspars of the CantusGroup.com name was provided to me when I pushed for owner's contact info. They own several restaurants here in Riga, which I shall be exploring!
And so that ends a very long 2 days of travel, chaos, excitement and adventure. Stay tuned for day number 2 here in Riga…and remember that the Entrepreneur Social Club meets in person every Thursday Night, most always at my historic venue NOVA 535, in beautiful Downtown St. Pete, Florida. This week, July 7th, we are taking off in celebration of our Independence!!
What's the ESC? My efforts to connect, mentor and unite the world's Entrepreneurs, into one happy, peaceful, productive family. A family that excludes Religion, Politics, Liars, Bullies and Thieves; one that focuses on harmony, health, good business and continuous improvement. That's the only way our species can survive. Join us!