Many new Entrepreneurs bustling with positive energy tonight at ESC.  It's Thursday, time for our weekly gathering of Entrepreneurs, seasoned business owners, start-ups and students, mentors and those just wanting to make new friends and network at the The Entrepreneur Social Club. That's Thursday December 15, 2016, here in warm and sunny Downtown St. Pete, Florida. If it's your first time welcome to the ESC and if not then welcome back!
Daniel Nyiri founder of 4U-Fitness is back tonight, plus our friend and always busy with something new, Jamie Doerschuck, who can now be found via http://the-doerco.com. Both Jamie and Daniel epitomize the always improving always positive and smiling Entrepreneurs we are so delighted to know and spend time with here in the ESC. Bravo to you both! Yup that's Daniel and Jamie pictured below.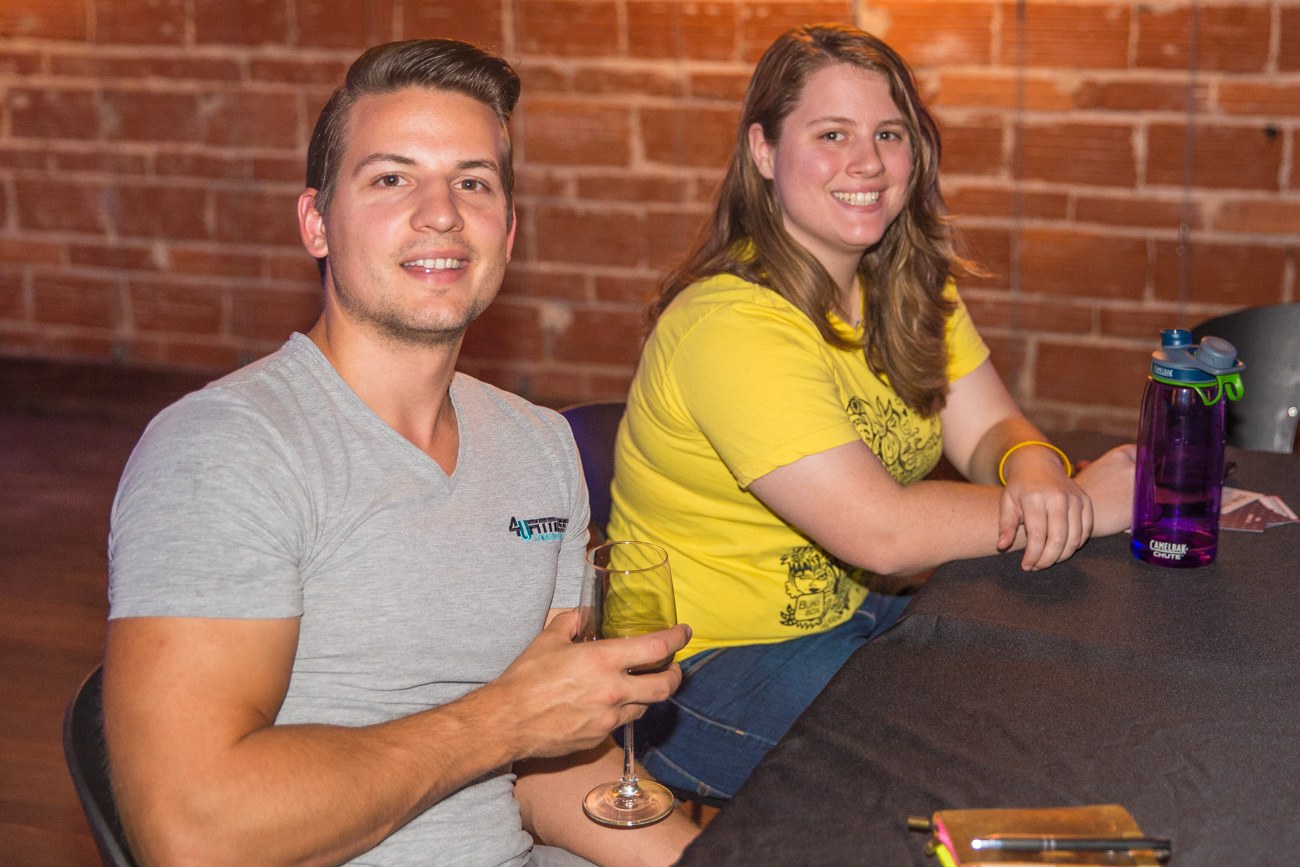 A couple of newcomers, include this cute couple: Mark Velapoldi, who was just moving from NY, welcome! Mark, along with his wife Sandy, are financial advisers and educators. Sandy and Mark Velapoldi can be found primerica.com/mVelapoldi. And you're correct again, that's  Mark and Sandy pictured below.
Jim Webb join us tonight for the first time, welcome!! He's found via thewebbworks.com and has 35 years inside the crazy world of TV news; locally with channel 8. Jim's spent the last 8 years freelancing, and doing legacy work with stills. He loves storytelling under a deadline, professionally and passionately. Welcome to the ESC!
Jacob Chak was back (that rhymes!), is an online sales consultant, and can be found via his jchak.com.  Newcomer Tristan Wheelock (http://www.tristanwheelock.com), is a photographer for magazines and real estate investor, plus he loves baking. Tristan likes being able to physically effect the cash flow  / value of his assets. He loves making things better, and improving the neighborhood he's investing in. Sounds a LOT like why I enjoyed my 20+ years of real estate investing, renovating and managing. Welcome Tristan! I mentioned that he should meet our famous Chef (exSugar) Ray Milton, now Ray's Vegan Soul, and low and behold, Ray joined us later. Nick!
Below is Jacob, Tristan and Jim Webb on the far right.
As always we share and review business cards.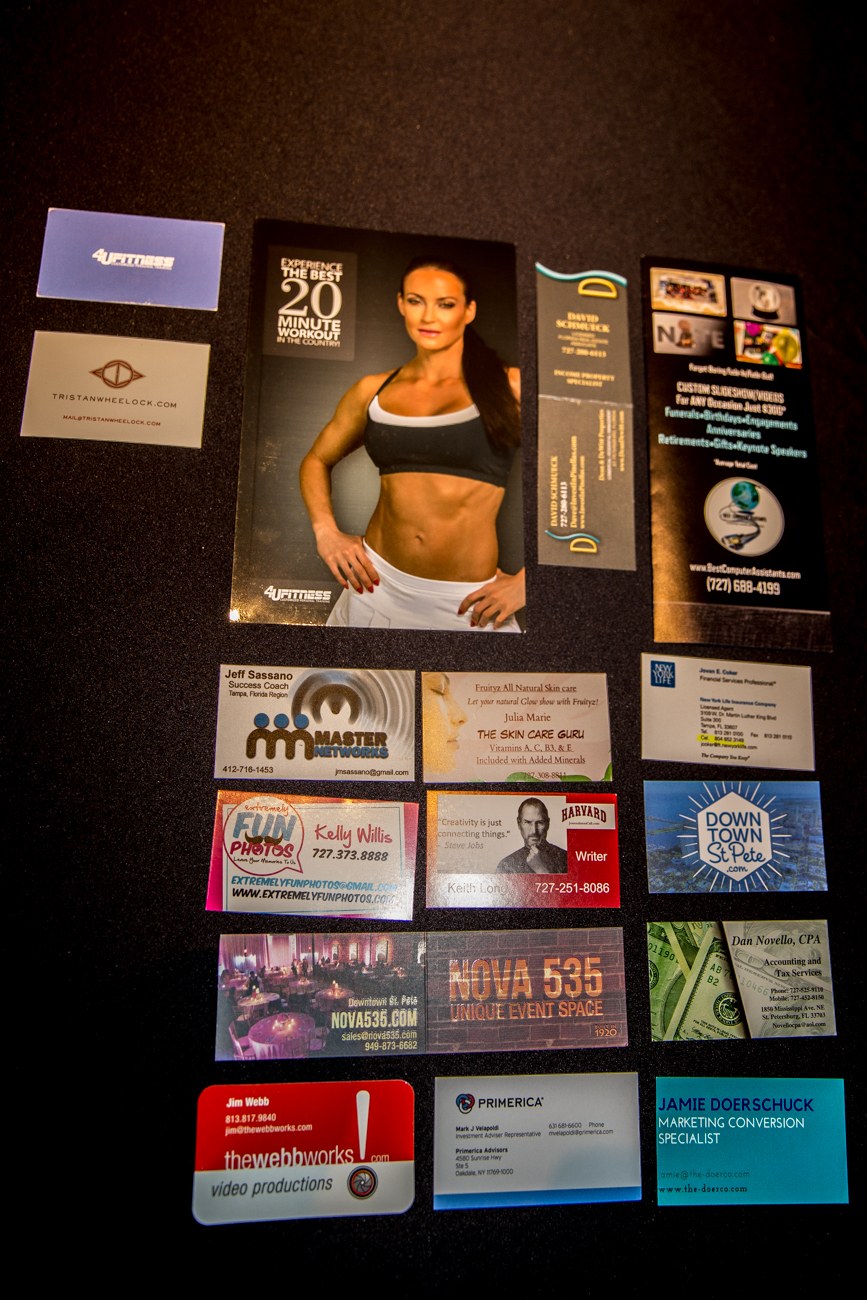 Julia Marie, below left with red in her hair, the always improving and tons of fun founder of Fruityz aka 5DollarFacials.com shares with the delightful and hardworking Kelly Willis, who recently stared ExtremelyFunPhotos.com.
Keith Long, center in pink, our resident Harvard Journalist On Call, Professionalizes your written content for you. If you're even thinking of writing a book, connect with Kieth.
Dan Novello, above in gray, CPA is our favorite tax master. Below is Steve Farrenkopf, who found the Entrepreneur Social Club via Michael Mitchell. Mike is a founder, builder and investor in our HQ NOVA 535 Unique Event Space and we are MOST grateful for his always 5 Star attitude and helpfulness. Much love to Mike Mitchell.
Also here tonight is Cory Kimble, auto engineering consultant, via fastcustomconcepts.com.  David Schmueck investinpinellas.com who gets the big gold star for listening and applying our feedback for his new business card. Bravo David! And Tony LaPorta, who spent a long time trading financial futures. Tony currently runs the very interesting TonyLaPorta.com, check it out!
Above is newcomer Jovan Coker, an insurance planner with an advertising background. Welcome Jovan! Pictured below is Cal Tiger, who invests in small enterprises, tech and healthcare, and cloud computing like the IOT. Internet of Things. Cal and the group talked about many things, including (paraphrasing here) 'that phones are the most precious valuable real estate in the world. And to check out Aruino open source hardware.  He's working on Cloud products are so you can access home and office files without being in the cloud – a private cloud. Internet based healthcare for seniors and millennials. Care coordination. Medical Tourism. Unhackable Email doc is saved on a private cloud, only good for 30 minutes – think google doc with Snapchat.' Wow, lots going on in Cal's big brain. Welcome back Cal!!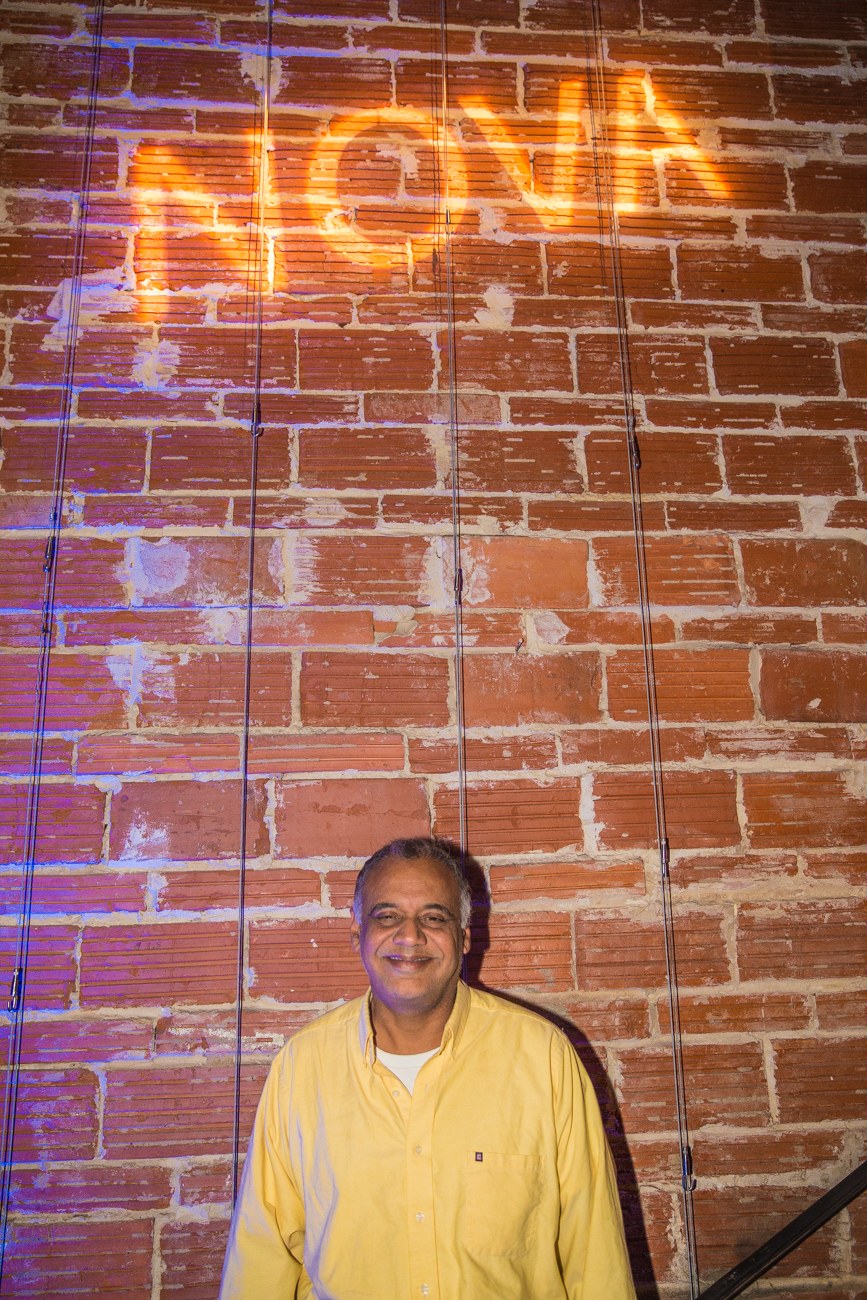 Check out all of our photos from this week's Entrepreneur Social Club at bottom of blog. Make sure to join us Thursdays here in Downtown St. Pete, Florida, most always at our gorgeous HQ NOVA 535 Unique Event Space. NOVA is the region's best rated wedding and event venue, perfect for ceremonies, holiday parties, corporate events and film shoots. Happy Holidays and see you soon!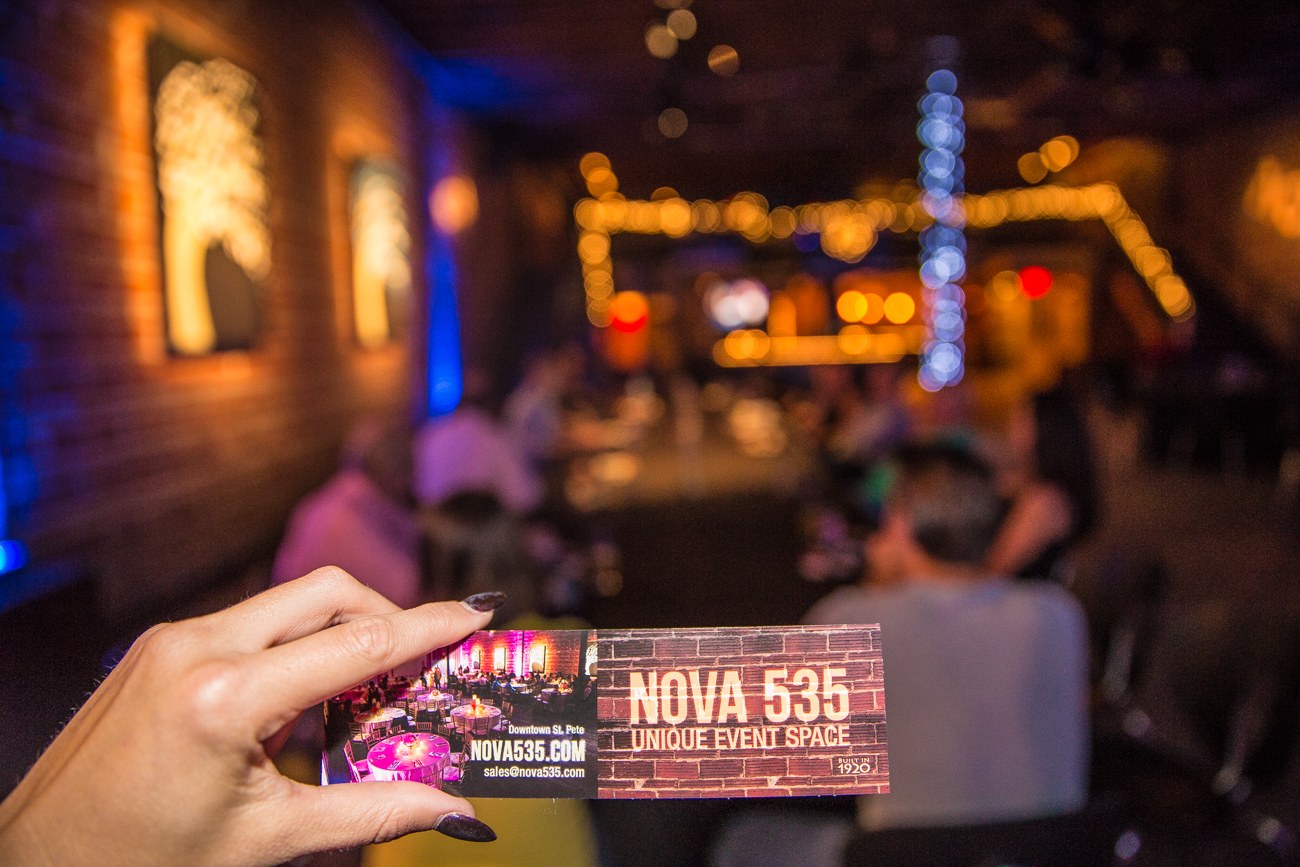 Speaking of Entrepreneurs bustling with positive energy, a BIG THANKS to our fav photographer and ESC hostess Audrey Jennifer, found via AudreyJennifer.com she's super delightful! Thanks Audrey! And thank you all for joining our amazing social club of business owners and Entrepreneurs! Make sure to come and join us Thursday nights!! Here is our event schedule.