For someone as organized as I've always been, something I'll see tonight, and share with you all, is quite shocking. Yup, it's Thursday night again, the 2nd of May, as 2019 races by. Time is relative and my perception of the passage of time continues to speed up. So many people, tasks, responsibilities, activities, then throw on top of the head spin from 416 days of traveling. Photos, memories, new friends collected upon the way. Always reading several books at once, including the all-powerful Haruki Murakami. He is a grandmaster with messing with your sense of time. Toss into that mix, my struggles and steady progress towards completing my own two books, It's 5 AM Go Home, and World's Favorite Words. Oh, right! Then there is the managing, promoting, organizing and hosting of you klowns, my lovely fellow Entrepreneurs. So as I sit at Queenshead Restaurant and Bar, while my historic venue NOVA 535 is thankfully booked for the annual Crohns and Colitis Foundation Fundraiser, I wonder, as the rain beats down on the head of the Queen, will anyone even show up? Of course, the delightful owner Tracy Asalita is here, discussing her efforts towards their 10 Year Anniversary party, June 8, 2019. Tick Tock, Tick Tock, I foresee an Inbox Full of Queenshead tonight.
Since we are offsite tonight, our typical Entrepreneur Social Club [tm] meeting will be much more casual. No business pitches, just some lite networking, passed cards and an earlier launch into appetizers, dinner and of course drinks. Same rules always apply, everything goes EXCEPT religion and politics, liars, bullies, thieves and racists. We are a big family and tell you the cold harsh truth, especially when it hurts. Then we offer real-time solutions, ones that can be implemented immediately. If you are open to change, willing to get out of your own way, and will put in the work, then you can and will be successful. Continuous Improvement, unless you're stuck with an inbox full of Queenshead. Yeah, you'll get it, eventually… 
Left to right: Michael Scott Novilla (me), Jodi McLean, Krystle Pinzker, Kym Jenkins, Mimi Lange, Chris Jenkins, Paul Menegazzi, Tommy __, Julia Marie, Elizabeth Olguin, and Queenshead owner Tracy Asalita.
LET'S SEE WHO BRAVED THE RAIN TONIGHT:
Michael Scott Novilla, I'm Globetrotting Entrepreneur, ESC founder, here to connect with and mentor my fellow Entrepreneurs. While I'm home in beautiful downtown St. Pete Florida, I host my fellow business owners and creators, every Thursday night, almost always at my 1920 built, modernized venue NOVA 535. Tonight it's an exception since we are booked, helping good people raise monies whilst enabling me to pay off my mortgage. For those interested in hearing more about my life story and receiving great step-by-step advice on event planning (shameless plug below) my upcoming book It's 5 AM GO Home, is your way to go. I'm looking forward to seeing it born, set loose into the wild, on bookshelves (a few), and on Amazon, eReaders, etc, hopefully "in the hands" of many many people across the globe. I guarantee that you will enjoy plenty of laughs, learn a lot about me and life itself, and, if you follow my guidance, be able to throw your own 5-star weddings, parties and events.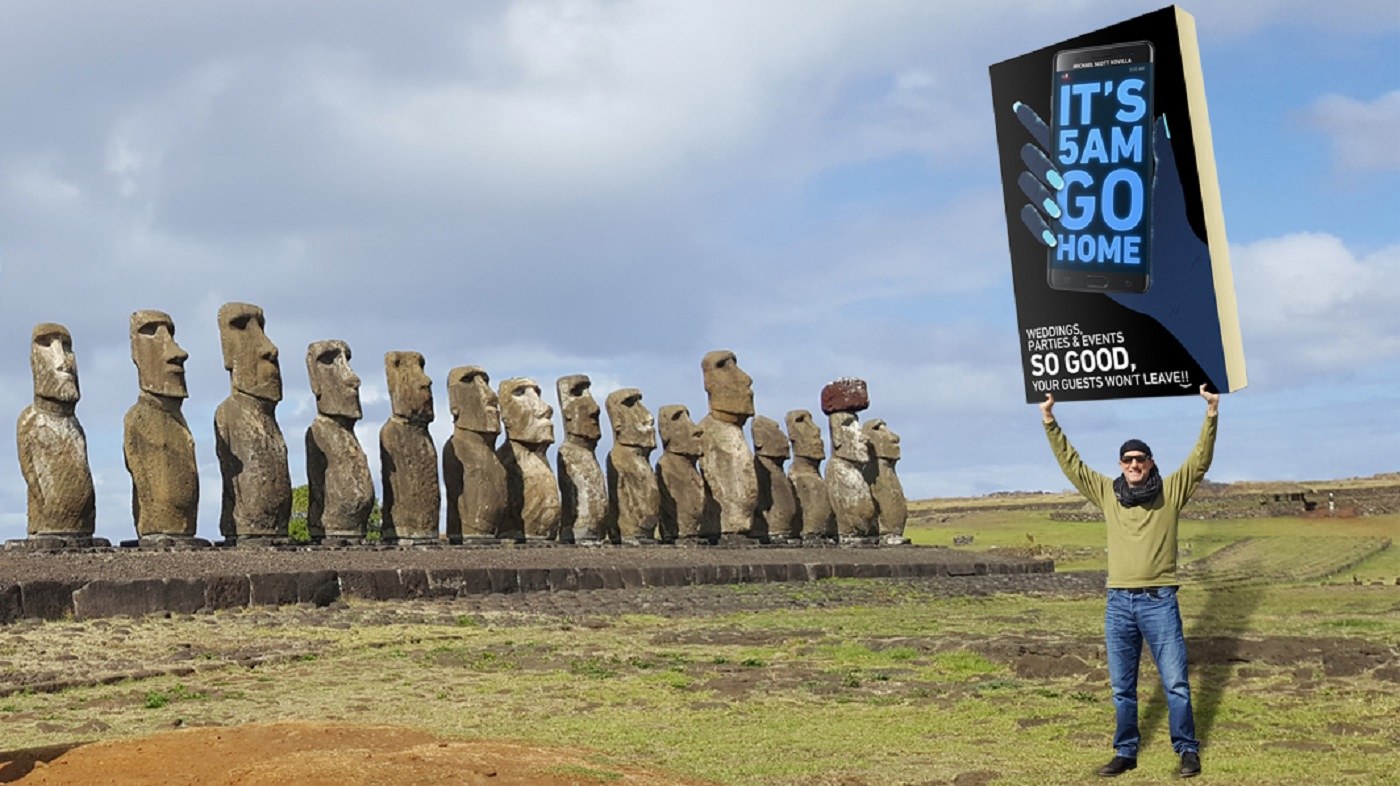 Strolling in a bit late, always to fanfare, are our pals Kym Jenkins of V Spicery and hubby Chris Jenkins the self-proclaimed Grumpy old Bastard of Technology. Jodi McLean joins both our meeting tonight and Chris' The Symphony Agency. I dined with my friends and Symphony founders Daniel and Lauren, just days before. They are infected with GlobalTravelitis, and we enjoyed comparing notes.   
Mimi Lange, our favorite State Farm Insurance agent returns along with Krystle Pinzker, bookkeeper and consultant extraordinaire. The bubbly Elizabeth Olguin and her hardworking hubby of Express Yourself Media, Paul Menegazzi add great energy to our room, as does Julia Maria our lovely master herbalist. Lot's of healthy colors on my dining plate, eating the Rainbow!
Tracy Asalita, pictured below having fun, in front of such incredible street art, a mural painted by @Suarezart. Tracy is the owner of the always fun and delicious Queenshead Restaurant and Bar, which is located at 2501 Central Avenue Downtown St. Pete. Swing by for their legendary fish and chips (and more!), stay for the cocktails and cool vibe!
Sheri Kendrick (red hair and blouse) joins us a bit later, she is an incredible human and photographer, and founder of Little Light of Mine, a most charitable of organizations. 
Paul plays the thorn between two roses, one rose is our favorite bartender Vanessa Baker, wearing black, who returns into our ESC event family. Welcome back, Vanessa! Paul also hilariously borrows some of Jenkins silvery locks, giving himself a 1970s mad scientist look. Wow, I love my fellow Fools!
UPCOMING ESC SCHEDULE
Thursday 6:00 pm – 8:30 pm:
May 9 at NOVA 535
May 16 at NOVA 535
May 23 at NOVA 535
May 30 at NOVA 535
Then dinner and more drinks immediately following…join us anytime!
Oh! and yes, I mentioned a shocking secret. Sheri shared that she had like 16000 emails in her inbox. ((Doubletake!)) Paul laughed and laughed, as he reveals Liz's phone screen, showcasing her unimaginable 329,265 emails waiting. Over THREE HUNDRED THOUSAND!! We all work differently, for sure, as my interaction with Paul and Liz, for our Zentrips 420 party, was 100% smooth and professional. She ALWAYS returned all my emails, calls and texts, promptly. Their simple photo "booth" was a huge hit, so much fun! Hire them for your next event, everyone loved them and their 'toys'.
===== HERE ARE ALL OUR 05-02-2019 PHOTOS =====
Keep NOVA 535 in mind for your weddings, receptions, film shoots, corporate parties, celebrations, and unique events! We make it so easy for you, with No Limits and No Stress, just 5-Star results!