Today, Saturday November 15, 2014 brings to me three words of beauty. No Mas Lluvia!. No more rain. I was up early with every intention to work for a few hours, exercise a bit then take a taxi down to the Museo de Arte Moderno, and spend a few hours enjoying Modern Art here in Medellin. I double checked with the gods of Google, and yup, the gallery is open today until 5:00 pm. Muy Bien. So I NYC whistle down a passing taxi, yes I've got a world-class whistle, and we are off to the Museo, about a brisk 20 minute ride.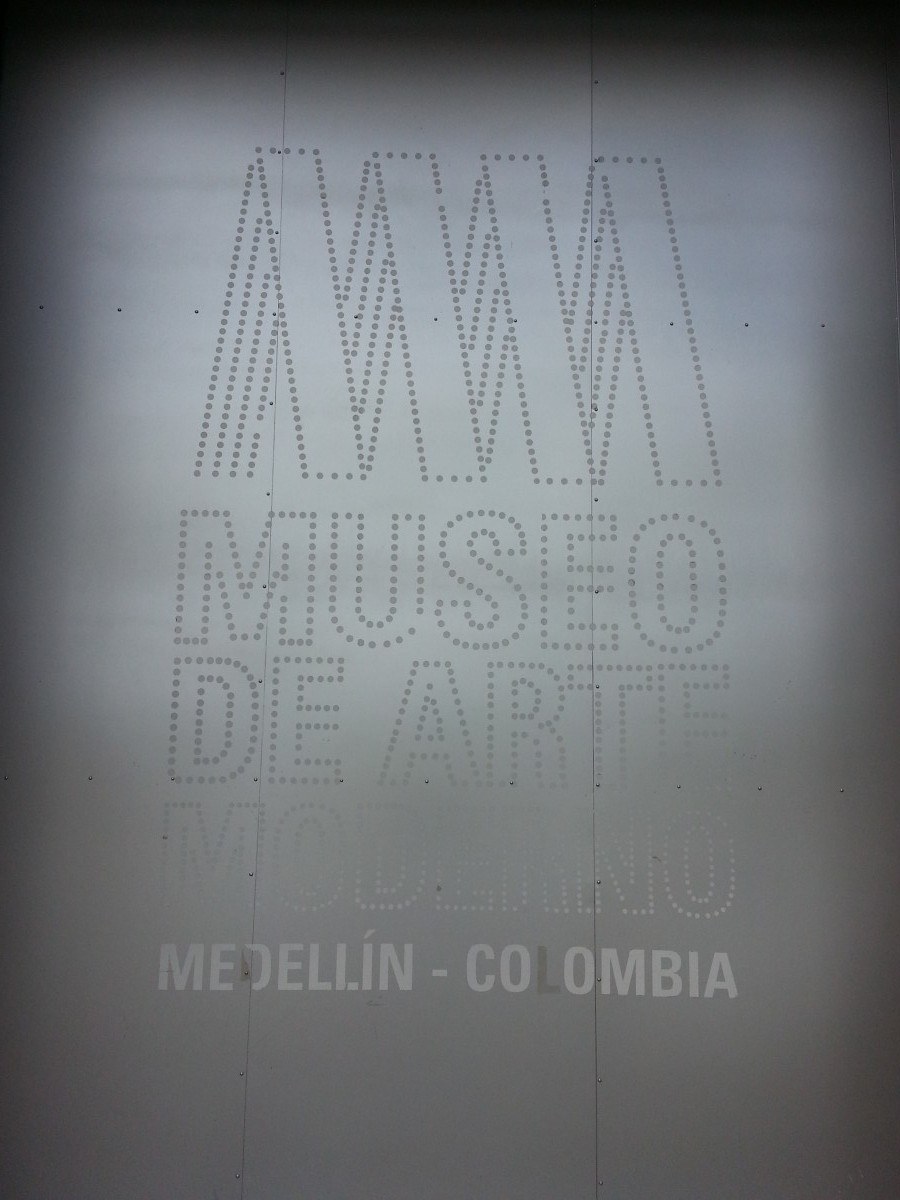 Ahh, the sunshine and cool breeze blowing through the windows, as my driver weaves in and out of the semi-insane traffico here, that certainly would give my mother a heart attack. NYC taxi drivers would halfa pay attention here, as this is a different kind of jungle. We're making nice progress and I jump out, smiling directly in front of El Museo. I even pop a few extra pesos to the driver, my mood one of refreshed delight. Yes I'm blurry below, obviously wasn't the camera operator, however, it's fits perfectly my experience, or lack of memory thereof, from inside the Museum of Modern Art here in Medellin. Blurrrrrrry….
So I leisurely make my way around the building and run into a Policia, at the far end, and the door sign clearly says Office. I try to communicate and he's saying no bueno. I recall the clear "OPEN TODAY 9:00 am to 5:00 pm" on Google Maps, and we'll Goggle can't be wrong, can it? =D After some more discussion and adding several interested people to our conversation, the truth is revealed. Whoopsie, the ENTIRE MUSEUM IS CLOSED DURING NOVEMBER. Ok, so I saunter off across the street to a lovely cafe and enjoy another kind of art – Real Realism. Yes, a bowl of fresh fruit, Tinto (Coffee here in Colombia) and some Agua. Muy bien, but now what?
So I get up to pay my tab, and decide to walk around the corner to to far street side of the Museum. Maybe something interesting is happening, there, right? Maybe? Hopefully….. and BING BANG BOOM it's Gold Jerry! I almost wondered if I'd run out of film, a momentary mini panic-esch thought whisked through my brain, as the street was an endless wall of art. Graffiti, Murals and or Street Art. You pick your favorite term, for whatever that is it's ok, cause the Colombian's of Medellin have done the work for you. Wow! Get ready for an incredible display…
Please keep in mind several things. Uno. These photos were shot in high noon sunlight, not the best time to shoot. Dos. I'm using a Samsung Note 2 smartphone. Tres. Reread numero uno and dos. Also that this is barely an appetizer's worth of Medellin's street art work.  There is much I hope to shoot but certainly will only scratch the surface. The artists here can walk with their collective heads held high, to the sky, as this is the most and certainly as good as any I've encountered in my 35+ countries explored. Hats off and BRAVO to the artists of Medellin. At home back in St. Pete, Florida, USA, I host weddings and events for a living at a venue I built based on combining Art + Lounge + Event Space. I named it and Art Lounge, then after branding help from many including Drew Edwards, it was polished as a true Event Space. Wedding Venue, Banquet Hall. It's called NOVA 535 Unique Event Space and I bring this up because we've held many incredible art shows at NOVA as St. Pete is a vibrant arts city having been awarded that fact several times plus our being anchored by the world famous Salvador DALI Museum. We even created a Tour of the Graffiti and Murals of St. Pete, feel free to check it out. But I'm 100% BLOWN AWAY at the sheer volume of street art that Medellin has to offer. Wow what a fabulous surprise!
I wish my Spanish was better, I certainly should have been practicing back in Boca Ciega High School instead of fooling around. If only us kids would listen to our elders, and by them I'm referring to a younger me, cause then I'd really get what these artists are SAYING. Damn the pain, embarrassment, frustration and grief we could avoid. Of course we'd miss a shite load of fun and adventure too. Anyhoo, I did add a few of the 'under construction' portion of the Museum addition and renovation. Upon checking the website for the Museum of Modern Art in Medellin, it DID SAY in SPANISH that we're closed until November 24th. See more pain from a younger self's ADHD or whatever that was. Yet there is a Chinese symbol for CRISIS / OPPORTUNITY and if you can always remember that, aka the silver lining, as it's 100% UP TO YOU how you react to life. Make lemonade out of lemons and such. It's is the truth though, do YOU realize that yet?
So this is one extremely long graffiti wall, which begins at the corner of the Museum and runs down one long long block, then makes a 90 degree turn and runs all behind the museum, the massive apartment complex(es) and keeps running past the bike / skateboard park, where I ended for the day. Well not ended, but headed back to Pablado for some lunch and a little American football…
I wanted to give you all a perspective of how LONG the block is and that I even tied my chips bag so I could walk and click more efficiently. I LOVE natural delicious potato chips…and that was my consolation prize for no Museum, well that and all of this incredible street murals.
Here we start the 2nd part of this single street, which then does a 90 degree turn at the end of the calle, which ends in a large building with great artwork. There's a lone guy parked in a car in the end corner, and I ease my way over to him, a few clicks at a time, and he get's what I'm doing and is cool enough to even move his car so I can shoot the full work. Turn off the damn news and realize that most people are the same, nice and decent. It's all about how well they are trained and treated, it's not rocket science. Chips were delicious too, wish I had more now!
So are you creative? Entrepreneurial? A business owner or start-up? A success already and you want to enjoy the energy of like-minded people while mentoring them? Then connect with the Entrepreneur Social Club, where we have fun while being productive, where we exclude religion and politics, while focusing on helping, connecting and enjoying our fellow Entrepreneurs and business owners. Why? Because if we don't save our species, no one will. And I think we're worth saving, don't you?