Hola from the capital of Colombia, Bogota! As I'm making my way south to Buenos Aires for a friends wedding, I'm spending a few days in the center of the Colombian world. It's a busy city, with people scurrying to and for, taxis swerving, honking and certainly keeping you PAYING ATTENTION, buses spouting auto exhaust and unfortunate vandalism style graffiti everywhere – though with some excellent street art peppered in to give the city artistic hope – Bogota is definitely alive and kicking! But this story isn't about the street art, this is about the city as the capital of a friendly, growing major city withing South America, and about the fabulous Museo do Oro, the Fort Knox of Bogota. Well if Fort Knox was a museum…maybe it is, I've yet to visit..
Yes today, Tuesday November 18, 2014, as Bogota prepares for it's holiday festivities, lighting and decorations being assembled citywide, I made my way from Chapinero to the Centro of Bogota, a harrowing 30-ish minute taxi ride to the southwest. Yes I've ridden taxis all over the world, in I belive 35 countries and way over 300 cities to date, and they are as wild here as anywhere. Yes NYC, you ain't got nada on 'dese guyz!
Above is a really cool heart made of gears at the top of a say 5 story building, likely part of the local shopping mall. These photos are all taken on my Samsung Note 2 smartphone, no editing at all, so please forgive the lack of my Cannon 6D and lightroom editing photography here. I didn't think it wise to be dragging my large, expensive, showy camera to cities that were recently rated as the most violent in the world. I travel light, my carry on and a backpack only, no jewelry nor watch, though if you know me that's how I am anyways. What's cool in Central and South America they find local artists to cover the otherwise ugly street boxes and such. Nice work here with Mr. Lennon!
I thought these two lions looked quite sad, their mightiness dampened by a thin lone chain.. while I was thrilled that my namesake provides excellent breakfast treats…
It's raining again, Está lloviendo, words I've learned quite well since coming to Colombia a week ago. Yet it comes and goes, like everything in life, yet making the lands here truly mas verde! So beautiful all the green, yet here in Bogota, it's just not enough to wash the dust and dirt away. They are many construction and roadway projects ongoing, a sign of good times with better coming, yet they certainly need two specific things that would greatly improve user and tourist experiences in Colombia.
By the way, I did take these two photos for 2 reasons. One is you might not realize how dirty your shoes are UNTIL you support the local economy and a professional shoe shiner does an excellent job on the first one. Secondly, as a Tampa Bay Rays Baseball fan, you've gotta love having your shoes shined by a Boston Red Sox "Fan". Ha!
Back to improvements, First is great sidewalks, not broken, missing, and dangerous. Secondly is better and much more street signage. It's like they are hiding the street's identities, maybe a holdover from the fear of previous drug lords. Well it it extremely important to us turistos to have a sense of where we are. Those two items would be MOST welcome. The people on the streets, walking, relaxing, sleeping, driving, hustling, begging, whatever, are pretty much the same as any other large city – mostly friendly, some aggressive, a few too much. Overall I'll say it again and again, turn OFF the news and travel the world. Keep your eyes open always, but most people are kind decent folks. It's just the few assholes that ruin our species reputation with the rest of the galaxy. Whoops, that's for another story… and back to the streets of earth… where I enjoyed several hardworking fellow Entrepreneurs making some pesos and providing fresh squeezed orange juice, delicious fruit, plantain chips and so many other items, including some yummy dates I had early afternoon. That's a lot of effort by those street vendors and my hat's off to them! Bravo!
Ancient to modern all within the same afternoon can really work up an appetite. So after my restaurant recon process I circled back to the delicious, busy and well designed and operated Central Cevicheria.  I enjoyed the fried shrimp, perfecto, and the shrimp bisque soup. This soup, aside from being huge and delicious had the most shrimp I've had, in all the previous shrimp soups combined, in one hearty bowl. I WAS planning on ordering an entre too, however the shrimp told my stomach – no mas! Muy bueno, this place is a must do for lunch when you're in town. And yes this monster shrimp bowl has already been reduced by half before I remembered to "snap" a photo.
I mean that golden sauce was absolutely fabulous in fact, well I was telling a tale of gold and my delicious lunch sidetracked me. Gold, Oro, yes, ok, so back across town into the Museo de Oro, which was also being enjoyed by a kid's school, lots of them on an exciting field trip, and quite well behaved. I was delighted that photos ARE allowed, sans flash, and so as the ancient saying goes "A picture is worth a 1000 pieces of gold", I'll hush for a bit and let your eyes tell the story…
The first few photos above the gold pieces are TINY, it was amazing to see the skilled craftsmanship for some pieces no larger than your little pinky finger. Many other of these ancient treasures were full size head and body pieces, muy grande. My smartphone is great, for a smartphone, but this museum is worth the trip all by itself, as these 1200 x 900 optimized for your web experience, as per my Web Master Chris "I'm Their Web Guy" Jenkins, suggests. Unless shiny objects, jewelry and ancient history isn't your thing. Maybe Fox News is on high alert with some scandal or terror threat somewhere…
If you have yellow fever by now, I'll give us a quick break and show off the infamous Bolivar Square, nearby the Museo, where just about anything can, and has, happened. I almost had to fight a guy who wouldn't take NO for an answer, the 4th time, that I most definitely did not want to purchase his "emeralds". I mean, in every language I've encountered, NO MEANS NO. When you put your hands up, look them dead in the eye, shake your head and say NO gracias, NO, NO NO, and back away and they keep coming, well my 20 years of Kickboxing with legendary Amir Ardebily certainly keeps me cool under light pressure like this rookie is applying. Thanks Amir!
The Mom's actions above would certainly freak the shite out of the anti-bacterial American moms that I know, especially my longtime best of friends and business partner Mike Lewis' wife Samantha. I can just imagine her rolling up to see one of her children in the arms of a baby sitter, with disgusting pigeons everywhere and fluttering and sharing their filth all over her child. Of course if the kid can handle a flock of pigeon muck then I guess ebola doesn't have a chance…remember to turn OFF the news and come experience our world!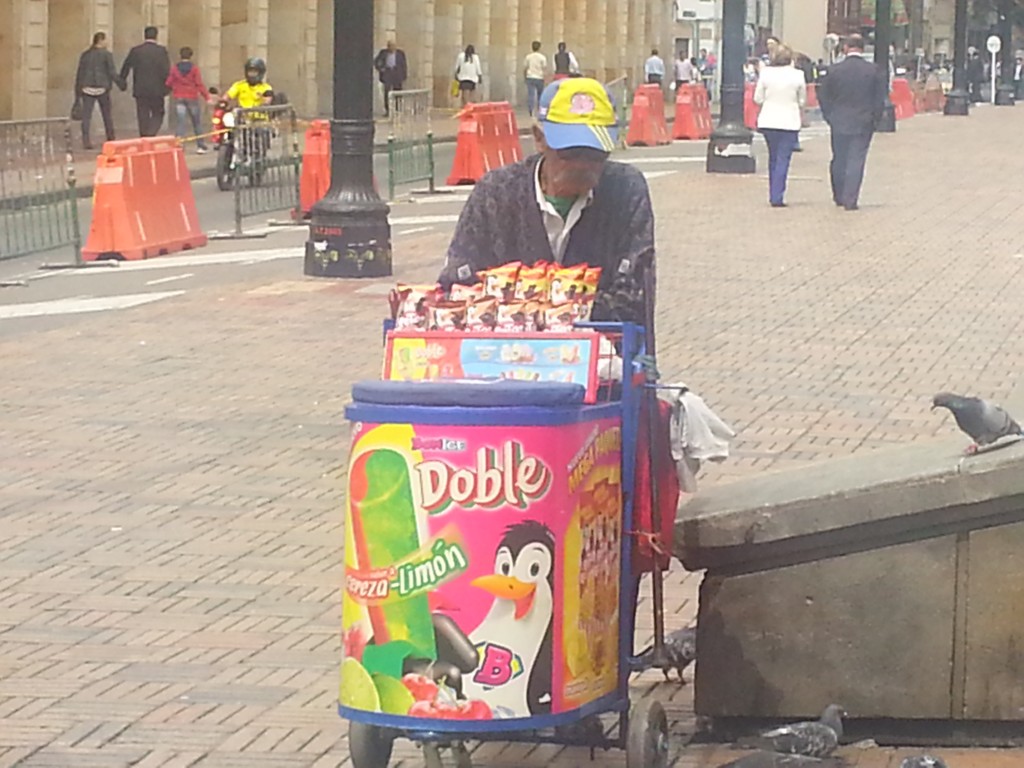 For those of you who are Marvel Comic fans, the guy above, though he was too quick for my mortally slow moves, is the real Stan Lee likely scouting for Spiderman 4 or Iron Man 12, whichever comes next. Stan in the man and he's made more gold for more people than, well, oh right, back to the Fort Knox accessories…
Now back to Stan, after he finally acquiesced and offered me his autograph, I started walking up and away from Bolivar Square. I wanted to check in and grab a coffee, a tinto, so I did in a nice tiny cafe, and as I was making my way up up and up the street, it started pouring rain again. So I huddled under a overhang and then I noticed a few people ducking into a doorway. So I "listened" and followed suit. What was waiting for me was the charming Capital Cocina & Cafe, a perfect place for lunch. So I did lunch and it was muy delicioso! I chatted up the owner, offered a few branding suggestions, you know I cannot help myself, and after a delicious dessert and more conversation, he suggested I make my way over and down past a really cute little square. A place where the locals and nearby university students frequent, so I did…
What I found in this square is the end of this story and the beginning of my next adventure, one that digs deep into the underbelly of the complex and fascinating world of Colombian street art, graffiti and murals…and the difference between art and vandalism.
I hope you'll follow along…
So are you creative? Entrepreneurial? A business owner or start-up? A success already and you want to enjoy the energy of like-minded people while mentoring them? Then connect with the Entrepreneur Social Club, where we have fun while being productive, where we exclude religion and politics, while focusing on helping, connecting and enjoying our fellow Entrepreneurs and business owners. Why? Because if we don't save our species, no one will. And I think we're worth saving, don't you?