When my vacation opportunity door opens, I quickly scramble to find somewhere to escape to. Running a 5 Star wedding and event venue, NOVA 535 Unique Event Space, means that every client and guest experience is critical.  Just a bit of pressure. So with only a week or two available to roam, I touch base with my best pal Drew Edwards to collaborate. Drew, among other things, is President of Comedian Ron White's business empire, and is always up for an adventure. He adds "check out their festivals" to my suggestion of visiting Canada. Stampede, Calgary's most famous, isn't until July…so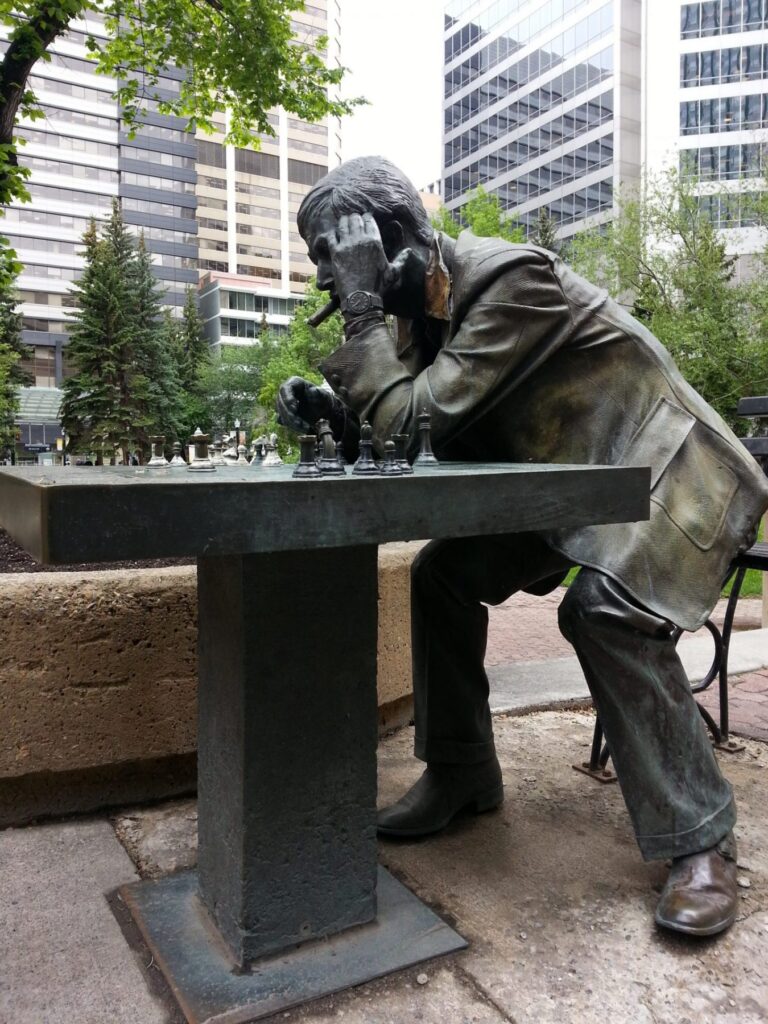 a next best is Sled Island Festival, which fits our avtailable time slot. Even if it sucks (and it's doesn't!) there is always the breathtakingly beautiful Banff, Lake Louise and Jasper National Forrest to enjoy. We each make arrangements, and I'm able to arrive on Sunday, 3 days prior to festival kickoff.
SUNDAY / MONDAY June 15-16, 2014:
This means time to explore Calgary, my favorite way, on foot and alone.  The best way to really dig into a city, exploring at street level, face to face with it's citizens: workers, owners, homeless, visitors, and unknowns.  Here one feels the heart of the city, how loud, polite or not, clean or dirty. Also where the best pubs, restaurants, shops, cafes are to be found. Where your might find a bourbon named after a branch of your family (Templeton Rye)  or lasagna made by a shopkeepers grandma that makes your knees weak.
Where you are awestruck by what real money and power can do with design, art and architecture (Bow Tower, a Billion $ building, and incredible sculpture by world famous artist), how well run some local businesses are, National and Model Milk, and that wow, you're actually not thinking about an upcoming event for a bit. A mind that's noticeably lighter so you notice a "clean cut" pun that would have made dad (master punner) laugh. Now is when I stop and smile, and say to myself "Welcome to Calgary's Sled Island Festival".
TUESDAY / WEDNESDAY:  Oddly enough, I'm just now consciously realizing that I have something for manhole covers. I've noticed in the 300+ cities I've explored that there are always several kinds, and I've yet to "dig deep" into the exact why. Are there subterranean villages waiting to be explored? Stay tuned, that'll be another interesting story I'll "unearth" another time, after this story is over.
Opening night is Wednesday June 18, 2014, and after a afternoon walk through the Sunnyside area, and some incredible French cheese, Italian meats and other treats at Peasant Cheese Shop, we make our way to obtain our All Access Passes. Joking about tasting the Chocolate Hotel replica, just inside of the local Fairmont Hotel, we grab our passes and swag bags, then make our way up up up to the top of Calgary Tower. After a brief look around, we find the glass flooring – WOW  – That's a LONG way down!! So we're making new connections, catch a fish man photo, and dig right into Calgary's Sled Island Music Comedy and Art Festival. As you've noticed (I hope), Calgary is full of public art, official and otherwise.
Breaking through into the music world is tough, and my pal Margo Rey, who just released her 7th consecutive Billboard Top 40, named "Colours", is really extraordinary!! Unfortunately she's not at the Sled Island Festival this year, but we're hoping that we'll find other bands and musical acts here that offer that same magical experience. Or at least come close. Margo is the National Ambassador for one of NOVA 535′s favorite charities, Brides Against Breast Cancer, herself a 2 time survivor and incredibly talented, strong willed lady. What an inspiration she is. In fact past President of 2K Virgin Records, and current president of Organica Music Group, Michael Blakey says Margo has the best voice he's ever heard in his entire career.
My quick on Calgary so far? Calgary is a vibrant, friendly, funky, interesting city, with lot's to do and see. A city, so I've been told, with the lowest unemployment rate in Canada and a tiny vacancy rate to boot. There are massive construction cranes everywhere. Oil money is flowing here! (Read lots of dudes, so ladies, book your tickets now!)
WEDNESDAY / THURSDAY June 18-19, 2014:
The first performance is at Calgary's Big Secret Theatre, a 20-ish person troupe performing to Radio Head's music. Unique and entertaining for sure. Then we're off to venues Commonwealth and Broken City. During all of this, since I'm in Calgary and not home in beautiful sunny St. Pete, Florida, my weekly Entrepreneur Social Club will be run by fellow member and web master Chris Jenkins.
FRIDAY June 20, 2014
Just heading out now into our first sunny day since arriving here in Calgary. Lunch, art galleries and exploring, seeing what the Calgary art scene has to offer. Drew and I explored for several hours and two of our favorites are Herringer Kiss Gallery and TrepanierBaer. We met with Kevin Baer who was kind enough to walk us through his gallery a day before the opening of their most impressive Native American Art Collection, Keeping Time: Ledger Drawings and the Pictographic Traditions of Native North Americans ca. 1820-1900. This is an important, amazing collection and you should come out and support the local art scene.
SATURDAY June 21, 2014:
The Sun! After several days of clouds and intermittent showers, we have a gorgeous sunny day! Luck continues as there is a PARK SALE going on just steps past a healthy juice bar. Chill beats emanate from the stage where DJ Night Panda spins some excellent beats. Drew cajoles me onstage for a quick photo op, then I'm off to talk with each of the, say 50 vendors assembled for today's event. I become increasing excited as these are fellow Entrepreneurs out here, not regular folks. So I spend a few hours discussing business card design, patent laws, Shark Tank, and with these (soon to be famous – ha-ha) fellow Entrepreneurs! I don't make it past the first booth without buying a cool Dub Step T-Shirt, from Nicole Rita Tomney. Today I meet and chat with so many young, creative positive Entrepreneurs! These first few are natural beauty and makeup products from Lourdes Juan director of SOMA, more funky awesomely creative T-Shirts from Mumble Tease, Heather here showing off her illustrations, a great group of ladies including Taryn of BRIWOK and Jai Basi of The Studio and finally (in these next group of photos, Jen Gregoire, Gregoire Photography. Drew and I both purchase works from Jen, they are gorgeous, artistic photos laid onto wood then beautifully glossed. Nice work Jen!
My nest stops are, photos below, Chantal Miyagishima of Knitatude, Ashley Salve of Sutra Jumpers, the cool and unique string accented fashions, hats (I bought one) and shirts from the brother and sister team COMMA, and the Breanne Kraus founder of the custom footwear, made to measure, Poppy Barley. I'm just consciously realizing that almost all of our Entrepreneurs here in PARK SALE today are ladies. nice work! If only the ladies of the sufferage movement could see you all now – they would be extraordinarily proud!! =D
Previously I had met Brittany Back at the opening night party. She was nervous about standing on the glass flooring, rightfully so. We discussed business and well she's the Community and Vendor Coordinator (and one of the founders I believe) of Calgary Food Trucks, a collaborative effort connecting the food trucks in Calgary. After trying a few of the food trucks here today, all but one was a member, The hold-out was thinking costs and not revenues, old school. They were busy enough they said..and their fries were delicious.
SUNDAY:
Having our full of loud music and the party scene, we rent a car and make the beautifully relaxing rive along Canada 1 north and west towards Banff, and finally landing in Lake Louise, about 2 hours later. I've visited here about a decade ago, when sister Julie had just graduated from Nursing School, with dad, brother Chris, and Julie's prodigy Sabrina, who is now turning 14. Happy Birthday Sabrina – remember to ALWAYS be YOUR OWN BEST FRIEND. Wow how the time flies for us humans. These breathtakingly gorgeous mountains and Lake Louise herself remain a relative constant, decades are just days to them. In person Lake Louise is one of the prettiest places I've experienced on planet earth. A must see and just as spectacular the 2nd time around. Note to anyone that thinks Drew ever takes any time off; he never quits working. Perils of the demanding Hollywood entertainment world. Anyhoo, see if you can find the red canoe…then we'll move on to hot, delicious pizza…
I've been trying for decades (Drew and I met at UF, where he tutored Calculus) to get Drew to eat better, and for the last few years to cut out the sodas (he has mostly) and the beads and pizzas (has not). So after the week long battle, I give in to the final night in Calgary and the highly recommended UNA Pizza + Wine, over on 17th Avenue SW, likely the liveliest street in Calgary.
Even found another style manhole cover on the way to dinner…
So are you creative? Entrepreneurial? A business owner or start-up? A success already and you want to enjoy the energy of like-minded people while mentoring them? Then connect with the Entrepreneur Social Club, where we have fun while being productive, where we exclude religion and politics, while focusing on helping and enjoying our fellow Entrepreneurs and business owners.