MONDAY – TUESDAY  JUNE 23 -24  2014:  Anchorage
About 24 hours ago I decided to leave Calgary, parting from my best pal Drew Edwards as he made his way southwest to Bellingham to spend time with his brother Frank.  Uncle Frank, now that's another story for another day. Ask me sometimes about R-9 scallops and Grande Marnier at 11 am in Whistler…..   Anyhoo, my path leads me northwest, heading further into the wild tundra called Alaska. The Sled Island Festival, held every June in Calgary, just wrapped for 2014, so now it's time to ramble on.   [Check out my blog about Calgary's Sled Island Festival 2014]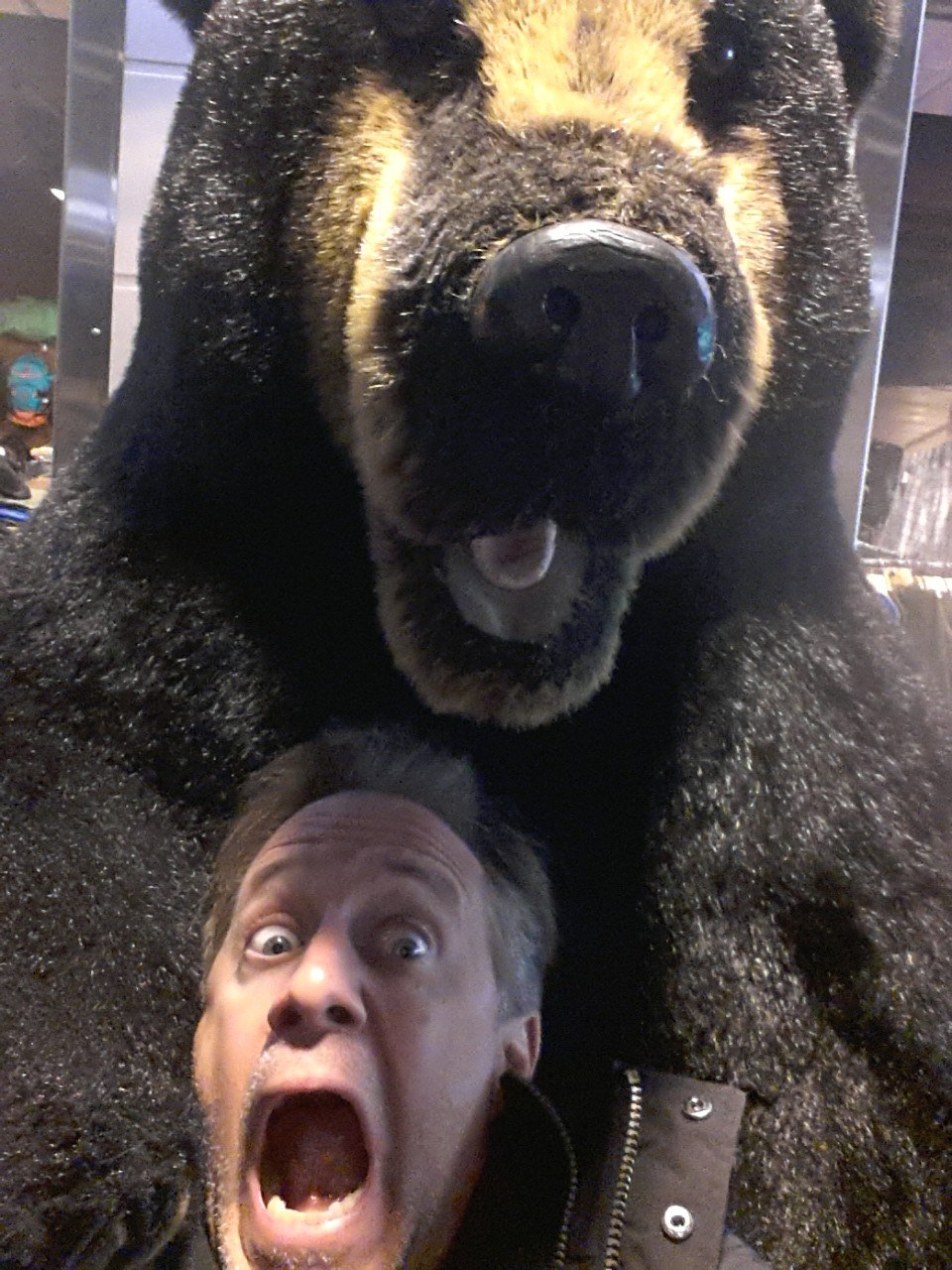 So Welcome to Alaska. It's cold, there are bears, gold and glaciers. That's about all I know, except this will be the just the kind of adventure I've been yearning for. So after a good "night's" rest at a delightful B n B out on Goose Lake, owned by an equally delightful Susan. There are really nice people renting out their homes and apartments to be found on AirBnB. ("Night's" because It's never really dark here in Alaska during the summers…odd at first but it's growing on me). So I catch the early morning train towards…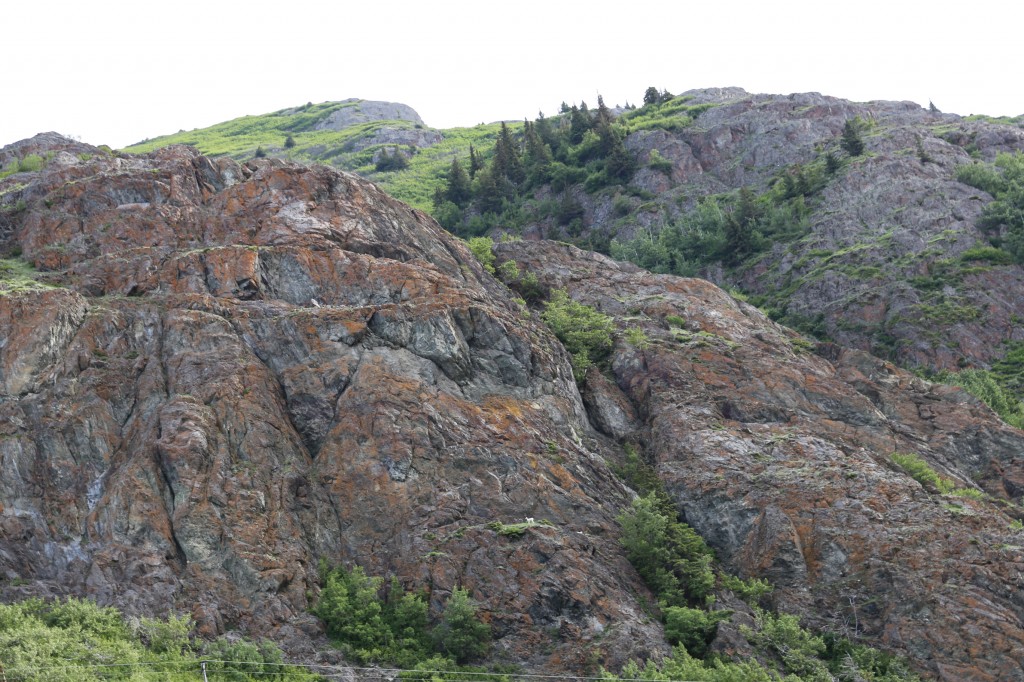 There are 2 white mountain goats, above and center, but you've gotta do some major zooming.
Whittier, about 60 miles southeast of Anchorage, which is the gateway to western Prince William Sound. Anchorage is neither attractive nor very interesting, so I make plans to keep moving, currently via Canadian Railroad. During the beautiful 3-ish hour journey, our awesome guide Alanna Willman offers a nice update as to the whats wheres and whys of this region, including factoids such as Alaska has the highest percentage of residing pilots in the USA.  And that there is a grandfathered area where effectively people back yards are a runway. Cool! The train stops in Whittier and, after some yummy local treats and an incredibly beautiful scenic ride, it's time to jump on a ship and go see some…
TUESDAY  JUNE 24 2014:   Whittier
Glaciers!! So after a proper Googling and asking around I end up choosing Major Marine Tours. Why? well aside from great reviews their tour takes us right up to the Black Glacier and we get to hang there and really enjoy it for an extended time. I joke with the crew and fellow passengers that I've brought them some sunshine, trading one of our annual 300 days of perfect sunny weather back home in St. Pete, Florida, as a gift. Well coincidentally or not, today turns out to be breathtaking. The Captain, David, remarks several time how beautiful the sunny weather is today. =D In fact, my a Florida boy, get's my first glacier face tan today! Who am I you may ask? I'm Michael S. Novilla and I host unique weddings and events for a living in sunny spectacular downtown St. Pete, Florida. At a venue called NOVA 535 Unique Event Space that I bought, and with the help of an incredible team, restored and modernized, which we have built into the region's favorite unique wedding and event space. In my spare time I travel the world and help my fellow Entrepreneurs via the Entrepreneur Social Club.
Perspective is almost impossible, as this single glacier is about SIX HUNDRED feet tall.
After this photo of me clowning around, I was reprimanded by one of the crew. Nicely of course!
Ranger Julie was awesome!
Captain (Morgan according to his hat) Dave. He did some fancy driving to get us in close to a hidden waterfall.
The crew netted up some mini cubes, to be added into beverages here shortly. I skipped the afternoon toddy, but did dream of a glass of scotch that would accommodate such a worthy cube!
WEDNESDAY JUNE 25 2014:  Girdwood and Alyeska Resort.
After further Googling and asking around, I was led to the Alyeska Resort. Could I have scrimped and stayed elsewhere? Yes. Do I work 7 days a week, live modestly so I can travel and enjoy my life? Yes. At 46, my clock is ticking and I try to get everything I can out of each day. I refuse to be that old guy full of regrets and "if only's"! So for a marginal "marginal cost" I found a home for a night (later I return to the scene of this crime of delight) and nestled into the wonderful Alyeska Resort.  Awakening feeling refreshed and ready for another day's adventures, I jump on the train again, this time in the upper "Gold" cabin, and wow is that extra $50 worth it. (Sarcasm coming) I did love the huge, modern "station" here in Girdwood.
I did splurge and watch an in room movie the night before, a new Sci-Fi masterpiece starring Scarlett Johansson in "Under the Skin". This is a really wild film from stud director Jonathan Glazer, recall "Sexy Beast" (2000) and certainly not for kids nor those easily disturbed. I love great films and am most appreciative of the hard work and talents required to create such. Thanks to Scarlett, who is as talented as she is beautiful and Jonathan!!
Once we get settled on the train and I find a few electrical outlets for my every starving batteries, we get underway. I'm thinking that "well how much prettier could this train ride be compared to the Anchorage to Whittier / Girdwood routes be?". Well take a look for yourself.
Paying the extra $50-ish for the Gold Glass (Top level with the glass roof) is SO WORTH IT!
What my eyes are saying to my brain =  WOW ALASKA IS BREATHTAKINGLY GORGEOUS!!
This quick video below is shot outside in the cold (for a Floridian) on the train with my Samsung Note II.  During my travels I switch using a Canon 6D and the Samsung Note II (much easier to carry around.)
 THURSDAY JUNE 26 2014:  Seward and Lowell Point Beach
I arrive in Seward, a cute little seaside town, and after collecting my bag and witts, I grab a coffee and ask a nice lady at the local Holiday Inn to call me a taxi. My resting place is Lowell Point Beach, where Miller's Landing lies, next to my final destination for tonight, Angel's Rest on Resurrection Bay. I chat it up with taxi driver Eric? (I'm so bad with names – arg!) of RessurectionTaxi, who give me the quick on Seward. Since my room isn't ready yet, we take a QUICK drive through downtown, which is literally 3 blocks long. Cute but not contending for a top 25 MSA this century. I stop in for a delicious lunch at Chattermark's, enjoying their lightly beer battered fresh Salmon and Haddock. Mmmm! I give them my obligatory speech about Google + and localization, etc. while (after eating) I offer up their first + review. The owner pops out for a chat, and well I share some of our Entrepreneur Social Club (ESC)'s secrets. I LOVE helping fellow Entrepreneurs! One of the waiters, great service by the way, tells my he used to live near me near New Port Richey. What a difference between Alaska and Florida, both worthy of your time and $$.
Lowell Point Beach Alaska
FRIDAY, SATURDAY and SUNDAY JUNE 27 – 29 2014:  Girdwood, Alyeska Resort
I'm a tough customer. I've been to over 300 cities, and know what excellence is. I've been lucky enough to taste, see, ride on, enjoy, talk to and explore some of the world's best. My expectations are HIGH. So that's why I'm back here at Alyeska, a true resort in every sense of the word. Top notch service, always with a smile, problem solving staff. A masterfully designed resort, grounds, restaurants, the rooms, social areas; bravo! These owners demanded excellence and they got it. This was the best lodging I experienced in Alaska.
So there was delicious dining at Sakura, Alyeska's Sushi restaurant, with Chef Toby and some some new friends I met at the sushi bar. Over hearing each group, I determined both couples live in the NY / NJ part of the world, and soon enough, we were all pals.  Yes we followed the traditional Kyoto method and each of us bought (at least two) bottles of sake for the group. Needless to say we were there WAY after closing time. Arigato!
There was gorgeous hiking with the Alyeska resort touching the forest, so the trails are literally right out back. As beautiful, recharging and invigorating as it gets!
This tree has a hilarious growth (hilarious for everyone except the tree) that is much larger than it appears. You couldn't reach your hands around even one of the pair of "buttocks". I asked a fellow hiker if this was some kind of seed pod and he said "that's nuts".
It's so green and alive here. This color green, 'leaf green" is my favorite. There is something primordial, something in my ancestry and DNA that 'speaks' to me what I'm around this kind of life and color and energy. All the hard work, all the long hours, demanding clients, dirty dishes, mortgage payments, broken glasses, emails, social media, phone calls, (blah blah blah..) are SO WORTH THESE MOMENTS. Life is short people, and only YOU should be in control of YOUR LEISURE TIME. Make your next vacation happen!! Don't be old and full of regret. I won't be! I'm going down swinging baby!!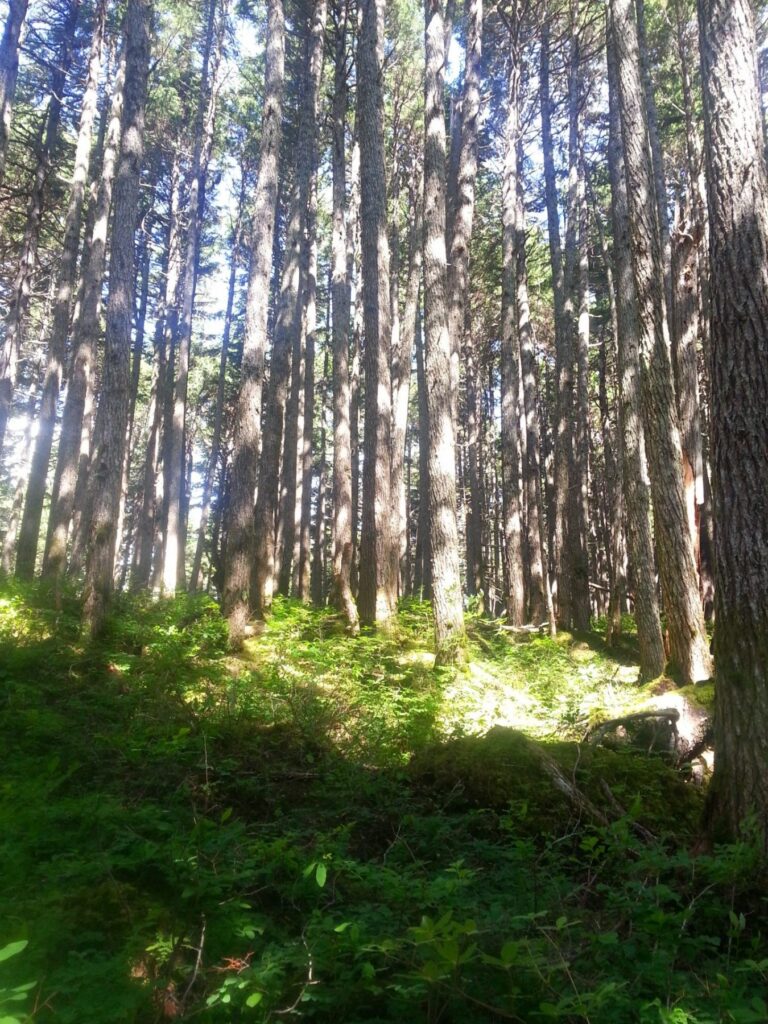 MONDAY, TUESDAY and WEDNESDAY JUNE 30 – JULY 2 2014:
Denali National Forest – Grande Denali Lodge 
Denali National Forest, was the must do part of Alaska. Everyone said that I 'had to" see Denali. So as I made my way there, well so did a week long rain storm. I NEVER rains for a full week, right? It's won't flood the lower part of the forest and cause panic, evacuations and major flooding will it? Yup. Good thing that I was higher up the mountain, and unaffected, except for the incessant rain. I felt horrible for all the people whose lives, businesses and vacations were ruined.  The worse I got was soaking wet, an extra day to relax and read a few books and then, well by day 3 I decided, rain or shine, I'd go biking. The sun fooled me for a bit so rented a mountain bike and headed off up the highway towards Dragonfly Creek. And into the rain.
This was a "shortcut" from Denali Lodge to downtown that I later learned was responsible for many fractures, bumps, bruises and muddy clothing. I learned not to be talking on my phone while navigating 6 day rain mud, though all I got was to wash my muddy jeans and shoes.  
These rocks are magnificent in person. I was such a young rock collecting nerd and LOVED it for several years. Every color imaginable can be found here and after hiking, exploring and goofing around, I found a mostly dry boulder and chillaxed for a bit. I'm not used to biking up mountains, being a Florida boy and all, and resting for a bit felt great. Sitting and just listening to running water for about an hour is magically rejuvenating.

The Nenana River was SWOLLEN after a week of rain. Those white caps are 5-10 feet high. Insane!
Below is a shot from a rare sunny moment on the rear deck of the Denali Grande Lodge.
Black Bear Coffee House has these insane "Funky Monkey" ice cream, espresso, banana, chocolate and such shakes. So darn good I went back for more the next day. Found in downtown Denali. 
Grande Denali Lodge had a delicious and nicely priced breakfast buffet. Just don't sleep in too late or it closes around 10 AM (WTF 10 am??) and you'll get nada but coffee until 11 am. (I did smooze one of the waitstaff to snag some of their super crispy bacon while I wanted for lunch t begin…and read…while watching it rain, and rain and rain and yea I know whaa poor Mike. =D
I didn't realize that Alaska had that whole chain of islands to the south and west, looks really cool here on a wall map found in the lodge.
THURSDAY JULY 3, 2014:  TRAVEL from Denali to Fairbanks
Had it all planned out, and for once I roll the dice, prepaying for my 4 nights in Portland, and waiving any cancellation, saving $100. Well, wouldn't you know after a bit of a late start, then getting pulled over for speeding (our van driver was cruising along nicely) we made it on time to Fairbanks International Airport. Nice and modern and clean and friendly airport. Cool, so I can catch my 5:20 pm to Portland, and well what's this email alert from Alaska Air? "Your flight has been delayed for 230 minutes". Huh? 230? Minutes? that's shit, almost 4 hours! And then the next alert rolls out even more delay. So somehow I get through to the phone reservation system (others in line bitching about the 1 1/2 expected wait time) and the super nice lady reroutes me to Anchorage then direct to Portland. Awesome! The downside is that instead of Midnight to 7 am being in a fat comfy bed, I'll be in the metal can hurling through space…in a not-comfy seat. Oh well, whaaa poor me right? =D
FRIDAY JULY 4th 2014: PORTLAND, OR.
Follow my adventures here in Portland on my next blog..
So are you creative? Entrepreneurial? A business owner or start-up? A success already and you want to enjoy the energy of like-minded people while mentoring them? Then connect with the Entrepreneur Social Club, where we have fun while being productive, where we exclude religion and politics, while focusing on helping and enjoying our fellow Entrepreneurs and business owners.