Here we are, one year later, in beautiful downtown St. Pete, Florida. Today's weather was so perfect, I'd bet everyone up north that's nearly frozen to death would sell their soul for. Weather so delightfully wonderful that it's exactly the kind of universal THANK YOU to Olga Bof, founder of Keep St. Petersburg Local that was appropriate. The kind of deserved THANK YOU to Olga and her amazing Team KSPL, for unifying all things local, again today, February 7, 2015 with Localtopia 2.0.
Held again in William's Park, center of downtown St. Pete, a park that features all kinds of interesting people, a park under positive transition, a place today filled with where St. Pete is headed. Headed, forward, into a better future, one full of hope and productivity, of local businesses, local breweries, local artists, restaurants, designers, singers, metal masters, foodies, web designers, 3D printers and so much more. A city that can and is leading by great example. My home city St. Pete!
There is no one in Tampa Bay you'd rather have running your AV production than Gandalf himself, aka Chuck Taylor (above), founder of Production Source, and I'm proud to say my good friend and mentor. Below is the beautiful, talented, wonderfully passionate and always giving Olga Bof the heart and soul of Keep St. Pete Local.
** IMPORTANT  NOTICE ** It's time to raise some $$$ so dear Olga and her team can be compensated for her incredible efforts and hard work.  It's time for US to give back to a lady who has taken a cool idea and turned it into a watershed moment here in St. Pete. Again THANK YOU OLGA and TEAM KSPL!!
This, today, is the high-point in St. Pete's existence, all of our cumulative hard work, tears, sweat and efforts have moved us to this very moment, a lovely wonderful vibrant warm and welcoming place we call home. St. Pete, Florida is shining brightly among the best of the world's cities, for so many reasons, and today, Localtopia 2.0 is a perfect example of our collective awesomeness.
It's always a pleasure to run into my pal the lovely Yogi Katelyn of Body Electric Yoga Studio. Her beau Jenny was nearby at their booth, both of them glowing on their upcoming baby to be. Congratulations ladies!
Tropiccool had a long line all day as Locialtopians anxiously waited for their delicious all natural treats, and fellow Key Person of Influence (KPI) and lovely lady Meredith Rogers creator of the all-natural At Last Fly Spray smiled as she reminded me that her book was published as mine, well isn't yet. I asked her for her best "ha-ha I"m better than you Mike" smile… Congrats Meredith!
Mo and Lance founders the of popular Nerd Tags and now Free Fab 3D, showing off their AWESOME 3D printer that they make and sell here locally. If you don't know much / anything about 3D printing, it's a GAME CHANGER. Trust me – when you can print ANYTHING, tools, food, human organs, that changes things. Read what Wikipedia has to say about 3D Printing.
Below is some new friends and old, including Chuck Taylor of Production Source, rock-n-rolla Jason Dudney and their crew of cool guys who "wish to remain nameless".
Many friends were here in support, including Social Media Marketer and lovely lady Tracy Kennard, who kept popping up everywhere, always smiling and full of her good cheer.
And super-star artist, and pal Frank Strunk III, who is beyond talented, selling out everything he creates, his creations truly those of a proverbial "Mad genius", great seeing you as always Frank!
And again, and again and again, thank you Olga and Team Keep St. Pete Local – and of course the hundreds of local entrepreneurs, business owners and what the 10,000 + (What was the attendance today?? WOW IT WAS PACKED! ), everyone who loves and supports us daily, as we Entrepreneurs pour our hearts and souls, passions and grind our fingers and brains to the bone, towards a better future for everyone; and today that future is now.
*** PLEASE MAKE A DONATION – BE A SPONSOR – JOIN KEEP ST. PETE LOCAL ***
How cool is this 1935 Plymouth that my friends Mark and Shelli Olsen of GET THE PICTURE PHOTOBOOTH turned into a photobooth?? Yes, if you're ready to spice up your next event or party, call them. We've used Get The Picture many, many times at my downtown St. Pete wedding venue NOVA 535 Unique Event Space and they are batting 1000% for fun and guest enjoyment!
Oh and if your ever hungry, check out Maggie on the Move food Trucks – delicious and fun! I know Maggie and her fellow vendors will all SLEEP WELL tonight after the endless crowd of hungry Locialtopians were fed today.
If you are an Entrepreneur, a business owner, a positive minded do-er, a student, an inventor, artist, musician – anyone who wants to have a great time, laugh, learn enjoy a few drinks AND make themselves and their enterprises better, then join us every Thursday 6 pm – 8 pm for the Entrepreneur Social Club, most always at the historic venue NOVA 535 Unique Event Space, here in downtown St. Pete.
Above is the super cute logo of Joanna Coblentz, aka Dollface, who I spoke with briefly, she's amazing, yet when I tried to get a photo of her really cute booth, it was too packed with shoppers. Dollface is a Designer and freelance wardrobe stylist. Check her out!
Another ESC member, vegan soul food chef Ray Milton, was also so packed with customer, he sold out of course, that I couldn't get a good photo. Try his food, it's delicious AND healthy.
Below is a wonderful organization, The Kind Mouse, founded in 2011 for Assisting local displaced professional families in transition and their hungry children.
Yes I had to buy one of the super cool St. Pete Landmarks shirt from the hip and groovy Fresh Squeezed guys (above).
The gentlemen from PoopyDoops offer these unique cute colorful animals and creatures that the kids love! "Artist made plush toys" to be exact.
Above is a collection of all kinds of cute goods from Eclectic Revival " Vintage, Retro, & Eclectic Inspired Goods".
Below is a fellow Entrepreneur Social Club member, the wise people of St. Pete Health and Wellness, run by Mr. Awesome Sauce himself Bob Linde, er sorry Dr. Linde. Bob's so cool that you might forget the "Doc" yet so wise and knowledgeable that while listening to him you'll quickly remember, "yea he's someone we should listen to to get and stay healthy".
And no he didn't pay me to say that, just happens to be the truth.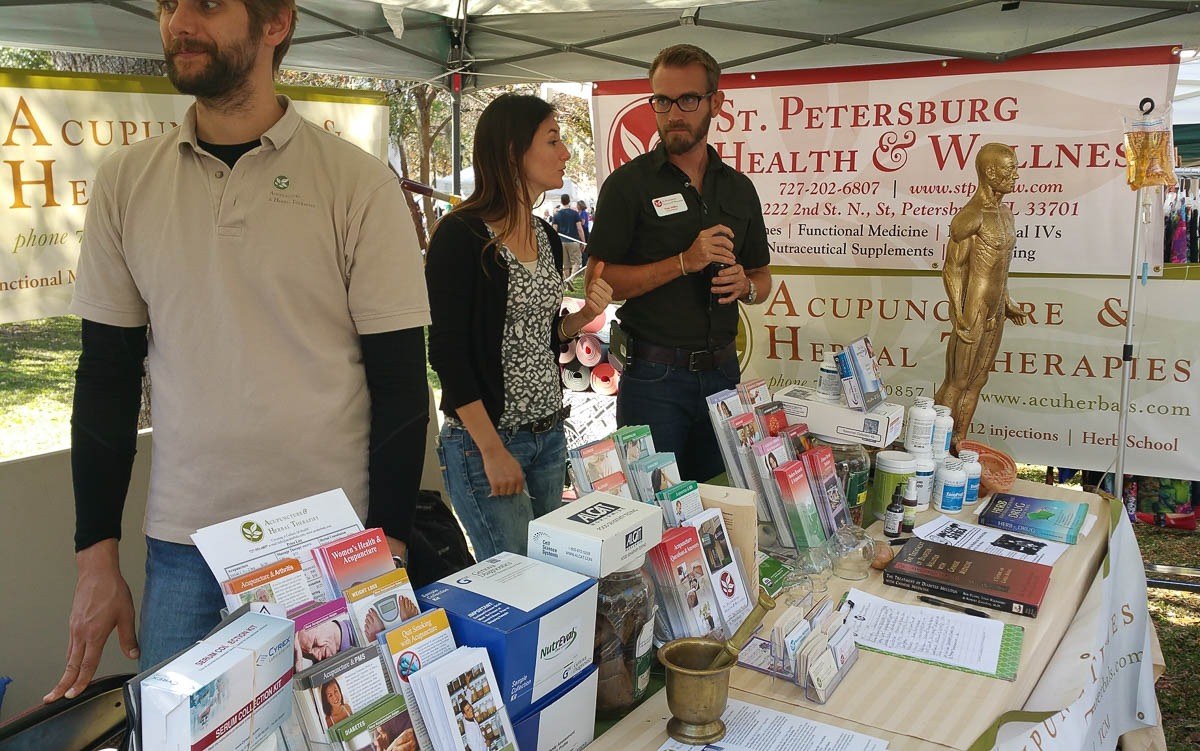 According to their website, KEEP ST. PETE LIT preserves the literary past and fosters the literary future of the greater St. Petersburg area.
They were collecting letters from everyone who wanted to write something "Dear St. Pete…" that my understanding was they'd then turn those letters into a book. Reading is CRITICAL and a huge love of mine, so anyway I can help the reading "cause", I'm game. Right here in town on central avenue around 24th street is Haslam's Bookstore, reportedly Florida's largest, and certainly the coolest, go buy some books and read!
Below is the cool 2 Fold Bicycle Shop booth, what a great convenient idea. Folding Bikes, bravo!
Above is the Local Long Boards company, wicked cool what these guys and ladies can do on their sleek and sexy long boards. Wish they were around when I was a teen.
And of course the infamous Chad Mize, founder of Blue Lucy, selling his fantastic "St. Pete, London, Paris Tokyo" T-shirts. I love the shirt, having a few versions, as love his statement that St. Pete is in the league of those other cities – and having visited all of them myself, agree 100%.
I joked w/Chad asking if these were authentic, as his designed are so popular people are ripping off illegal copies. Oh the price of fame.
The next two photos are of the lovely and talented Abby, owner of Hoola Monsters, which we love hiring here at wedding venue NOVA 535 Unique Event Space for our clients, which they LOVE. Acrobatic ladies spinning the hoops and / or fire is wild!!
If you are an Entrepreneur, a business owner, a positive minded do-er, a student, an inventor, artist, musician – anyone who wants to have a great time, a few drinks, laugh, learn AND make themselves and their enterprises better, then join us every Thursday 6 pm – 8 pm for the Entrepreneur Social Club, most always at the historic venue NOVA 535 Unique Event Space, here in downtown St. Pete.
And by the way the official Localtopia after-party was held at my pal, Mr. St. Pete himself Jon RENO Labudde's restaurant and bar, RENO DOWNTOWN JOINT. Awesome as always!