Just the Fax Ma'am. Fax? Don't you mean Facts? Er, nope. Read on… Spending a day experiencing the Belarus Consul (and their delightful 1950's style of customer service, brought to you by Stalin.Inc) to a modern, friendly, tech savvy Latvian Entrepreneur named Dovainis Sinkevičius, owner of a new, really cute cafe, Localt. End to end of the spectrum here ladies and gents. See while traveling through the delightful Latvia and Lithuania, I decided to pop over to neighbor Belarus, into the capital Minsk….but not before a few days here in lovely Vilnius!
I'm making my way across the globe, one country at a time, 41 before this trip, now at 44 or 45, or more accurately 44.5 depending on, well we'll com back to that. So I wanted to pop over next to Belarus, for a looksie, I mean it's right next door. Who knows when I might be back in this region?
For most of the "civilized" countries; Civilized = open free flow of people, info, everyone able to speak their minds, etc (so NOT Russia, China, N. Korea, etc) all you need is to have a valid passport (not expiring within 6 months) with 2 blank pages, not be found on the FBI or INTERPOL wanted list (duh!) and plan on staying for 90 days or less. Then it's Welcome to _____. Come on in, bring your money and camera and spend, click and post away!
Psst: Had to share these hilarious suits, which I'm assuming are real as they had full sized versions, one of Pac-Man. Maybe for an upcoming Halloween Party at my NOVA 535 venue, dubbed NOVAWEEN. Though would have to be next year (2017) as October 28, 2016 is scheduled for NOVAWEEN 10 "Decadance". (Pun!) I laughed a good one as I also enjoyed these pins below, found in a random city kiosk, made me think of my good friend and business partner Chris Jenkins, Tech Guru, Web Master and CTO of Symphoni Media. 
See the civilized countries realize that tourists = jobs, money, global recognition and a better (for the most part) way of life. But not the "old school" hard ass countries, that want to control their people, the flow of info, and the way of life inside their borders. Kinda like how information was horded, pre internet. Again for you youngsters, hold tight, I'm even gonna show you a real (in reality) library with books and a card catalogue system. Hold on to you iPhones! In fact, you youngsters will have to wait until the next blog for the library story…
Above is the sample of how you must get into Belarus. Via the Consulate. Or you can snail mail docs to them, if you have several weeks to wait. Kinda like that pretentious nightclub, making you wait in line (it was raining here, while I and these other frustrated people, waited for about 3 hours). Below I'm "thrilled' that my number 156 is next! Little did I know what joyous, delighted customer servants awaited! PS It didn't help that I was out until about 5 am, one of those nights: sure I'll have wine with dinner, then wander down to hmm, what's that music playing down this alley, to ok so where is the best DJ in Vilnius playing tonight?! Yup, like that.
Speaking of 'last" night,…above is a cool lighted object hanging over a triangular "plaza" an area between 3 buildings where a few bars, a stage and lots of tables, chairs and room for blankets were to be found. This was that "down the alley" I mentioned previously. I enjoyed a few hours of electronic music, with some tasty local apple cider, then made my way (which I've become quite good at), sniffing out the best spots and music in each city. Tonight was at club 1881, the DJ's selection of music excellent – his mixing and mashing skills terrible. He was basically playing the prerecorded EXTENDED version of a great set…except Pandora or Spotify can do that to. The whole point of the human DJ is to mash it up, build a human dance froth, just perfectly where we all are ravenous for MORE!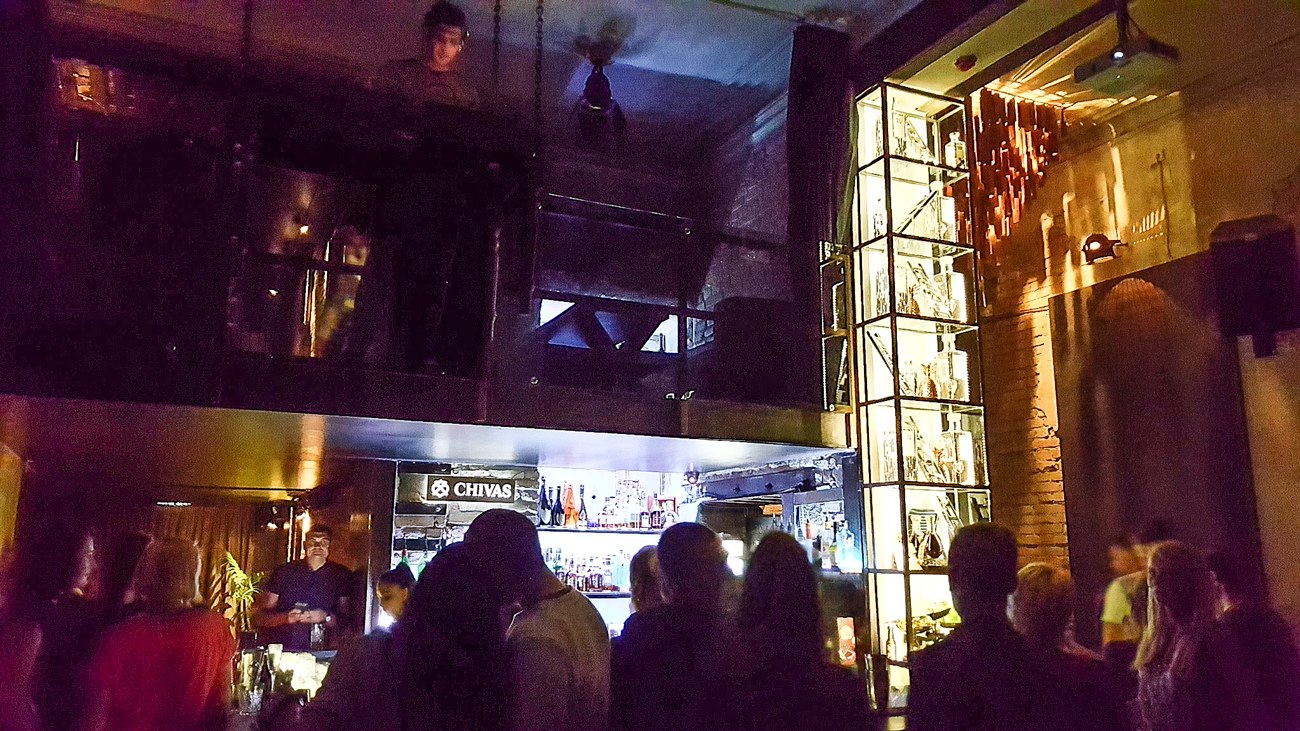 Ugg, so badly the mixing was, that I sent a text to my pal, Doug Hensel aka DJ Fresh, back in St. Pete, thanking him for ALWAYS being so amazing (check out his Moulin Rouge Party). Doug is the official DJ for our TB Rays Baseball and has held many spectacular events at my venue NOVA 535, including his annual Hospitality Ball. I was SO jonesing for Fresh to take over the dj booth…the McCallans and water did help…the eager crowd WANTED to dance, he got them so close then would F UP the mix…ARG!! Anyhoo, around 430 am I had enough and sauntered my way "home", as I did have an 8 am "appointment" with mother Russia, err Belarus. [PS Read my next blog as Belarus was so worth the "entry fee" hassle.]
FUN FACT: Vilnius, the capital of Lithuania, was full of beautiful buildings, friendly people, lovely ladies and wonderful places to explore. I kept kidding the guys I met (uber driver, hotel bar tender) that Lithuanian men are like unicorns, no one ever sees them. Why?? because the ladies here are so beautiful that why would the men ever leave?   
And what about the modern, friendly, tech savvy Latvian Entrepreneur named Dovainis Sinkevičius, owner of a new, cafe, Localt, specializing in local teas and pastries, that I mentioned in the beginning?
Dovainis and I spoke for about 30 minutes, mostly me speaking and him eagerly taking notes. He and his business partners just opened their 2nd location here (congrats!!) and did an excellent job. Their specialty (local) teas were combined with some dry ice and WOW, what a witch's brew of delight. He spoke of grand expansion plans, to Europe and USA, I mentioned getting things right, here first.
Don't over expand, easiest way to end up out of biz. Build a strong, sustainable, cash flowing business, one with excellent customer service, continuous improvement and fabulous operating systems in place – THEN consider expansion beyond your region. Be the regional master first. Best of luck Dovainis, reach out to the ESC anytime for help and support!
While exploring the alleyways, there wasn't much that I could find here by the way of street art. Very little vandalism (good!) and also little great murals (boo!). Certainly there is a GREAT OPPORTUNITY for street artists to come here and add their beauty! Check out the amazing street art in my home city St. Pete, Florida.
All this effort spent traveling, planning, exploring and trying to get into Belarus worked up quite an appetite. I hadn't eaten a proper steak in days so googled up and Boff Steakhouse was the best rated. I strolled across the beautiful bridge, enjoyed the eternal sunset, and dug into a solid good, say 4 out of 5, steak dinner here. Service was good, the steak tasty and the atmosphere tasteful, though quiet tonight.
After dinner, more aimless wandering, a favorite of mine. When you plan weddings and other complex, live events for a living, it's nice to just be and explore. Unsure of the branding / messaging (below), the owners should check out our website and get some free and much needed feedback.
Above I prove (to myself) once again that I'm my father's son (RIP miss and love you Pops!) by quipping (to myself) Schindler's Lift, what a great (multi) story that was. Below was some good energy I sent to the delightful Erika Cain my pal and business partner with DowntownStpete.com who was having a difficult day and needed a lift (she LOVES mermaids).
Since the days are eternal and my sleep was wacky, I'm eating my next dinner around 10-11pm. I googled restaurants and one was open until 11pm, go there at about 10pm, and was informed that the kitchen closed at 10pm…ugg. They were really nice, so I enjoyed a glass of Bordeaux, and they called ahead to their sister restaurant Cafe Montmartre, which I made my way over to.
The two lovely ladies of Cafe Montmartre took excellent care of me, their last diner for the evening. I sat outside, enjoying the spectacular views and weather. Dinner was (again) a solid 4 out of 5 tasty, I'd certainly go back for more.  I asked them about street art and they directed me to the infamous kissing Trump – Putin mural, down by the train station. They warned me not to walk there alone at night, rough hoods and all that. Of course I ignore them. Walk did me good after dinner and my laughter at the muralists ballsiness was most enjoyed!
PS – I do have to say out of Riga or Vilnius, the foodie scene is much evolved in Riga. Good food in Vilnius, excellent food in Riga. So keep up the good work!
This is clearly where the ancient saying "a picture is worth 1000 pieces of gold" morphed into today's "a picture is worth 1000 words" into "Yup, I'm speechless". Though they both are kissing with their eye(s) open…trust issues I'd presume!
Are you also a fan of Street Art and Murals?? Check out what we accomplished in my home town with our St. Pete Mural Festival SHINE.
After my long long day, night, drinking, eating, walking, talking and working on entry into Belarus, I was told to be at the consulate at 11 am to get my approved (yea!) passport (with visa) back. So I fell asleep that night, in the super comfy Hotel Congress Avenue digs, and whoopsie, awoke at 12:15 pm. They close the consulate at 12:30pm. I arrived at 12:38 pm and swizzled (ask my nurse sister Julie what that means) my way inside, to retrieve my much awaited prize!!  (wow I look tired!)
We started this adventure with Just The Fax Ma'Am. Where does this whole fax thing come into play? Well I need to send a proper THANK YOU (again) to the lovely ladies of Hotel Congress Avenue. I called them in a (almost) panic, as the consulate was (literally) throwing me out, my (final) document (needed) for the hotel in Minsk (you must have lodging for the entire length of time you want to stay in Belarus BEFORE you get approved for a visa) and my certified letter from the hotel was "stuck" on my phone in PDF format. Showing it to the lady behind the glass, then to her superior, both resulted in scowls. I said: "I can email to you" ….. "Niet." I replied "we can use a usb and download…" "niet!" Then after begging and pleading they said I could fax to them.
Hurrah! Except if I leave the consulate now, I won't get back into until another 3 hour wait tomorrow and then the 2 day $120 express fee pushes until Monday and the Belarus trip is a mess. So I tried eFAX app on phone (didn't work, kept getting server error) then called the ladies, Kamile Gostautaite and Taisija Jasina, at the hotel, emailed doc to them and they faxed to consulate. Solved!! Err, wait no. The fax was not being answered. Ugg! We tried and tried and tried and finally the lady behind the 17″ thick piece of glass came out, seems like an eternity later (I was lightly pestering everyone for help) and showed me the holy grail fax. BIN-G-(theF)-O!! Minsk here I come!
On the way to the train station early the next morning (7:20 am departure, arrive 6:45am…ugg), I encountered a bit more excellent street art. What I didn't encountered was any easy way to decipher what my train ticket said (above). Please everyone, find a universal design format that ALL travelers can easily identify: DEPART FROM (city ABC) at TIME 00:00 ARRIVE TO (city DFE) at time 11:11. TRACK / GATE and CAR / PLANE # all IN BOLD somewhere…of course if I read Lithuanian, then it'd all be revealed.
One fun fact about these local looooooooooooooooooooong days, the skies outside look the same at 4 am or 4 pm, so it's gonna take you a while to get your sleepy just right. I'm a pro at this and wow, it's taken about a week to even get close to "normal", of course several all nighters may have affected this somewhat!
Off from Vilnius to Minsk, Belarus, Stay tuned as it's an AMAZING showcase for the Best of the USSR!
Connect with fellow Entrepreneurs, business owners and positive people here online and in person every Thursday in St. Pete, Florida at our weekly meeting. Check out https://entrepreneursocialclub.com/events for exact location! Remember Just the Fax Ma'Am!