Wow do I love pinball!! So you might imagine my raw excitement as I saw a listing for The Hungarian Pinball Museum , located in the heart of Újlipótváros, Budapest, billed as "Hungary's first and Europe's largest continuously operating interactive pinball exhibition." You had me at Pinball. The only downside was it was closed on Monday and Tuesdays, opening at 4pm Wednesday, my last full day in Budapest. Us "kids" hate to wait, right?? Come on Wednesday!!
So after a leisurely walk and lunch Wednesday, I made my way excitedly towards the Flipper Muzeum, as it's cute little sign proudly displays. Would I be disappointed?? Not today my friends, not today!
Pictured above is Balázs Pálfi – owner/conceptor, another "one of us" an Entrepreneur, a visionary and problem solver. The world should stop and thank people like him, for making our little fragile rock a MUCH better place to live.
I met Balazs, who was quite nice, right at the main desk. He is friendly and was eager to help and learn from me (Google maps). I happily paid the $10 (2500 ft), yes only $10 to play as much pinball (remember over 100 pinball machines, from every decade and manufacturer, plus tons of other amazing video games and unique classics) as you can handle in a day. So after playing for "a while", wow suddenly it was dark outside, how odd – I of course added a nice review on Google + (yes you know me and Google). I also added several photos plus his phone number and operating hours. Hungarians aren't up to speed on Google + / Maps just yet, but they are really smart and will be shortly. I wanted to publically thank Balaz and his team, for being, like me and our fellow "Crazy" Entrepreneurs, the type of personality that will spend years of time, effort and $$ to make a dream a reality. In this case a wonderful reality that the entire world can come and enjoy. I've always LOVED pinball, since my childhood in the 1970's when my pal Mike Lewis had several in his mansion's garage. Yesterday playing for hours at the Hungarian Pinball Museum was a true breath of fresh childhood air. Thank you Balazs!
Below is the team who made this all happen (THANK YOU ALL!!)
Dr. Attila Vígh – lawyer/manager.  János Bernáth – restorer/mechanic. Zoltán Dósa – repairman/maintainer. Unsure if I met these guys, my Hungarian is rusty (haha) but hats off to them as the museum was spotless, the machines all in excellent condition – a true 5 Star establishment. And what's really cool, it's in an underground cave like building – so flippin cool!
This truly is a world-class Pinball Museum and a must see while here in Budapest. Please keep in mind that all of these photos are from my Samsung Note 4 camera and NOT professional photos. Check the website for many great photos and even their kick-ass  VIRTUAL TOUR.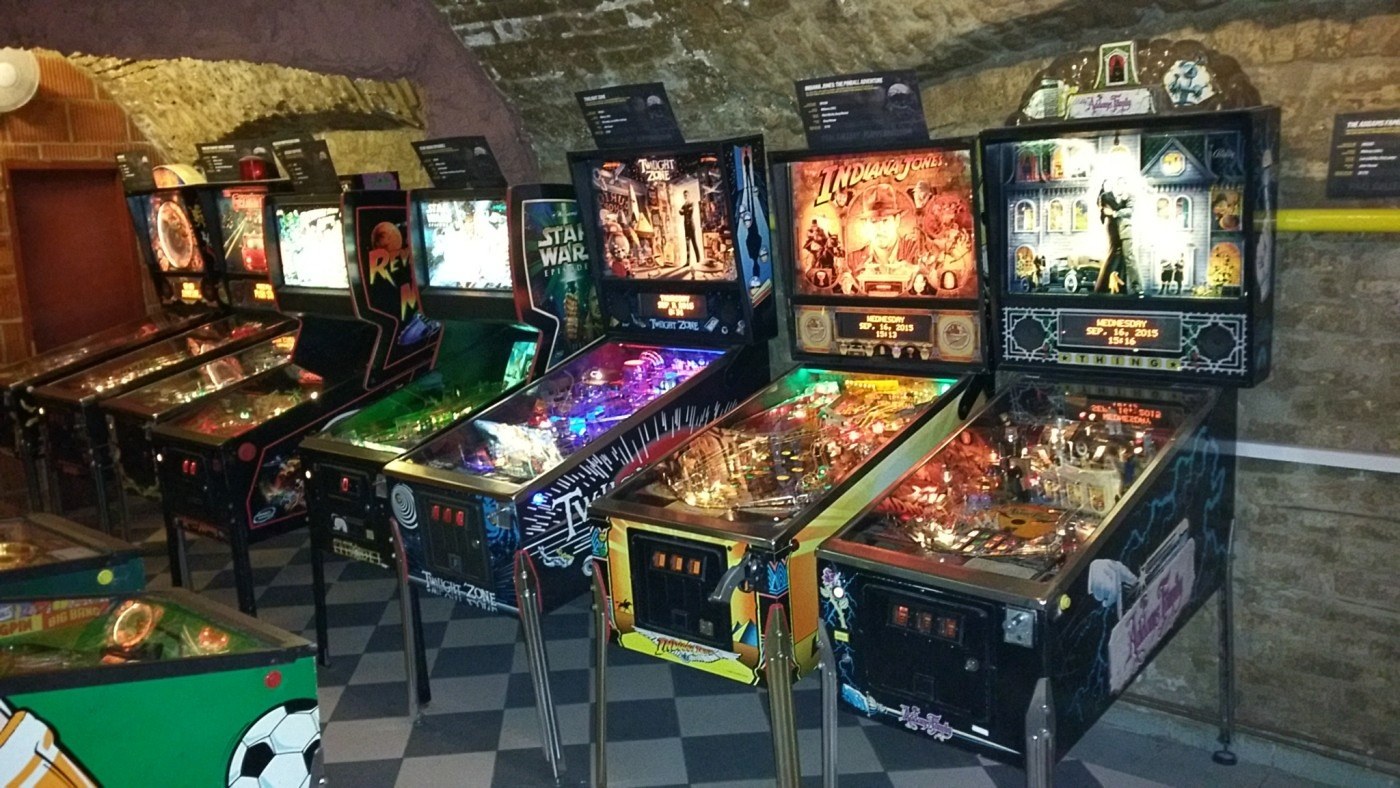 Taken from the Pinball Museum's website:
Address: Radnóti Miklós utca 18, Budapest 1137, Hungary  (close to Budapest Western Railway Station and WestEnd Mall).
Contact:  info@flippermuzeum.hu  or  call (30) 900 6091  or even better http://flippermuzeum.hu
Hours:   Wednesday to Friday 16.00 – 24.00,  Saturday 14.00 – 24.00, Sunday 10.00 – 22.00, Monday/Tuesday: CLOSED
Prices:    Admission fee paid CASH ONLY: HUF 2500  (that's currently about $10 US) with discount admission ticket: HUF 1250 (for EEA students under 26, and seniors over 62 – after showing an ID card)
Included: pinball history presentation & English guided tour for groups (as required at prearranged times), support the preservation and development of the museum's values. Purchasers of the ticket can try all exhibited works of art for FREE. Machines are set to free play, they don't accept coins or tokens.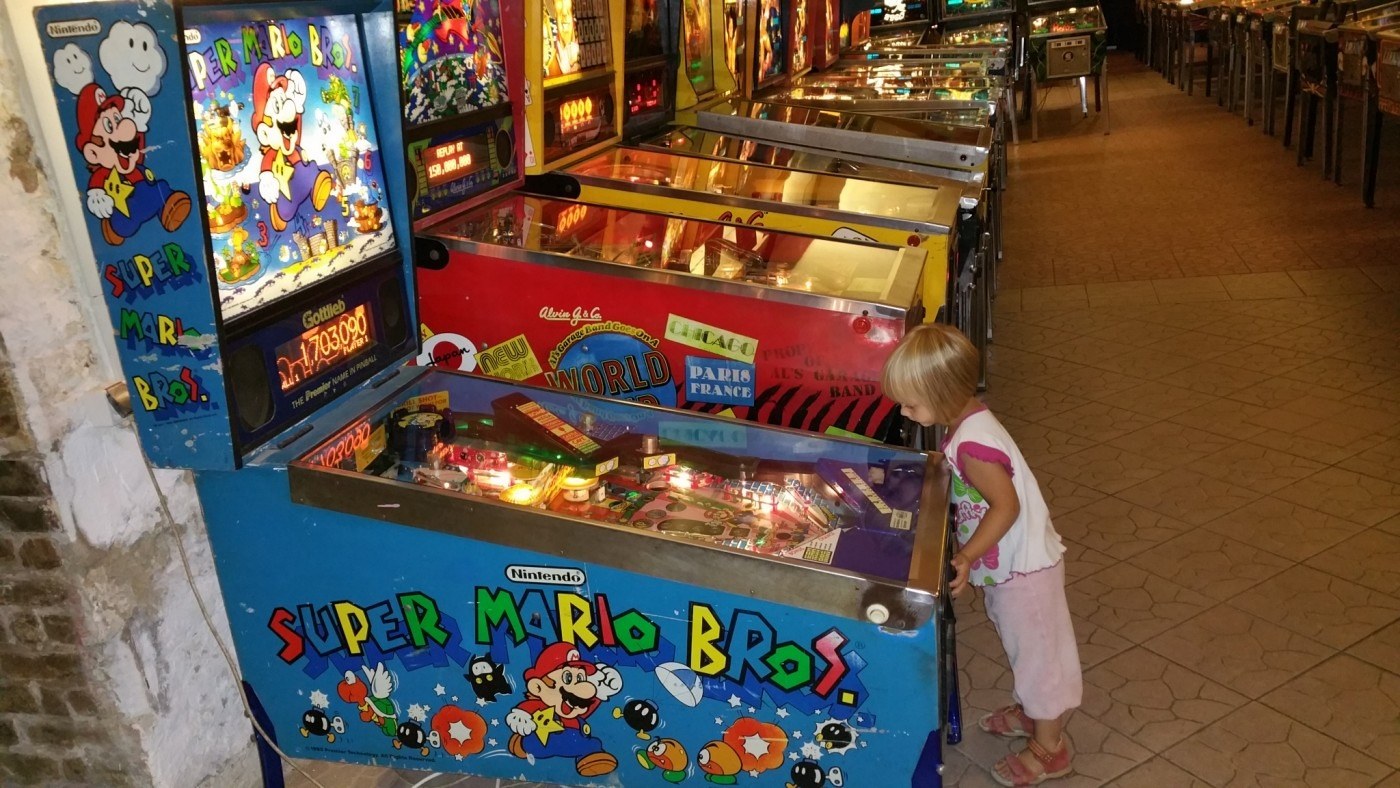 TRIPADVISOR Reviews (which are great!)
So what's this Entrepreneur Social Club you may ask?
The Entrepreneur Social Club aka the ESC is my ongoing attempt at connecting the world's Entrepreneurs, into a collective, cohesive, group. It's our ever growing family of business owners, students, start-ups, rich and powerful mentors, designers, inventors and Entrepreneurs representing of every industry and corner of the globe. Our weekly get together, is most always held at historic venue NOVA 535, in beautiful downtown St. Pete, Florida, though occasionally we are offsite because NOVA is rented for a private event. – ya know – paying down the mortgage, one 5 star event at a time! It's a time where we let off some steam and spend it helping and enjoying each other. So if you're in the Tampa Bay area on Thursday nights, join us. If you're outside of that zone, join us here online. Either way, let's all work together to unite the world's Entrepreneurs!